What makes the difference between a standout marketing campaign and a forgettable one? The most impactful campaigns that drive us to action are those that artfully reflect brand value while simultaneously capturing the larger societal shifts happening across the industry, and/or the world at large.
In our own endeavor to encapsulate the current content climate, we assessed proprietary engagement data from across 20+ industry-specific publications to suss out commonalities. What surfaced were three universal themes shaping every industry: digital decision-making, resilient resourcing, and navigating a remote world.
Check out these stellar mood-capturing B2B marketing campaigns that arrived at this all-important sweet spot of contextualizing brand value within the bigger picture. 
Mailchimp: More Than a Small Business 
Universal theme: Digital decision-making
In action: Across nearly every industry, the events of the last few years have pushed digital transformation into overdrive. And from better tools for analyzing data to optimized customer experiences, executives everywhere are recognizing that the right technology has the power to reshape industries — if their content marketing gets it right. 
Mailchimp's first-ever in-house campaign is a fantastic lesson in human-to-human messaging, which has come to be expected from the eccentric email marketing service turned marketing automation platform. Featuring five fictitious yet familiar companies inspired by a mash-up of the brand's millions of customers, "More than a small business" playfully celebrates those users while attempting to reach growing, midsize businesses as well by showing that Mailchimp is built to help them expand, succeed, and even have fun while they're at it."
Realizing that "some of our best ideas come when we disconnect," the company has created three games so far as a form of what they call "self-care." The latest is a mini-golf-meets-dumpling extravaganza spin-off of one of the campaign's favorite fake businesses. Dumpling Delivery invites players to "take a break from real life" with the promise that "your brain will thank you for it" —  
Insider insight: "We often get quizzical looks when we release games… looks that seem to say, 'What does a game about getting a cute dumpling through a gauntlet of fire and angry inflatable ducks have to do with a marketing platform?'" according to the designers. "Our product is ultimately a tool to get work done, but we also think it's important to take breaks from that work. We make games like this one to give our customers (and anyone else who stumbles on them) a way to break away from the grind… even if only for a few minutes."
studioID tip: Help lessen digital transformation fatigue by encouraging your audience to prioritize people over speed. Consider tailored solution breakdowns, pros and cons, success and cautionary stories — along with something fun once in a while — that will allow them to take the right route to transformation for their particular business and its future.
American Express: Don't Do Business Without It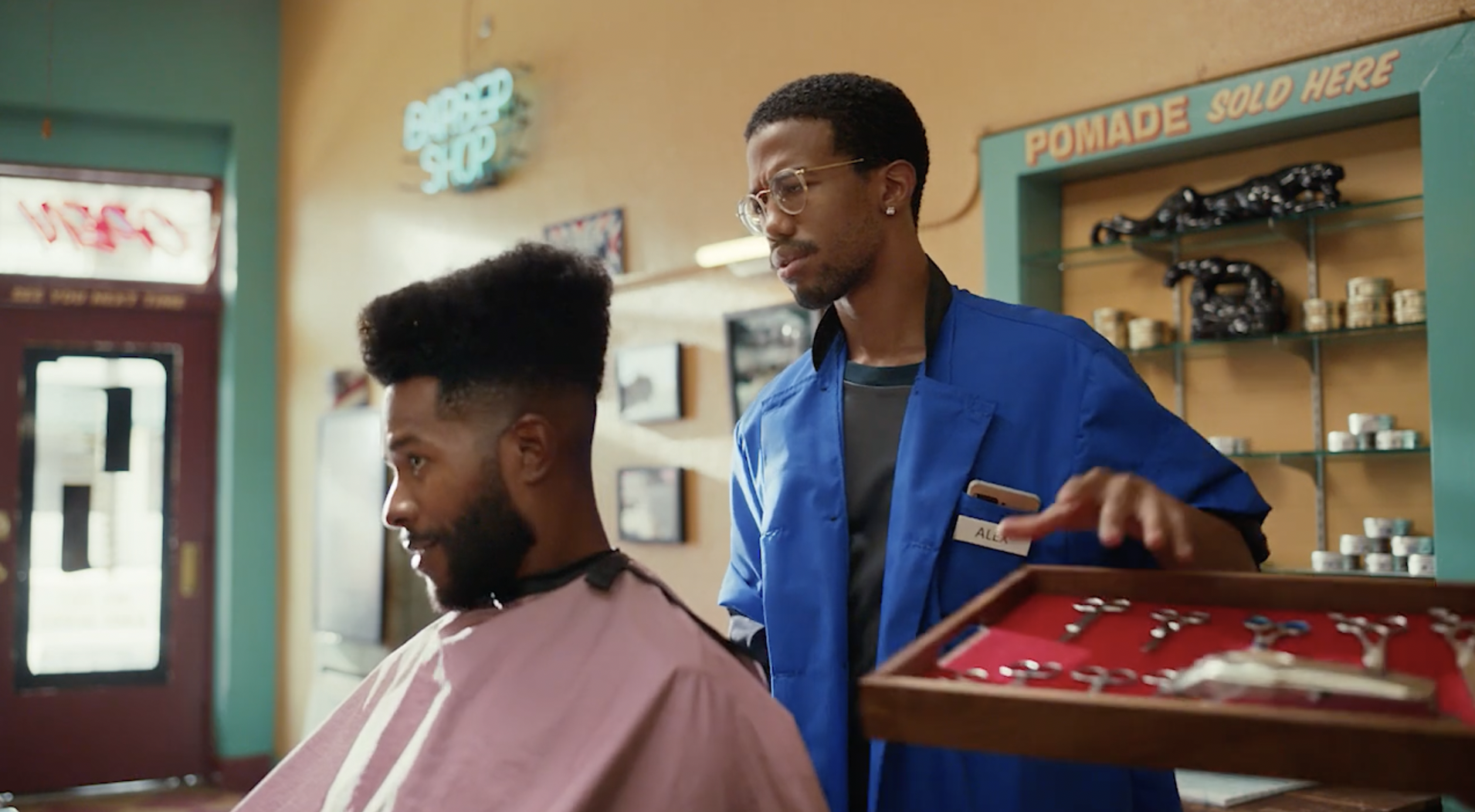 ▶️ Watch "Fresh Cuts" Amex spot on Vimeo
Universal theme: Resilient resourcing 
In action: In the wake of the pandemic, decision makers are recognizing resiliency isn't just about the environment, operations, or people; it's about understanding the interplay between every aspect of business and ensuring that all of it is built to withstand uncertainty. Working smart, and working with what we have at hand, is more important than ever. 
Echoing the brand's famed tagline — "Don't leave home without it," which originated in the 70s — American Express's first major global brand campaign in three years highlights the benefits of being a card member with its new B2C "Don't live life without it" and B2B "Don't do business without it" campaigns. With a ​series of humorous spots on TV, connected TV (CTV), online video, social media and podcasts, on pausable videos users are prompted to scan a QR code that leads to a landing page highlighting all the perks members can enjoy. 
According to Marketing Dive, this clever "interactive feature can transform the awareness that it generates with its cross-platform videos into a follow-up activity that helps to identify consumers that are most likely to apply for an American Express card" — making that much more of the team's tools and resources. The campaign also uses "ACR technology that helps track which ads viewers see on a connected device, such as a smart TV. People who have opted in to ACR tracking share data about their viewing habits across cable and broadcast TV, streaming services and DVD players to provide a more complete picture of their media consumption." 
Insider insight: "We wanted to create something that would stand out from the crowd in the world of B2B advertising. We're showcasing the benefits of using a business card but in a playful, bold, fast-paced and whimsical way," according to the brand's Senior Vice President of Global B2B Marketing Jessica Ling. "We had fun creating these videos and wanted that energy and excitement to come through on screen for the business owners we're talking to through this campaign."
studioID tip: Previous campaigns from AmEx have included brilliant uses of UGC where the brand worked with and highlighted real business customers. Provide your audience with content that you can create in-house to allow them to stay ahead of the twists and turns to come while protecting precious resources in the process.
Drift: Employee Advocacy 
Universal theme: Navigating a remote world
In action: As more and more aspects of our daily realities are lived out online, the digital realm has become even more far-reaching. And as decision makers venture out to build on these environments, they're encountering a slew of new risks and challenges, many of which are a result of new ways of working and feelings of isolation. 
To combat this, it's important to put customers as well as employees at the center of everything you do — from content to operations, product, and beyond. And Drift, the conversational marketing platform, has always done just that with its commitment to employee advocacy-centered marketing. Most of the brand's content is created (and widely shared) by company executives and other Drifters, which makes for powerful thought leadership and relevant, actionable information that always has an authentic human touch — regardless of physical location.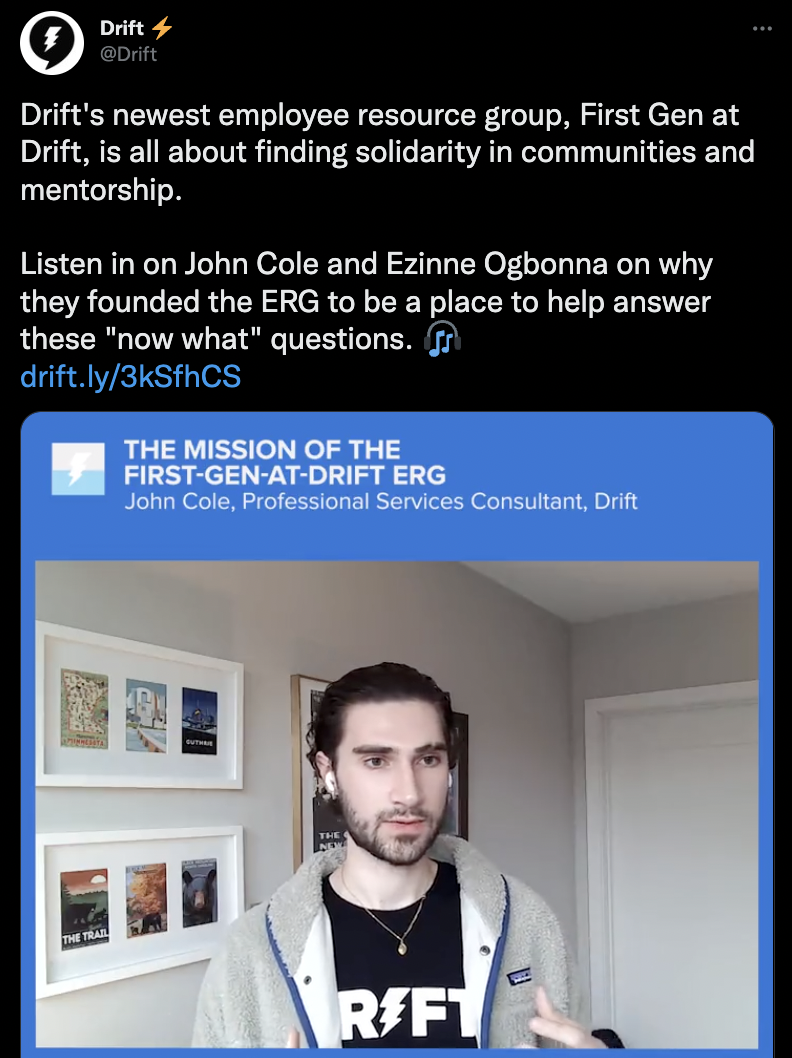 Most of the brand's marketing imagery features real-life employees instead of standard stock photos, but it doesn't stop there. Drift is committed to creating a close-knit culture across the board with a range of initiatives, big and small. "When someone earns a certification, multiple team members will congratulate them," says Pat Timmons, a former Social Media Manager at the company. "If a customer has a question, often the person who is directly involved with that piece of the business will respond. It shows our community and customers that we hear them and are there for them."
Insider insight: "It was a huge pivot when we went remote," he continues, but leadership was quick to facilitate adjustments. "We host a variety of events that are now virtual, so our team quickly created at home film kits for speakers, and for our most recent Drift Insider certification each instructor was sent a filming set up so they could film in the comfort of their own home."
studioID tip: Shine a spotlight on your people and help them navigate the growing pains of adjusting to the way we work and live digitally today. Provide your employees as well as your audience with information that will allow them to find their footing in up-and-coming spaces like hybrid work, creator economy, the metaverse, and web 3.0.

Create better B2B content for your niche audience with studioID's Audience Snapshots 2022: