It's hard to make it through the day without hearing about one of the many significant issues facing the earth and society. That's why it's especially important for leading brands to join in on conversations and support movements that are working toward positive change. 
When it's authentic, purpose-driven marketing is a powerful way to integrate your company's core values into its branding and messaging. And with conscious consumerism on the rise, with folks expecting more and more companies to deliver quality products and services alongside social justice advocacy and sustainable practices, aligning your objectives with a larger purpose makes for good business. 
Studies have shown that businesses that prioritize doing good, like B Corps (Benefit Corporations), are reaping a range of rewards like faster growth, increased market share, heightened customer loyalty, better employee engagement, and more innovative practices. Want to follow suit? Read on for a look at how three inspirational brands go beyond profit-seeking and emphasize the positive impact a company can have on society.
Patagonia: Committed to Environmental Purpose
Mission Statement
"Patagonia's reason for existence is to force the government and corporations to take action in solving our environmental problems."
— Yvon Chouinard, Founder 
Dutiful Dedication:
For half a century, Patagonia has been a leader in outdoor apparel. Paired with years of eco-friendly advertising and activism — along with the recent efforts of Patagonia Action Works, which easily connects individuals with environmental causes they care about — last September founder Yvon Chouinard announced that moving forward, every dollar that's not reinvested into Patagonia will go toward real ways to protect the planet. 
You read that right. And Chouinard, winner of this year's Cannes LionHeart award for his ongoing philanthropic contributions and deep commitment to environmentalism, maintains that "every part of the Patagonia business, including the value we create, is linked to our purpose."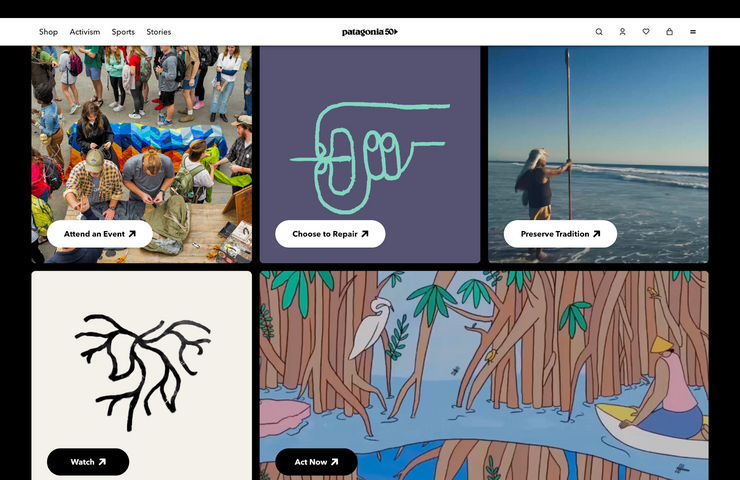 New in 2023:
Now, the brand has a new message: rethink capitalism, once and for all. Patagonia's newest campaign asks:
Can capitalism evolve? What does quality capitalism look like? How can we better rally our community to address the root causes of the climate and ecological crisis? [And] who are the unexpected partners that will join along the way?
Accompanied by a rich array of relevant video and written content on reducing, reusing, and recycling — like links to community events, tutorials on caring for and repairing clothing, the dangers of plastics, and all kinds of ways to get involved — the campaign is going the distance in hopes of creating real, lasting change.
For our 50th year, we're looking forward, not back, to life on Earth. Together, we can prioritize purpose over profit and protect this wondrous planet, our only home.
studioID Takeaway:
By authentically connecting with consumers who share similar values, purpose-driven marketing attracts a loyal customer base that is eager to support and advocate for their products or services. "Creativity can be a powerful force in the work to save our home planet," says Chouinard, and "the creative industry is uniquely placed to lead the way in ambitious business practices and to inspire people everywhere to act now." What might that mean for your company, brand values, and the issues you support?
🏳️‍🌈 Related Reading: 3 Brand Campaigns Celebrating Pride '23 With Sincerity
Ben & Jerry's: Pioneering Political Purpose

Mission Statement
"We love making ice cream — but using our business to make the world a better place gives our work its meaning. In other words: we use ice cream to change the world."
Dutiful Dedication:
Featuring flavors like "Save Our Swirled" (to combat climate change), "Empower Mint" (celebrating the end of segregation in schools), and "I Dough, I Dough" (in support of gay marriage), Ben & Jerry's has long worn their heart on their sleeve and their purpose on their packaging when it comes to pressing political issues. And beyond creating an array of delectable frozen treats, the company's also quick to take to the streets and doesn't shy away from leveraging its brand power to advocate for progressive policies and real legislative changes. In fact, it's baked into everything they do.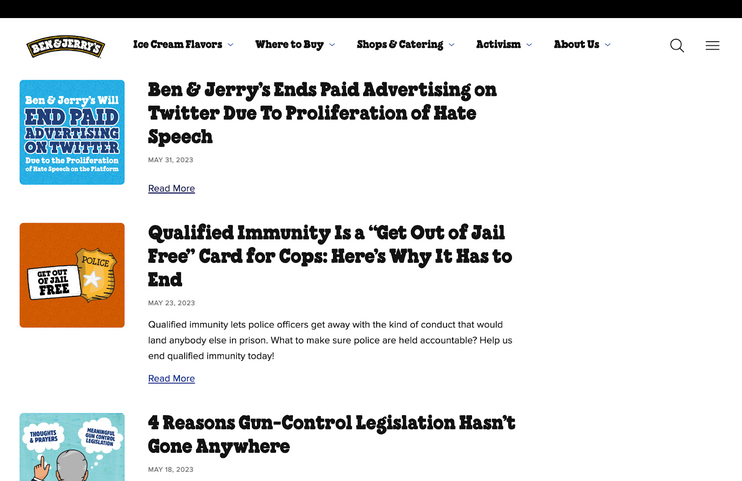 Between blog posts about ice cream news and recipes to try, for instance, Ben & Jerry's seamlessly weaves in articles with important information about current events and how folks can join in on the fight for what's right — without mincing any words about what truly matters to the company.
That's also why they started a dedicated social justice organization in the Ben & Jerry's Foundation —one of the many reasons why, back in 2012, "Ben & Jerry's became the first wholly-owned subsidiary in the world to gain B Corp certification…meeting social, economic, and environmental standards that make them not only [one of] the best companies in the world, but the best companies for the world."
Ben & Jerry's business model is built around the idea that every decision we make, and every dollar we spend in the course of our day-to-day operations is an opportunity to advance our progressive values.
New in 2023:
In April, workers at the company's flagship store in Burlington, Vermont moved to become the first U.S. location to unionize as the aptly named Scoopers United. And, naturally, Ben & Jerry's was quick to sign their fair election principles — becoming the first multinational company to do so. Their statement? As humble and focused on workers' rights as ever: "This should be regarded as a step in solidarity in the spirit of constant improvement towards a fair, inclusive and equitable workplace." 
studioID Takeaway:
Purpose-driven marketing extends beyond external audiences and can also have a profound impact on employee engagement and retention. Employees who feel respected and connected to a company's purpose are more motivated, productive, and committed to their work. Does your company culture foster this kind of environment? And how might you go about making employees feel valued in a meaningful, sustainable way?
👫 Related Reading: How to Empower Your Employees to Become LinkedIn Brand Ambassadors
Sesame Workshop: Steeped in Social Purpose 
Mission Statement
"With a mission to help kids everywhere grow smarter, stronger, and kinder, Sesame Workshop brings critical early education to children in 150+ countries."
Dutiful Dedication:
Sesame Workshop is the organization behind the world's favorite children's television program since 1969: Sesame Street. And like any purpose-driven company, they're about much more than their primary product. In 2019, they created 50 Years of Impact, an interactive report looking back on the positive change they're created for kids over the past five decades.
From introducing the concept of educational TV and diverse representation on screen to uplifting marginalized communities and helping children grapple with difficult issues head-on, their reach has gone far beyond the screen since day one. 
New in 2023:
That's why it's no surprise that to commemorate Mental Health Awareness Month, this past May the company announced a renewed, multi-year commitment to the emotional well-being of kids and their families. With childhood depression and anxiety on the rise, Sesame Street marked the launch with a PSA called "Me & My Grown-Up" along with Elmo's Mindfulness Spectacular, featuring the show's beloved characters engaging in a series of mental wellness exercises and activities with YouTube content creators.
Why? Because "children who are healthy in both mind and body tend to be happier, show greater motivation to learn, and have a more positive attitude about themselves and the world," according to Jeanette Betancourt, Senior Vice President of U.S. Social Impact at Sesame Workshop. And that's what genuinely matters most to the company.
Together with the caring adults in their lives, we're helping children develop a foundation for emotional well-being for years to come.
studioID Takeaway:
Purpose-driven brands foster deeper connections with their customers by standing for something beyond profits. And when folks resonate with a company's purpose as much as kids resonate with Sesame Street, they're more likely to develop stronger brand loyalty and become natural advocates for your brand. So, when thinking beyond profits — what's the purpose of your business?
Interested in seeing more of the best-of-the-best? Explore springboard Top 50 — our roundup of the best content marketing programs across the landscape.