These days, to win, you've got to keep it real. To compete and build trust among audiences, brands need to be honest, authentic, and transparent. Not just in practice, but also perception. Smart companies have gone to great lengths to leave it all out in the open for the sake of their customers' needs and interests. 
Whether showcasing their commitment to sustainable practices, revealing specifics on internal strategies and manufacturing processes, or highlighting nutritional and sourcing information, brands across industries are betting on the power of having nothing to hide as a way of building trust.
User-generated content and customer testimonials are just the beginning when it comes to brands creating transparent content marketing and campaigns that work to engage and convert. Read on to see how three very different market leaders lay it all out there to stay ahead of the game. 
Buffer: Default to Transparency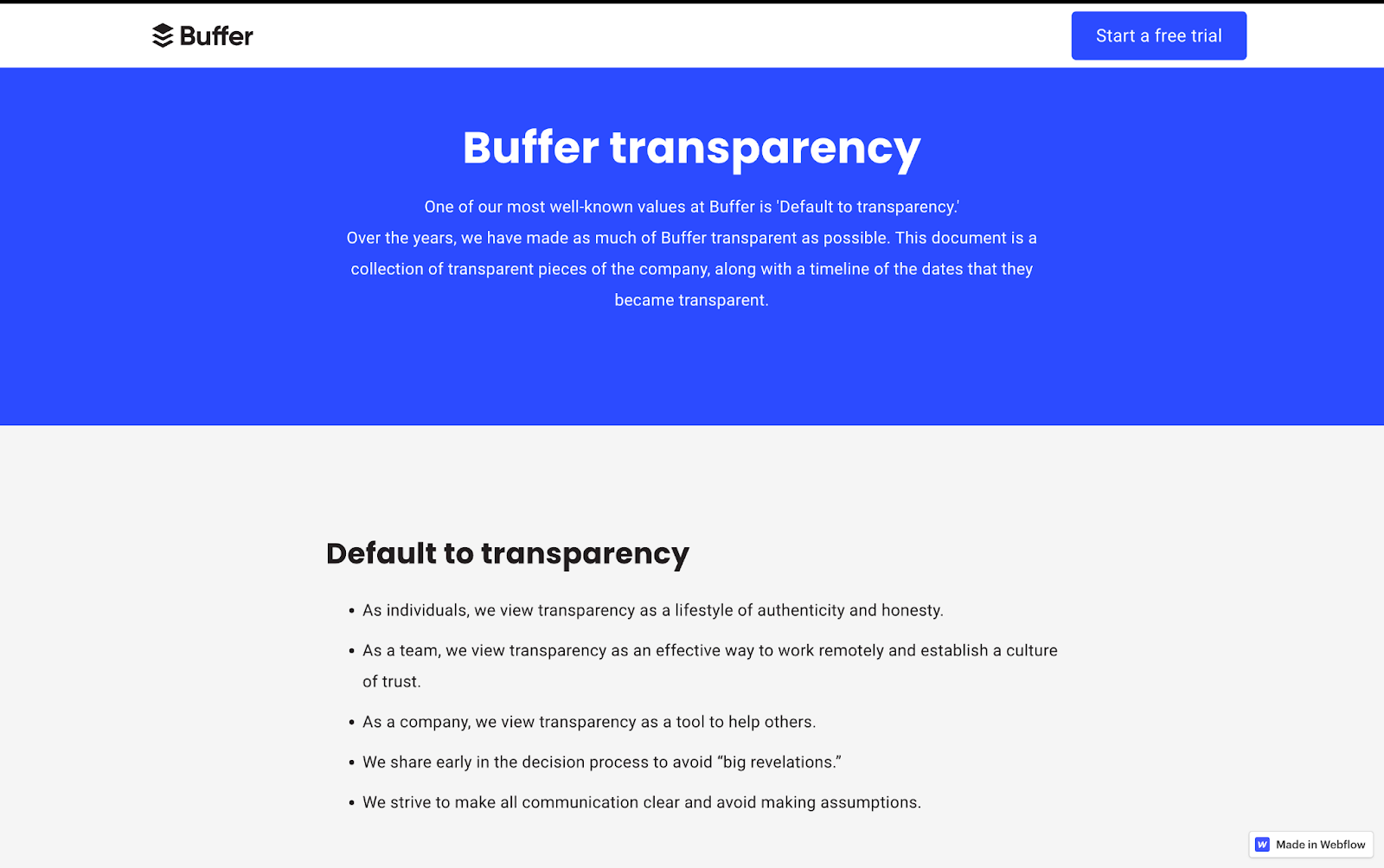 Buffer, a social network management tool, has long been known for its commitment to extreme transparency, which the company credits for much of its success. Besides sharing everything on their aptly named blog Open Culture — from their product roadmap and diversity data, to breaking down their spend on charity and employee perks and benefits — the brand made serious waves when they published every employee's salary online in a move made to address the gender pay gap and salary inequality. 
Back in 2013, "The reasons for making it public were twofold," said Jenny Terry, Buffer's Director of Operations. "The first was to continue to be as transparent as possible in everything we do as a business. And secondly, as an early-stage company, the founders were looking for ways to structure pay to account for business growth."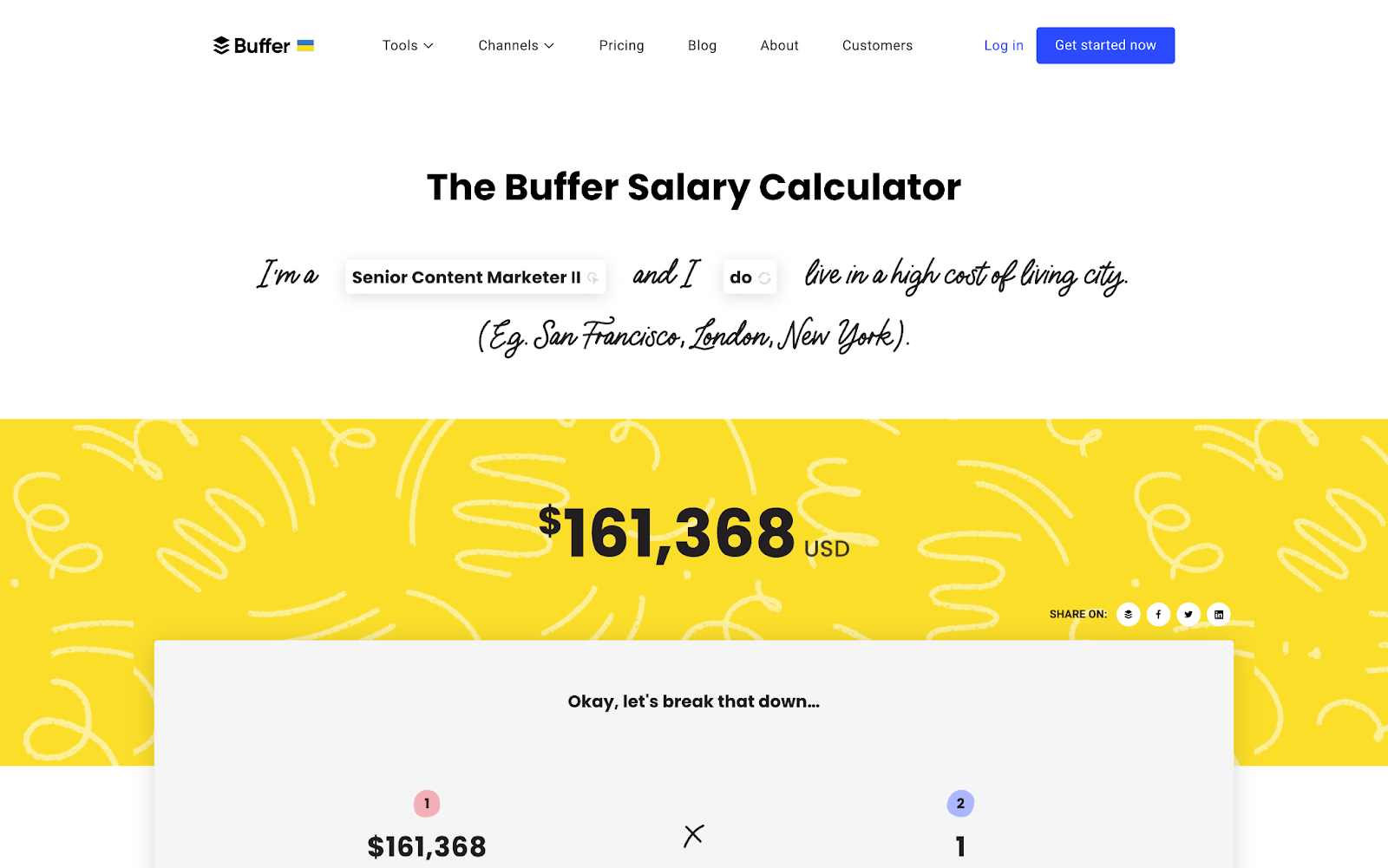 That initiative led to the development of additional tools and resources for employees, like a salary calculator and career frameworks. "Candidates were very encouraged to see that level of transparency at the business and it helped for people to know what to expect, in regards to pay, before applying to the role," Terry continues. "You will know the set pay for your role and area, and you will know the skills and career level expected of you in order to progress to the next pay bracket."
This gives our people the tools they need to have control over their own destiny.
The result? Raconteur reports that there was an immediate surge in job applications along with increased trust among teams — not to mention an end to raise negotiations and internal pay gaps. 
With more men in senior-level positions, complete gender pay equality isn't there yet for the team, but it's not too far off. And co-founder Joel Gascoigne is characteristically transparent about that: "Early on, we did hire more men than women due to our inclination biases…and both founders were male, so we do have a lot of diversity debt." 
And they're taking action to make it right. Because women tend not to apply to jobs unless they fit 100% of the qualification requirements, former Director of People Courtney Seiter made it a point to emphasize that successful candidates didn't need to check off every single item on the list. "We have the privilege to dig into th[ose] nuances," she said. Because in the end, for Buffer, it's about making sure "all people have the same opportunities to advance." 
🤝 Related Reading: Radical Transparency: Pfizer's Approach to Developing Earned Trust With Content Marketing
Nike: Forward 
A few years ago, like many leading brands, Nike committed to a new state of mind with a campaign called Move to Zero, a "journey toward zero carbon and zero waste to help protect the future of sport." Now, they've released an entirely new material that's innovative enough to become its own platform — maybe even its own movement. 
"The potential of the Nike Forward platform is truly limitless," says Carmen Zolman, VP of Innovation Apparel Design. "Today it's a hoodie, tomorrow, it could be anything. We're putting all that weight and effort and research and development of the full Nike power to be sure every decision we make is uncompromising in its sustainability." 
The inaugural collection is made with an average of 75% less carbon compared to our traditional knit fleece. We call it Forward because that's where we're going.
The unveiling, accompanied by a gorgeous layout reminiscent of Apple's critically-acclaimed product pages, focuses instead on the science and craft behind the revolutionary fabric. Before prominently linking to a critically-reviewed carbon footprint assessment for additional  transparency, the brand explains: "Crafted with an ultra-futuristic and reductive needle-punching process, this collection's garments feature raw edge pockets, exposed seams, and other intentional design choices that help us generate less waste in the manufacturing process and pave the way for future circularity."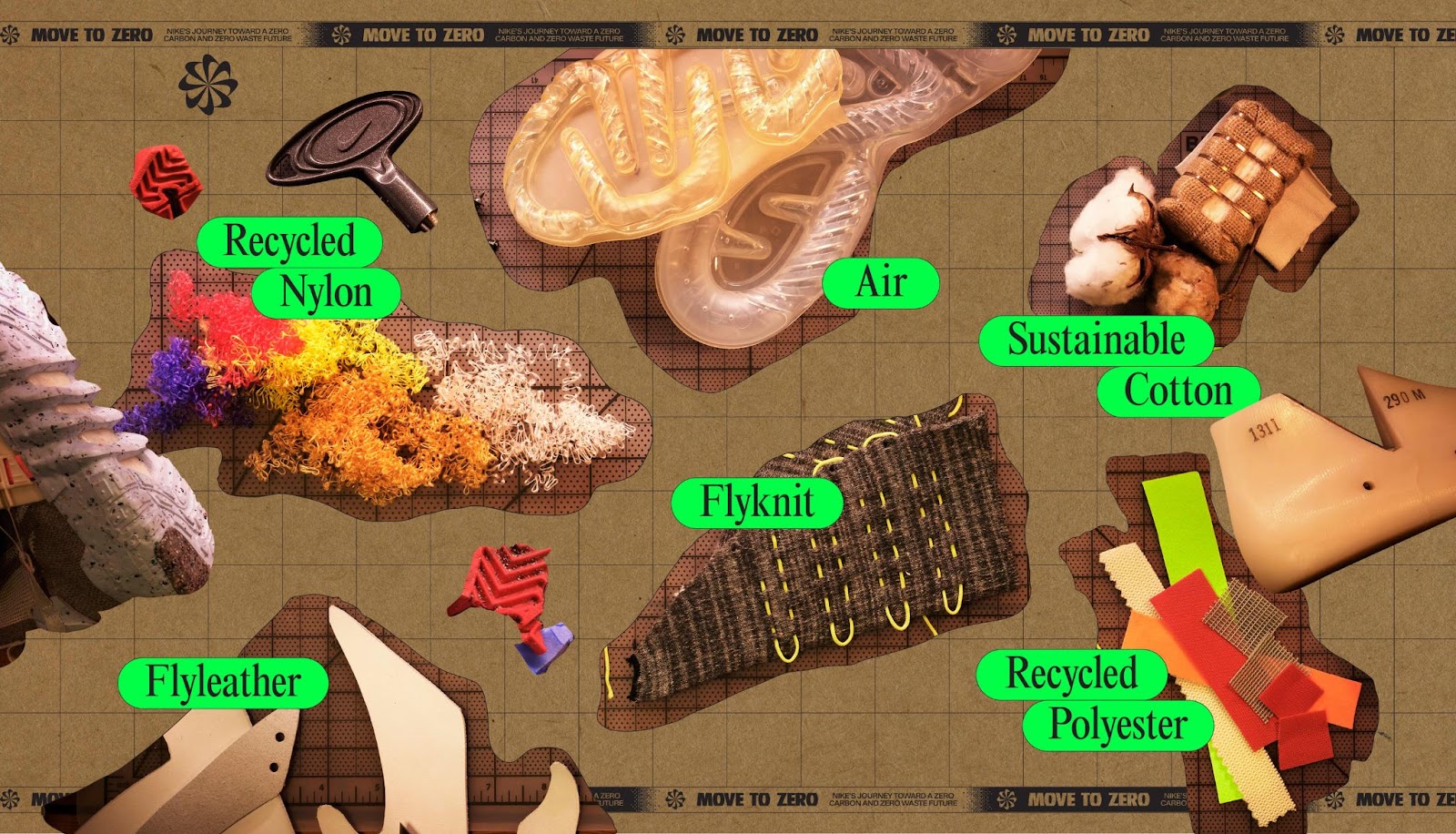 Other innovative materials are also detailed on a design-forward landing page — worthy of a Gen Z audience and aesthetic — where Nike highlights its commitment to sustainability at every step of the way with various stories and copy opportunities. The stunning content hub draws attention to the great work Nike's doing while ensuring they continue to take meaningful strides into the future.
With so much in flux between tech, current events, and their impact on human nature, the aesthetic emerging alongside is especially fascinating.
Meanwhile, the brand is also involved with social justice and climate change initiatives that are similarly well-documented for optimal transparency and trust-building. And with annual impact reports that detail DEI data, responsible sourcing, community empowerment, and environmental protection, along with other kinds of supporting editorial and press content, their message is loud and clear.  
📚 Related Reading: 6 Ways to Build Trust With Your B2B Audience
Pfizer: Behind the Science
At this year's Content Marketing World conference, our VP of Marketing sat down with Pfizer's Senior Director of Digital Communications, Ellen Gerstein, for a fireside chat titled Radical Transparency: A Pfizer Masterclass in Developing Earned Trust. And among the various insights gleaned, Gerstein notably shared that the company's user research efforts in partnership with studioID revealed that their audience was actually craving transparency in their content. Which, in this case, meant understanding Pfizer's inner-workings.
"We found that the core of our audience was what I like to call 'science-curious,'" Gerstein said. "They were far more interested in understanding what was going on behind the scenes than the average person," which led directly to the development Behind the Science. 
The content series (featuring a few video efforts as well) deep dives into fascinating topics like clinical trials, vaccine distribution, and creating new medicines — complete with expert insights alongside impressive artwork and animations that bring lofty scientific concepts down to earth, making for truly transparent, easily-digestible, and engaging reads. In short, the kind of content that takes serious effort to create and metrics to back up. Good thing Gerstein had those in spades. "Since the series wasn't a simple feat, but quite time-consuming, the question of ROI kept coming up," she explained. 
With intercept testing, we saw that 80% of people gave the content five stars, saying it answered their questions and made them think in a different way.
It helps that Pfizer has a company culture that encourages experimentation and a CEO who believes in trying new things and failing fast. But "it's not something we will win overnight," Gerstein reminds marketers. "It's something we have to think about every day: how to show our audience that we're here for the right reasons. 
Starting with the pledge we put out, every day we try to be transparent and show our audience that we care about them." Is that true for your team?
Want to learn more about Pfizer's success in building a trustworthy brand through transparency? Watch the full interview.