There's no question that shoppers' expectations of their favorite style brands are heightening. A commitment to sustainability is no longer a nice to have. A real-time and personalized shopping experience is the norm. When consumers have questions, they want immediate answers. And when interacting with brands in between purchases, they're looking to be inspired, entertained, and informed.
A content marketing strategy that reflects leading societal trends, incorporates the latest technology, creatively leverages social media, and distributes content in new ways that drive loyalty and sales is a must-have for today's fashion brands.
Sustainability
As the pressure of the impending global climate crisis intensifies, sustainability will be a force at the forefront of content marketing for years to come. In the context of this driving force, fashion — "fast fashion" in particular — is being placed under a microscope. According to a recent study by Princeton University, "the fashion industry is currently responsible for more annual carbon emissions than all international flights and maritime shipping combined."
Consumers are taking stock. As they look for ways to reduce the impacts of their lifestyle choices on the environment, they're demanding the same of their style brands.
According to a recent McKinsey survey on consumer sentiment toward sustainability in fashion:
Two-thirds of surveyed consumers state that it has become even more important to limit impacts on climate change
67% consider the use of sustainable materials to be an important purchasing factor
63% consider a brand's promotion of sustainability to be an important purchasing factor
So, how is the fashion world responding?
Patagonia is the poster child for leading the sustainability charge in the fashion world. Their commitment to Mother Earth is central to their mission, and lensed in a variety of ways throughout their brand storytelling. 
A Commitment to Education
In content for the brand's food line, Patagonia Provisions, the brand wastes no opportunities to further climate education.
The resulting impactful, visually stunning mini-film revolves around a real climate crusader's findings and analysis.
Encouraging Activism 
Patagonia breaks from the brand's core aesthetic of dazzling high-res nature photos in favor of animated illustrations to encourage activism.
CTAs provide users with quick, easy-to-action methods of committing to focused climate change pledges and participating in volunteer orgs. 
Radical Transparency
In their "Buy Less, Demand More" campaign, Patagonia actually goes as far as to encourage its audience to buy less of their clothing in the name of the planet. 
The brand further drives transparency by coming clean about past mistakes in material usage and how they've long-since corrected the issue in their own products.
Authenticity + Personalization 
Make no mistake, we're in an age of instant gratification, authenticity, and hyper-personalization.
Consider these stats:
When customers feel connected to brands, more than half of consumers (57%) will increase their spending with that brand and 76% will buy from them over a competitor. – Sprout Social
80% of consumers are more likely to make a purchase when brands offer personalized experiences. – Epsilon
When a company makes customers feel appreciated, 76% indicate they'll keep their business with the brand, 80% say they will spend more with the brand, and 87% will recommend the brand to friends and family members. – Forrester
That's why building relationships with consumers through content is so important. More than ever, fashion brands need to establish always-on distribution channels to meet their audience where they are in every part of the buyer journey – and that is increasingly in the digital space.
However, the brands that will succeed will be those that learn how to be more strategic with their time and resources to rise above the noise.
"Instead of contributing to the general hubbub on every platform, do targeted, impactful content that inspires people," says Duncan Edwards, a Content Strategy Consultant and former Head of Content Development for fashion retailer ASOS. 
Click-and-Shop and User-Generated Content
"Forward-thinking brands are taking steps to reduce the friction between the content they produce and the purchasing process: They're creating shoppable content," explains Ometria, a blog for e-commerce marketers.
While the trend has been around for a couple of years, improved technology and new features across platforms are enabling brands to seamlessly integrate the content and shopping experiences in creative new ways. Instagram and Facebook both offer shoppable ads. Shoppable TV shows are more than just infomercials.  Lifetime and Wayfair experimented with the first "fully shoppable" weekly TV series: "The Way Home" featured segments on interior design, decorating, and home renovation – and every product on the show was available for purchase on Wayfair.
In the meantime, many fashion brands are finding success by leveraging blog and user-generated content (UGC) on social media to drive audience engagement and create authentic click-and-shop experiences.
Madewell is one brand doing shoppable content well. With more than 1 million Instagram followers, the fashion retailer consistently shares images of beautifully photographed products and provides a direct link for people who want to shop.
This Instagram post not only gives interested shoppers direct access to the product page but ties in nicely to the "Madewell Inspiration" blog, with an essay from Harper's Bazaar Fashion Editor Olivia Fleming (who is the one pictured in the Instagram photo). It's the perfect combination of content and commerce, without ever feeling too salesy. Madewell regularly includes customer images with hashtags like #everydaymadewell so customers can get style inspiration from other Madewell shoppers. 
ASOS is another brand that has mastered soliciting UGC and leveraging it to create an engaging experience for fans.
On Instagram, ASOS asks users to share photos of themselves dressed in ASOS products, tagged with #AsSeenOnMe. ASOS curators will then repost images on Instagram and the #AsSeenOnMe landing page with information so users can shop the looks. Featuring UGC photos is an all-around win: ASOS can promote its brand through valuable, authentic content (and convert some users to customers), featured customers get time in the spotlight, and other fans can glean inspiration from those UGC photos. 
Get this: Roughly 50% of customers say they would switch to a competitor after just one bad experience according to Zendesk's Customer Experience Trends Report.
What's more is that after more than one bad experience, that stat increases to 80% of customers.
As such, brands need to be ready to supply content and information that answer users' questions, in a variety of ways and on multiple channels.
Major labels are now experimenting with chatbots to deliver content and customer service to fans. And why not? According to Drift, more than 40% of consumers said they used chatbots for purchases 
Levi's offers a "Virtual Stylist" chatbot on its website and Facebook Messenger. It uses artificial intelligence (AI) to converse with customers, help them find a perfect-fitting pair of jeans, and see corresponding images of what to wear with them.
"We are on the leading edge of a challenge that all retail companies face today – how to create a seamless and personalized shopping experience for consumers, and new technologies like our Virtual Stylist are integral to that evolution at LS&Co.," said Marc Rosen, Executive Vice President and President of Levi Strauss Americas, in a company release. "No matter where the consumer chooses to shop, we want to give them a personalized experience that leverages our expertise in fit and style to address the biggest challenge of finding the pair of perfect-fitting jeans."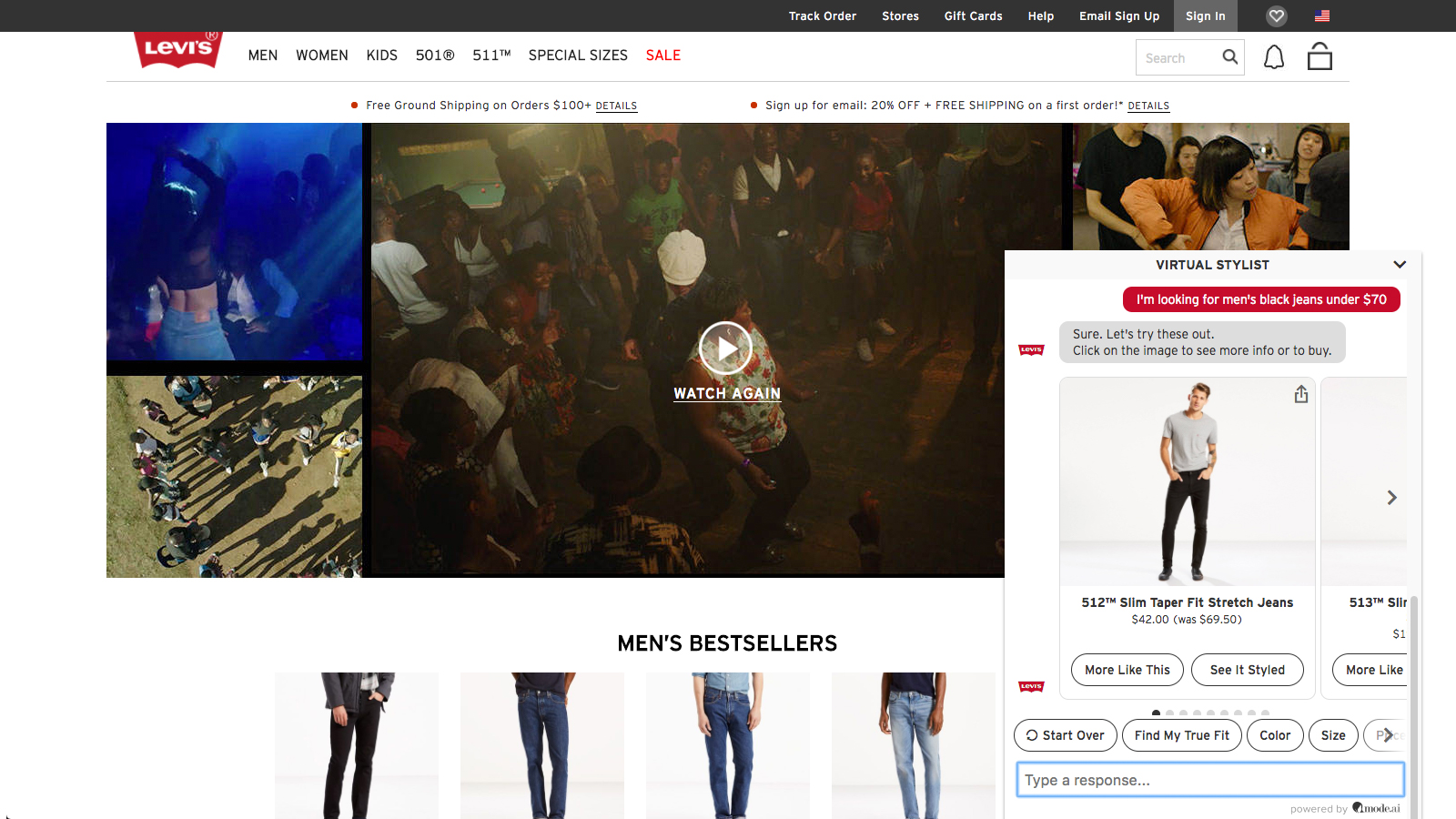 Tommy Hilfiger uses a Facebook Messenger "fashion bot" to promote its Tommy x Gigi collection with Gigi Hadid. Users could click to message the brand on its Facebook page; after doing so, the chatbot walked them through the collection. In addition, customers could ask the bot questions and receive answers – the Tommy Hilfiger team pre-programmed it with more than 7,000 responses.
With fashion retailers realizing that they can't afford to skimp on customer service, expect to see more companies experimenting with chatbots (especially as the technology improves) and other forms of automation to deliver content and address customer issues.
Email Marketing Personalization
According to Epsilon, 80% of consumers are more likely to make a purchase when brands offer personalized experiences. Fashion retail brands that aren't using personalization could have an untapped gold mine that's waiting to be discovered.
One company finding success is Thread, which delivers personalized style recommendations to more than 650,000 users. Says Tom Banham, Content Editor at Thread: "I personally think that when you're in someone's inbox, that's a responsibility…We want to make sure all of the content we send out genuinely improves the lives of our users."
In addition to your stylist's recommendation, Banham explains that users might get emails based on where they live, or what the weather is like. "So at least it feels like you're getting something for you."
Another compelling case study is Alex and Ani. The jewelry and accessories retailer used to send all subscribers the same email – but conversions weren't high. That led the company to delve into data to get a better sense of user behavior, preferences, and interests. 
With those findings, Alex and Ani experimented with personalized emails. It sent targeted emails to re-engage people who had abandoned shopping carts, and deployed personalized emails and onsite experiences with dynamic recommendations. Alex and Ani's efforts resulted in a 73 percent increase in monthly email revenue.
With brands increasingly targeting millennials and Generation Z, they'll turn to email automation programs that will help them delight consumers and build trust. Look for that in the form of more abandoned cart messaging, birthday emails, and "top pick" round-ups based on past purchases.
Harder-Working Blogs
Blogs are still one of the best ways for brands to power their content machines – and fashion retailers have some of the most effective content hubs out there. What's great about blog content is that it works in tandem with social media and email marketing to serve as a key customer loyalty builder. A highly followed blog, and its content distributed across multiple channels, helps brands stay top-of-mind for when consumers are ready to buy.
Not to mention that shoppable content links and other technologies embedded within blog content have become the norm.
Fashion brands can also use blog content to target an untapped audience, as Zappos' The_ONES does with its sneaker culture content for women. 
The site shares the backstories of iconic sneaker designers, celebrities, and "sneakeristas." And embedded within the stories, of course, are modules that transition readers into shopping for the products they're reading about.
"From the passionate collector to the casual street-chic fashionista, there's an underserved consumer who loves the closet classics as much as we do," says Jeff Espersen, Zappos' VP of Merchandising, in Fashion Network.
Looking ahead, retail marketing teams will seek out platforms that contain modules that can serve up content based on user behavior and preferences with the goal of increased conversions in mind.  
More Strategic Influencer Investments
Given the amount of money fashion brands spend on influencers, there's been a lot of talk about an "influencer bubble" – but it's unclear when that bubble will burst. "The influencer marketing industry is on track to be worth up to $15 billion by 2022, up from as much as $8 billion in 2019," according to Insider Intelligence, based on Mediakix data.
Revolve is a brand that works with a global network of more than 5,000 content creators to drive brand awareness and conversions – not to mention a legion of fans. In past summers, Revolve has rented out a house in the Hamptons and hosted four weekends packed with parties and activities for celebrities and A-list fashion influencers. They've also taken top influencers on international jaunts to Jamaica, Croatia, and Mexico.
Up to 70 percent of Revolve's revenue is fueled by influencers, according to Michael Mente, Co-founder and Co-chief Executive Officer of Revolve.
With success stories like that, look for fashion brands to begin turning away from one-off campaigns and promotions with celebrities, and begin focusing more on ongoing ambassadorships with select influencers who make more sense, strategically, and come at a lower price point.
With many top-tier influencers becoming too expensive and selective with the companies they endorse, brands are cultivating more relationships with "micro-influencers" – as in, the up-and-comers who have loyal followings (in the 10,000 to 100,000 range) but haven't yet made it big time. Though micro-influencers may have smaller audiences, their followers tend to be more engaged.
Like every fashion trend, each of these content marketing tactics will be most successful when brands adapt them to fit their own personalities.