Developing a content marketing strategy is kind of like creating an appealing menu. It's an important start, but the execution is what matters.
You have to be able to cook the dishes correctly, plate them attractively, serve eager customers, and then make sure they actually enjoy your food, come back for more, and tell all their friends about their fantastic experience.
Food content marketers have, in many cases, fallen short. Although most food brands are producing creative content, many lack a content hub. Some that do try to get away with reheating stale content that isn't so fresh. Or, they fail to maximize that content by promoting it consistently on social media and other marketing distribution channels. Still, other food companies opt for one-off promotions instead of creating an ongoing, consistent content strategy.
Yet, consumers are hungry for food content.
Consider this:
So how can you figure out which types of food-related content will resonate in a very crowded space? One strategy is to focus on food and restaurant trends, especially among the biggest digital content consumers: millennials. CBD Marketing's analysis of 12.5 million social media posts by U.S. millennials (ages 18 to 35) revealed that they:
Gravitate to healthy, natural foods and cultural flavors
Like to cook and prep meals
Support alternative food distribution via meal delivery and meal services
Furthermore, a Nielsen study found:
Millennials want to know more about how their food is produced and want to "see the story behind the scenes" (81% and 80%, respectively)
73% are willing to pay more for sustainable brands
58% of millennials eat out at least once a week
Like chefs, good content marketers with a keen understanding of their customers' tastes can develop a focused menu of content offerings (across platforms), sprinkle in the key ingredients (video, dynamic apps, cause marketing), and experiment with new digital flavors (chatbots, IoT technology) as they become trendy.
Here's a sampling of effective, customer-satisfying food content marketing strategy tactics, straight from today's top brands.
Building Communities Through Aspirational and Inspirational User-Generated Content (UGC)
Remember all those social media food posts we alluded to above? It goes to show that people love to share their culinary masterpieces – whether home-cooked, eaten out, or ordered in – and get tips and commentary from others with similar tastes. That's why food brands win when they leverage user-generated content (UGC) that engages and celebrates their customers while driving brand goals.
Blue Apron, the meal-kit delivery service that sends aspiring home cooks ingredients and step-by-step recipes to create simple but impressive-looking meals, has grown in large part thanks to UGC.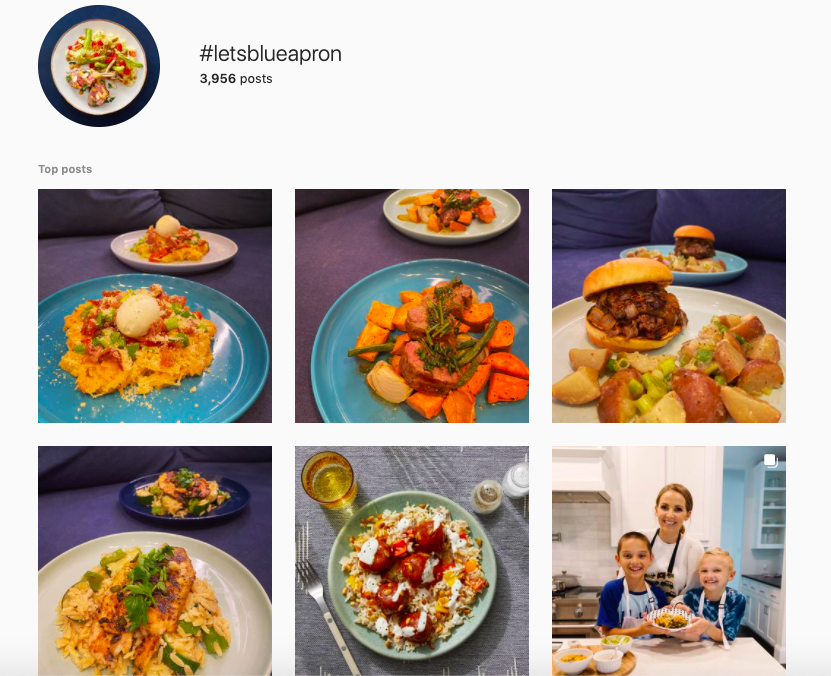 Blue Apron encourages fans to share their meals with the hashtag #LetsBlueApron. The UGC not only connects Blue Apron fans with each other; it also shows other people how easy it is to create meals (and how delicious they look), which may persuade them to try the service.
How to get started: To encourage a steady stream of UGC, invite customers to share their experiences with your brand on their social networks. Develop and promote a special hashtag, and then reward customers for contributing; random drawings and discounts, or simply just featuring their posts on your social channels and content hub, can go a long way to incentivize participation.
Leveraging Recipe Content Across Channels
This might seem like a no-brainer for food brands, but not every company is fully using recipe content to its full advantage. Whole Foods is a brand that does. The Amazon-owned grocery giant features more recipes than promotions on its website homepage. It has a dedicated recipe newsletter and often promotes recipes on Twitter and Instagram.
"Whole Foods Market customers are always looking for inspiration, no matter whether they are at home, on the run, or walking down our aisles," said Jeff Jenkins, then Global Executive of Digital Strategy and Marketing at Whole Foods Market, in an interview with VentureBeat.
And knowing that inspiration is so very often found via mobile devices and creating content in that vein is what helps a food brand stand out.
How to get started: While you might expect Betty Crocker or Kraft Foods to serve up recipes, even single product lines and niche brands have found success with recipes. Chobani almost single-handedly made baking with Greek yogurt a thing, promoting yogurt recipes across its distribution channels. Think about some unique ways that your products might be used – even reach out to your customers to ask – and see if you have enough ideas to warrant regular recipe content.
Sharing a Consistent Message Across Social Channels
When it comes to social media marketing among the fast-food giants, no other brand has more appeal with Gen Z and younger millennials than Taco Bell. With millions of Instagram, Twitter, and YouTube followers, Taco Bell's investment in creating unique content is clearly paying off.
If social media channels are snacks, Taco Bell's content hub is the main course. The hub features blog posts about interesting creators/Taco Bell enthusiasts, employees (like a dietician and a brand marketer), and even fans who take their love of the brand to the extreme, like a couple who got married at a Taco Bell!
In all it does, Taco Bell makes fans the center of each content decision – the YouTube series "For Here or To Go" is a great example. And no marketer could forget the incredible success that Taco Bell had on Snapchat with its 2016 Cinco de Mayo filter that turned users' faces into giant tacos, viewed more than 224 million times!
How to get started: Few brands find tremendous success on every social platform at once, so start with the one or two that your audience spends the most time on. Whichever you choose, try to stay on top of the latest social media trends, whether it's using influencers or creating Instagram stories. (Taco Bell is killing it with those, too!)
Showcasing Your Values
There are so many great examples of marketers using content to bring their brand's ethos to life. In the food industry, few do it better than Ben & Jerry's.
The ice cream company is as much known for its delicious variety of decadent flavors as it is for its stance on pressing political and social justice issues. Its content hub features posts about ice cream recipes and new flavors, as well as stories that align with its values, like "We Stand with the Student Leaders of March for Our Lives" and "QUIZ: How Much Do You Know About Climate Change?"
Jay Curley, now Ben & Jerry's Global Head of Integrated Marketing, told New York Magazine: "We're trying to create a new model for how businesses can use their voice to have an impact on important social movements and show that you can do that and it doesn't hurt your business. As a matter of fact, it may help."
Proof that it does? Ben & Jerry's business has tripled in the last 15 years.
Another example of brand values being good for business is Clif Bar. Its content hub showcases the company's most important attributes: health, wellness, adventure, nature, sustainability, and an active, passion-fueled lifestyle. Recent stories include a profile of two Clif Bar-sponsored athletes who set out to raise $100,000 for Bears Ears National Monument, and a big rock piece of content about The Great Trail, a 15,000-mile network of trails across Canada.
What you won't find is a hard sell. And it's not necessary. Equating Clif Bar consumption with the brand's lifestyle has garnered legions of fans. Clif Bar's Instagram account further follows that strategy by featuring fans' nature photography tagged with #FeedYourAdventure over product shots.
How to get started: If you know what your brand values are, don't be afraid to share them. You don't necessarily have to get political or controversial – just be authentic.
Telling the Stories Behind the Food
As people become more conscious consumers, they want to know the stories behind what they eat. In other words, how is the food produced? Where do the ingredients come from? Who are the people involved?
Kashi's "Stories" align well with the brand's wholesome, healthy products. The stories share insights into healthy eating and food inspiration, and change the boundaries of food norms. The "Certified Transitional" blog posts highlight Kashi's investment in farmers who are in the process of becoming USDA certified organic.
How to get started: Whether your brand is focused on all-natural foods or you're a restaurant that uses locally-sourced ingredients, it will benefit you to share that information or other sustainability initiatives with your customers.
Experimenting With New Technologies
Getting in on the next big technology trend can pay off, as it has for a few food brands that have created Alexa skills. Stubb's BBQ sauce launched its skill, Ask Stubb, to assist grill cooks. The skill features recipe ideas and tips like: "Don't ever put ribs on top of each other. You have to allow space for the heat to penetrate." The best part is you won't hear Alexa's robotic voice – you'll hear Stubbs himself, making it a more user-friendly experience.
How to get started: Listen closely to your customers' needs and check out some other top brand experiences on Alexa. Then, create audio content to enhance how your users experience and interact with your product.
Content marketing strategies for food brands work best when brands highlight their values and know their audience's tastes. But more importantly, brands need to work harder so that their customers aren't left feeling hungry for more – otherwise, they'll take their content appetites elsewhere.