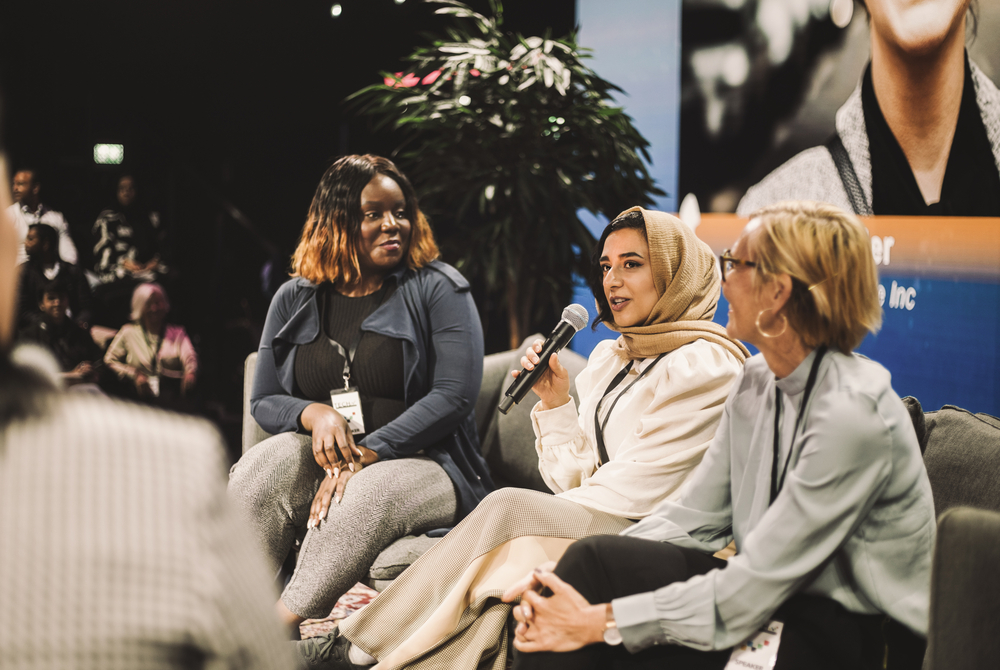 These campaigns are honoring and advocating for women from the coffee fields of Costa Rica to the protests in Iran.
International Women's Day and Women's History Month have become important tentpoles for marketers everywhere seeking to celebrate women's accomplishments and continue the struggle for gender equality. Here's how some brands are activating this month.
📅 Related Reading: How Marketers Can Honor Awareness Months + Holidays with Tact
Mercedes-Benz
Mercedes-Benz worked with the agency Antoni and Smuggler director Fiona Jane Burgess on a brand commercial exploring gender equality—and why real progress isn't about being the only woman in rooms that traditionally exclude them.
As a woman working in a predominantly male industry I feel very strongly about the need for gender equality in all areas of life, but we are so far from that reality.
"That's why this campaign spoke to me so much. Because the world needs a wake-up call," said Burgess.
Barbie
Barbie is honoring seven women worldwide who are leaders in STEM with one-of-a-kind role model dolls made in their likeness—including the Wojcicki sisters. The honorees are:
Susan Wojcicki (U.S.): Longtime YouTube CEO
Anne Wojcicki (U.S.): CEO of 23andME
Janet Wojcicki (U.S.): Professor of pediatrics and epidemiology at the University of California, San Francisco
Katya Echazarreta (Mexico): Electrical engineer and science show host
Dr Maggie Aderin-Pocock (U.K.): Space scientist and science educator
Prof. Dr. Antje Boetius (Germany): Marine researcher and microbiologist
Li Yinuo (China): Co-founder of ETU Education
Credit: Mattel
Häagen-Dazs
Häagen-Dazs is launching "The Rose Project," a global initiative inspired by Rose Mattus, the ice cream brand's unsung female co-founder. Participants can nominate women in their lives to be put forward for a chance to win part of a $100,000 bursary and some well-deserved recognition. A shortlist of 50 revolutionary women will be commended for their exceptional achievements. The bursary fund will be split evenly between five winning Rose Project honorees. 
Center for Human Rights in Iran
A braided noose is the striking central image in a new campaign by Stockholm-based agency Volt for the U.S.-based organization Center for Human Rights in Iran. 
Credit: Center for Human Rights in Iran
The campaign calls on European Union countries to support the women and girls of Iran who are facing severe and violent repression. It also urges Sweden, as EU Council president, to pressure other EU countries to echo the following demands: Stop the repression of women and stop detaining women who are calling for basic rights and freedoms in Iran; end the physical and sexual violence against women detainees and protesters; and cease all executions of political prisoners and annul all death sentences against protesters.
MTV
Filmmaker Sindha Agha and female-led production company The Corner Shop created a short film for MTV called "The Waves," which brings the words of one of Virginia Woolf's most compelling works to life through portrayals of women engaged in familiar rituals of surviving and concealing chronic pain. The piece debuts this week and will run across all linear/social/digital platforms within MTV Entertainment Group—MTV, VH1, Comedy Central, Paramount Network, CMT, Logo, Smithsonian Channel, PopTV, TVLand—throughout March.
AnalogFolk
The creative agency AnalogFolk has launched "Still Present," a digital campaign and protest pack designed to remind the world about the real purpose of IWD—to protest the inequalities women face—and give them tools to act for tomorrow. There is a gallery of historic protest signs on the site, as well as a "Protest Pack," where you can download recreated signs to protest in modern ways like social media.
Starbucks
From coffee farms to coffee stores, Starbucks is spotlighting 12 women who are crucial to the coffee business—baristas, store managers, business directors, agronomists, roasters, leaders in sustainability and ethical sourcing, and more.
Miller Lite
Miller Lite is collecting old sexist print ads and posters, grinding them into worm food, using the worm food to make fertilizer, using the fertilizer to grow hops and giving the hops to women brewers. The campaign, from Alma, features the video below starring Ilana Glazer.
Telemundo
NBCUniversal Telemundo Enterprises unveiled a new campaign titled "Change the Game" ("Cambia el Juego") under the company's award-winning corporate social responsibility initiative "Unstoppable Women" ("Mujeres Imparables"). The new multiplatform initiative seeks to inspire, inform and ignite a community of unstoppable Latino women to shift their perspective and "change the game" of life. Activations will take place throughout the month across broadcast and digital channels and in a series of community events across the nation.
MilkPEP
MilkPEP is pledging to feature only women across 100% of campaigns for the rest of the year to fight gender inequality in media coverage. In addition, they will sponsor every female running any marathon in the U.S. The campaign, led by Gale, will feature an immersive OOH takeover in Times Square, a double-page print ad in key markets and a digital and influencer campaign featuring athletes, including two-time basketball world champion Lisa Leslie and Olympic gold medalist figure skater Tara Lipinski.
Google
Google and its suite of brands are celebrating Women's History Month in a variety of ways. The flagship Google brand kicked things off with a site-wide spotlight on groundbreaking women in all industries. Starting on International Women's Day, YouTube will spotlight a collection of women creators across industries, from gaming to fitness to film, while Google TV commemorates "31 Days of Women" throughout March by featuring one title with an inspiring female character per day on its home screen.
Google Play will feature apps, games and books alongside editorial articles that discuss female leadership and ways to embrace equity in daily life. Google Arts & Culture is also relaunching its Women in Culture hub with a new virtual gallery reimaging female artists in the frame, as well as over 60 new stories on untold women's history.
PepsiCo
PepsiCo is highlighting many of its female workers by putting their faces on the company's delivery trucks. The "She Is PepsiCo" program will honor 28 associates from 20 cities across the U.S. and Canada who have exhibited outstanding leadership prowess. Each "She is PepsiCo" honoree will be recognized via a personalized delivery truck wrap featuring the employee in her workplace setting, in place of the usual images of brands such as Pepsi and Gatorade.
Lansinoh
Lansinoh is unveiling a global brand relaunch designed by Baldwin& on International Women's Day to spotlight not only its innovative breastfeeding and postpartum products, but also its ongoing fight for change and equality for new moms. "Stand With the Mothers" launches today across search, email and social media (Facebook, Instagram, TikTok) and is slated to run through December. It was shot by photographer Bri McDaniel, who also served as co-creative director.
Jiggy Puzzles
Jiggy is collaborating with the Girl Scouts on a limited-edition release. The new puzzle, designed by former Girl Scout Alice Bruce, will depict the group's values, including discovery, leadership and community. Additionally, the Girl Scouts will receive a 25% donation for each puzzle purchased, to be put toward fostering the next generation of female entrepreneurs and leaders.
Credit: Jiggy Puzzles
Cole Haan 
Cole Haan is teaming up with Maria Shriver's The Sunday Paper to spotlight ambitious women who are using their creativity to transform the playing field for women everywhere. Each Sunday in March, The Sunday Paper, in collaboration with Cole Haaan, will highlight one storyteller as well as her experience using art to envision a better future. The lineup of featured artists will include Felicia Pride, Ayodele Casel, Kinsale Drake and Julie Hébert.
Bose
Bose has launched a wide-ranging initiative to highlight and overcome a persistent gender gap in music—that less than 3% of popular songs over the past decade were produced by women. The initiative, called "Turn the Dial," focuses on highlighting the deficit, addressing the barriers that are causing it, and securing more opportunities for women and non-binary music producers to create music on the production side.
Hershey
Hershey's is bringing back its empowering, limited-edition Hershey's SHE bars for a third year to honor the influential women and girls who make an impact on our lives. This year, Hershey's and its nonprofit partner Girls on the Run join forces for the second time to build upon their shared mission of uplifting women to recognize their limitless potential.
Meanwhile, Hershey Canada has launched the #HERforSHE 2023 campaign, in partnership with agency Mint. The campaign features five women working to rewrite the narrative for themselves and their communities: LGBTQ+ advocate Fae Johnstone, Indigenous rights and water activist Autumn Peltier, climate tech researcher Naila Moloo, gender and education equality activist Rita Audi, and Girl Up Québec founder Kélicia Massala. The brand will release limited-edition chocolate bars, designed by Mint, alongside a series of online videos bringing their stories to life.
Credit: Hershey Canada
Manchester City
English soccer club Manchester City is collaborating with Puma and the club's charity, City in the Community, to unveil a limited-edition uniform and warmup kit in honor of Women's History Month. The Man City women's team wore the design, inspired by U.K. suffrage movement leader Emmeline Pankhurst, during a match against Tottenham on March 5, and the men's team also donned the kit during their warmup and pre-match walkout the day prior.
As part of the launch, Puma will help enable City in the Community provide free weekly football sessions to 250 girls across Manchester over the next year. The uniform's will also be auctioned off in coming weeks, with proceeds being donated to the Club's charity and the Pankhurst Trust. 
Strava
Strava is partnering with Hot Girl Walk creator Mia Lind to launch Hot Girl Walk United, a global initiative aimed at advancing gender equality. The fitness platform is pledging to donate $4 (up to $250,000) for every in-app challenge completion to GRLS and the ONSIDE fund.
Credit: Strava
BRP
Snowmobile, watercraft and ATV maker BRP is kicking off a "Get in the Driver's Seat" initiative to celebrate the growing number of women participating in powersports. For every signature the commitment receives, BRP will pledge $1 to organizations committed to championing women's causes, such as Canadian Women's Foundation, SheJumps, Mujeres Resilientes and more.
This article was written by Mia Gindis from Ad Age and was legally licensed through the Industry Dive Content Marketplace. Please direct all licensing questions to [email protected].