Content. Anyone can create it. Anyone can publish it. And more often than not, anyone can access it—with just a few clicks or thumb-taps.
But we all know that clicks and pageviews are meaningless unless they come from your target audience. So how do you create content that your target audience wants to engage with? Here we'll walk you through the five steps to follow to ensure your content hits the mark…and it all starts with your audience.
Using real examples from studioID's parent company, Industry Dive, a business journalism company that serves some of the world's most vibrant industries, learn how personas and measurement tools should be used to better decipher reader interactions and understand what content your audience actually wants.
Define your target audience
Who are you trying to reach with your writing, your message, and why? While "anyone" can read it, it's your target customer, partner, or user that you want to engage with. The best way to make sure the content lands with them is by understanding who they are and what's important to them.
Personas act as recipe cards — providing a list of traits, consumption habits, and topics of interest marketers can draw from to create tailored content for their entire target audience.
There are many persona building resources out there, so we won't rehash it all here, but you should essentially sketch out a few cards that answer: 
Who is the target? 
What is their primary goal & what is a roadblock or challenge? 
What information do they need to tackle the steps leading up to that goal? 
What can we do to help this person achieve their goal? 
Why would they choose our brand/organization to do so? 
How should we communicate with them?
At Industry Dive, we define our target reader as anyone who is responsible for driving one of our 23 industries forward. From experience, we know this typically means in a Director-level or above role at a company operating within that industry. We use a healthy mix of primary and secondary research to develop niche-specific personas like a VP of Operations at a big box retailer. From online resources to first-person questions and regular surveys, we understand the traits these leaders have and what keeps them up at night. It's our north star for any content we create.
Looking for data to help build your personas? Download our year-end Audience Insights report to discover what's keeping your audience up at night.  
2. Create a measurement framework
Now that you've identified who you're writing for, you can start writing, right? Wrong. Before you sink time into the production of quality content, you'll want to determine how you will know you have been successful: You'll need to create a measurement framework.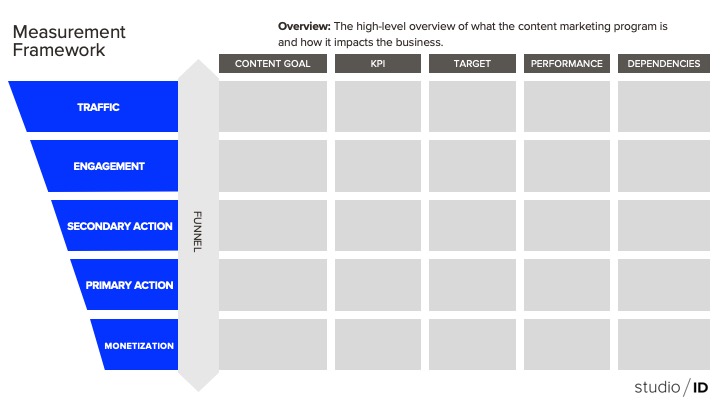 As you can see in the template above, it's important to layer content metrics such as pageviews, subscriptions, followers, and conversions together and onto your marketing funnel to get a true view of success. And be sure it focuses on the measurement of your target audience—not just aggregate numbers.
Across our Industry Dive publications, we measure individual engagement with content (pageviews, clicks, downloads, plays) using a customer data platform (CDP) because engaged readers become subscribers, and advertisers want to reach loyal, invested audiences, not a bunch of random visitors. Understanding how much time a reader spends on an article, whether they take an action (such as subscribing to the newsletter or registering for an event) as a result of reading the article, or continue to read more stories on the same subject, all factor into understanding a reader's real level of engagement.
3. Listen and analyze
You're almost ready to start writing that killer article—but before you do: gather any audience or target user engagement data you have to date. How did your best client find you and which topic did they associate you with? What is the most visited page on your site? What does the data tell you? What is your audience telling you?
At Industry Dive, if the readers we target show high engagement with a particular topic, that tells our journalists and marketers to create and serve content around that subject.
4. Create desired content
You've got the target, the framework, and the data to put your content on the right path to success. Now create it. It's natural to revisit the information in steps 1-3 as you develop the content to make sure nothing you create veers too far off course.
5. Repeat
After you create the content…. you're not done! It's not "set it and forget it" and it's not "spray and pray." You need to get into the habit of continually listening to your audience. Not just for content ideas, but for content resonance. Build in the time and process to analyze the response your audience is having to the new content. How did the content perform against your initial measurement framework? What can you learn from the discrete metrics and the larger picture they paint against your framework? Then, take those insights and infuse them into your next planning session.
At Industry Dive, in 2020 as racial conversations dominated the news, Smart Cities Dive covered how local governments responded to protests and HR Dive examined renewed attention on diversity and inclusion policies. Again, we used our customer data platform (CDP) to listen for opportunities to share this content with engaged readers across our other publications. Because we have a collaborative newsroom, leveraging our journalistic efforts across 23 publications increases the volume and value of our content.
Now more than ever, users need content that they actually care about. We want to have a two-way conversation with our audiences, and actually give them a voice in the editorial decisions we make every day. By having the right strategy in place, your content can keep users informed, engaged, and coming back for more.
It's not benevolent. It's inclusive. Brands must reflect this two-way street across content, or they run the risk of speaking "at" audiences and alienating them in the process.