Linkedin Ads are tricky business, but they can be game-changing for brand awareness, engagement, and conversions. Thankfully, there are pros like AJ Wilcox, Host of the LinkedIn Ads Show and Founder of B2Linked.com, to learn from. 
In his session at Content Marketing World, "Advanced Linkedin Ads — Pitfalls to Avoid to Drive ROI," Wilcox broke down a lot of uncertainty around LinkedIn advertising. While this session was designated as "advanced," the learnings are just as applicable for beginners. Read on to level up your game with LinkedIn ad strategies from an expert.
What LinkedIn Ads Formats Can You Use?
LinkedIn ad formats are continually evolving. And today, LinkedIn offers a variety of ad types for advertisers to choose from. Wilcox gave us benchmarks and insider intel on each. (And we threw in some LinkedIn ad examples for you.)
Sponsored Content
Sponsored Content includes your single image, video, carousel, event, document, and even your thought leader ads. Insider intel? Wilcox suggests putting 95% of your budget into this.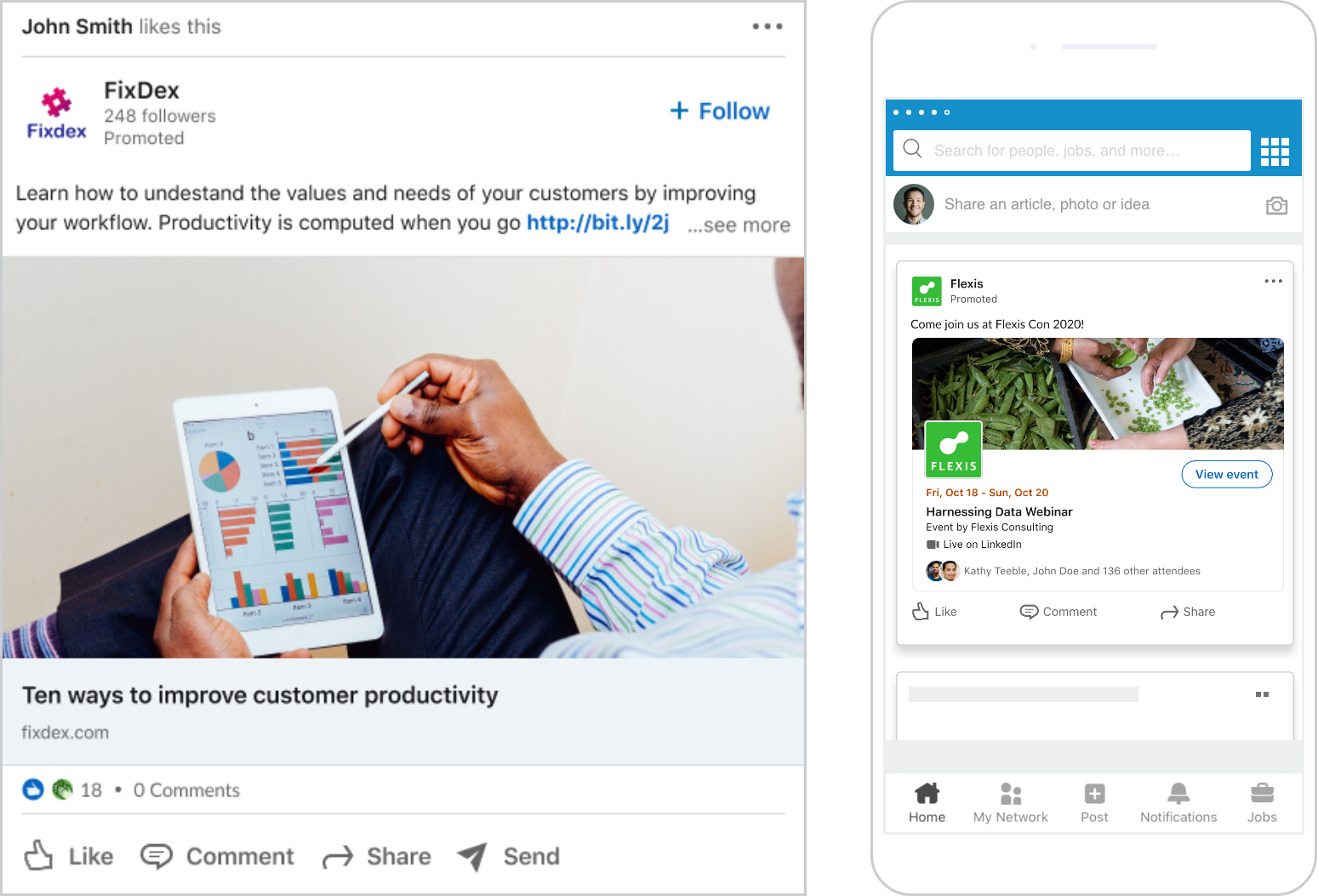 Text Ads
Text Ads are usually what you see on the right-hand side of your LinkedIn dashboard and are a less expensive way to get your message across. Insider intel? Your logo/brand is constantly shown — giving you low-cost brand awareness even if fewer people click.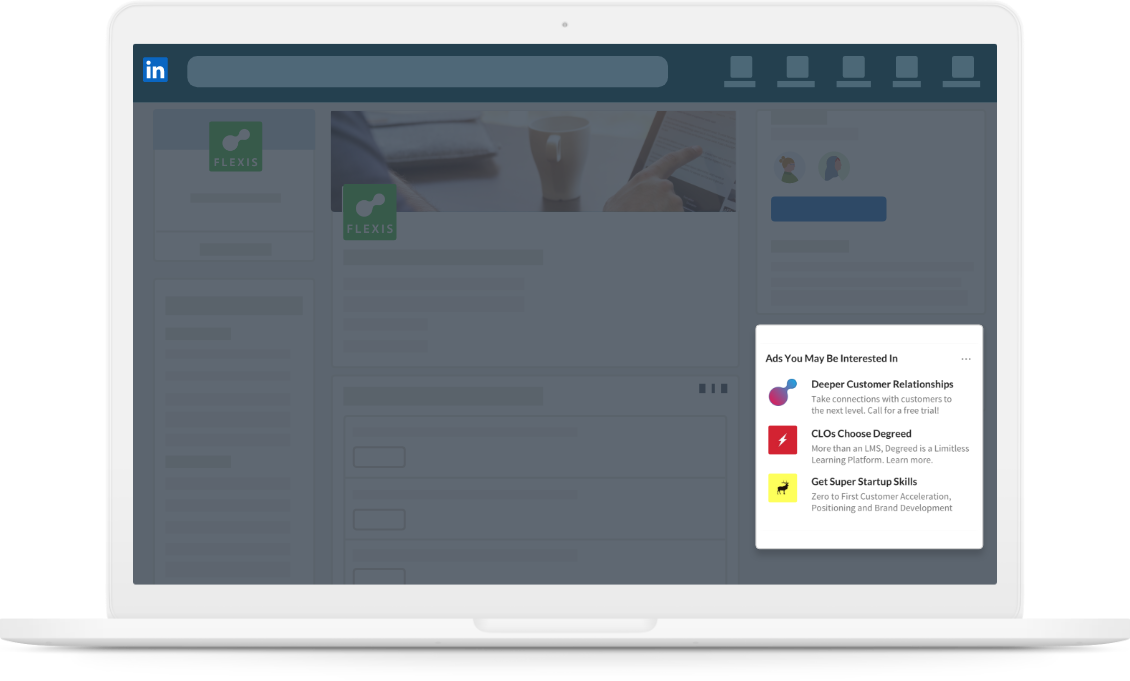 Dynamic Ads
Dynamic Ads can either be spotlight or follower ads that are a part of the Text Ads inventory. Insider intel? Followers Ads are a great way to get more followers to your company page. 

Sponsored Messaging 
Sponsored Messaging happens within LinkedIn Messenger. Wilcox let us in on some significant changes coming for this ad type. Message Ads were recently sunset, and Conversations Ads are being converted into click-to-message ads.  
"The ads start as sponsored content and then transition into conversation ads," says Wilcox. 
They're displayed in the LinkedIn News Feed and have the same anatomy as a Single Image Ad. After a user clicks on the ad, they're taken to their inbox to engage in an automated conversation, like a Conversation Ad.
…Oh, and one more piece of insider insight. 
Wilcox gave us the scoop that a new ad format would be coming soon. He guesses that it might involve a human-to-human interaction where the user indicates interest (somewhere on LinkedIn) and a human responds. 
What's Tough About LinkedIn Ads?
Clearly, LinkedIn has a lot to offer. But what's the catch? Well, as Wilcox points out in his presentation, there are four common challenges with advertising — specific to LinkedIn. 
The average click costs anywhere from $10-$16

There's no day parting (leading some to use an outside tool to do this)

LinkedIn offers no visible relevance score

There's no device-level bidding 
But it's not a lost cause. We've got that insider info on how to tough it out. 
📚 Related Reading: LinkedIn Launches New Report on the State of B2B Marketing
How Can You Optimize Cost On LinkedIn?
If you advertise on LinkedIn, you'll probably notice that the LinkedIn default is a maximum delivery bidding strategy. But here's the thing: the default is most expensive. Instead, Wilcox recommends using a hidden option: manual CPC (Find this option in the drop-down menu). 
The benefits of using this other option include the ability to: 
Set a daily budget — where you want it.

Bid significantly lower than Linkedin recommends to start ($7-$8).

Increase bids incrementally every two business days — until you hit your budget consistently.
Wilcox always recommends you run campaigns for about 2-4 business days and then ask yourself how close it came to the desired budget. 
If underspent ⬆️ bid up incrementally 

If overspent ⬇️ bid down incrementally 
How Do You Know If You're Bidding Right? 
Wilcox has three tried and true bidding rules: 
Rule #1: If CTR is under .5%, something is wrong. 

Rule #2: If CTR is between .5-1%, bid down to get the best bang for your buck, or bid up and increase your budget. 

Rule #3: If CTR is over 1%, utilize maximum delivery to get more reach.
Follow these, and you'll always pay the least for your clicks.
What Targeting Tactics Will Leapfrog My Ads to the Top?
We love these expert targeting tips. Read 'em and leap. 
Targeting those with specific skills and/or groups?

Exclude skills such as sales, business development, and marketing job functions (if that's not your target market). This will exclude those who are targeting your same audience from seeing your ad. 

Targeting small-to-medium businesses (SMB)?

Exclude larger-size companies. 
Targeting age or years of experience?

User seniority instead. Linkedin calculates 'experience' from how long someone  has been using Linkedin. Target based on job title instead.

Targeting using 'Audience Expansion'?

Avoid. Avoid. Avoid. Refrain from using 'Audience Expansion' because it shows ads to those outside of your target audience. (Aka, putting your hard-earned dollars to waste). 
📚 Related Reading: How to Empower Your Employees to Become LinkedIn Brand Ambassadors
How Do I Structure Campaigns?
You'll want to structure a few things in your account to maximize your ad dollars…and energy. Wilcox recommends these three structuring strategies for Linkedin ads. 
Campaign Naming 
Name your campaign after the audience you're targeting. This enables you to pause ads that are not relevant anymore within a target market AND avoid having to archive campaigns once they're complete. 
Say you're advertising an upcoming webinar and targeting mid-level supply chain professionals. When naming the campaign:
Avoid: "2023 Webinar"

Instead, use: "Supply Chain | Marketing Manager"
Plus, by using the same campaign, instead of starting a new one each time, LinkedIn already knows how that audience interacts and will be more effective.
Microsegmentation
Avoid general segments and microsegment instead. Try this by creating separate campaigns for each audience and then launching the same ads in each to see which audience the ads work best with.   
Avoid: "Marketing Manager & Above"

Instead, use: "Marketing Manager," "Marketing Director," "Marketing VP," and CMO — all separate campaigns.
Audience Size
Do yourself a favor and avoid LinkedIn's recommendation of 300K. Wilcox shares that the sweet spot is 20-80K. Less than 20K and you won't be able to spend much. Over 80K, and you'd fare better using separate audiences to see who performs better. 
What's a Graduation Series & Should I Use It? 
Short answer: yes. 
Long answer: when a prospect engages with one stage, they 'graduate out' and move into the next stage. This Linkedin ads strategy is helpful to nurture prospects until they turn into customers. 
Wilcox recommends creating (at least) three stages in a graduation series.
Top of the Funnel (TOFU): Deliver ads to your target audience and then exclude anyone who takes action, moving them from the TOFU layer. 

Middle of the Funnel (MOFU): Deliver ads to those who graduated from the TOFU layer and exclude any that engage, moving them to the BOFU layer. 

Bottom of the Funnel (BOFU): Deliver ads to those who graduated from the BOFU layer and exclude current customers. 
Wilcox's Pro tip: Deliver different formats for the stage of the funnel they're at. For example, prospects in the BOFU layer should receive demo ads, case studies, etc. as they are more engaged and familiar with your brand and content.