When endeavoring to tell true stories in content marketing, it can be easy to fall into a pattern of: present the facts and the figures, get straight to the point, and get out. Yet in our quest for precision, are we inadvertently creating messaging that works against our goals? 
In her Content Marketing World 2021 session, Ann Handley (MarketingProfs) is dedicated to reminding us that creativity is the lifeblood of storytelling — regardless of whether the work is fact or fiction. And when used in good measure, it has the power to turn humdrum, forgettable copy into high-converting stories that speak to our audiences on a personal level. 
War and Pizza
Nobody can out-pizza the Hut. But according to Ann Handley, the franchise missed an opportunity within their promotional signage. 
Caption: Pizza Hut store signage that reads "WE HAVE PIZZA."
In their efforts to be simplistic and straightforward, the brand stands as their own worst enemy. Why? Handley explains they fell victim to a mistake that so many of today's brands make: they spoke to their customers from an internal brand point of view. They forgot to make their customer the hero of the story. 
So how does one go about re-centering the narrative? To guide us through the process, Handley swiftly flips from pizza to the tale of the holidays' favorite outsider hero: Rudolph. 
Rudolph the Red-Nosed Reindeer Had a Very Storied Career in Content Marketing
Did you know Rudolph the Red-Nosed Reindeer was written by one of us? The story's author, Robert L. May, was a struggling, burned-out marketer for the Montgomery Ward Department Store.
With the holidays fast approaching, his boss requested May craft a story that kids and parents could enjoy together that would also inspire visits to the store. May returned with the tale of Rudolph the Red-Nosed Reindeer, and the rest is history. His book morphed into an American classic, and his red-nosed protagonist serves as the poster child of a secular Christmas — and according to Handley, content marketing's first-ever icon. 
Handley argues that the children's book was the first real piece of content marketing, and to this day, its framework serves as the ideal template to tell brand stories.
The Rudolph Method: Customer-Centric Storytelling 
Why is this story such an exceptional model? Because Rudolph (the product) makes Santa (the customer) the hero of the story.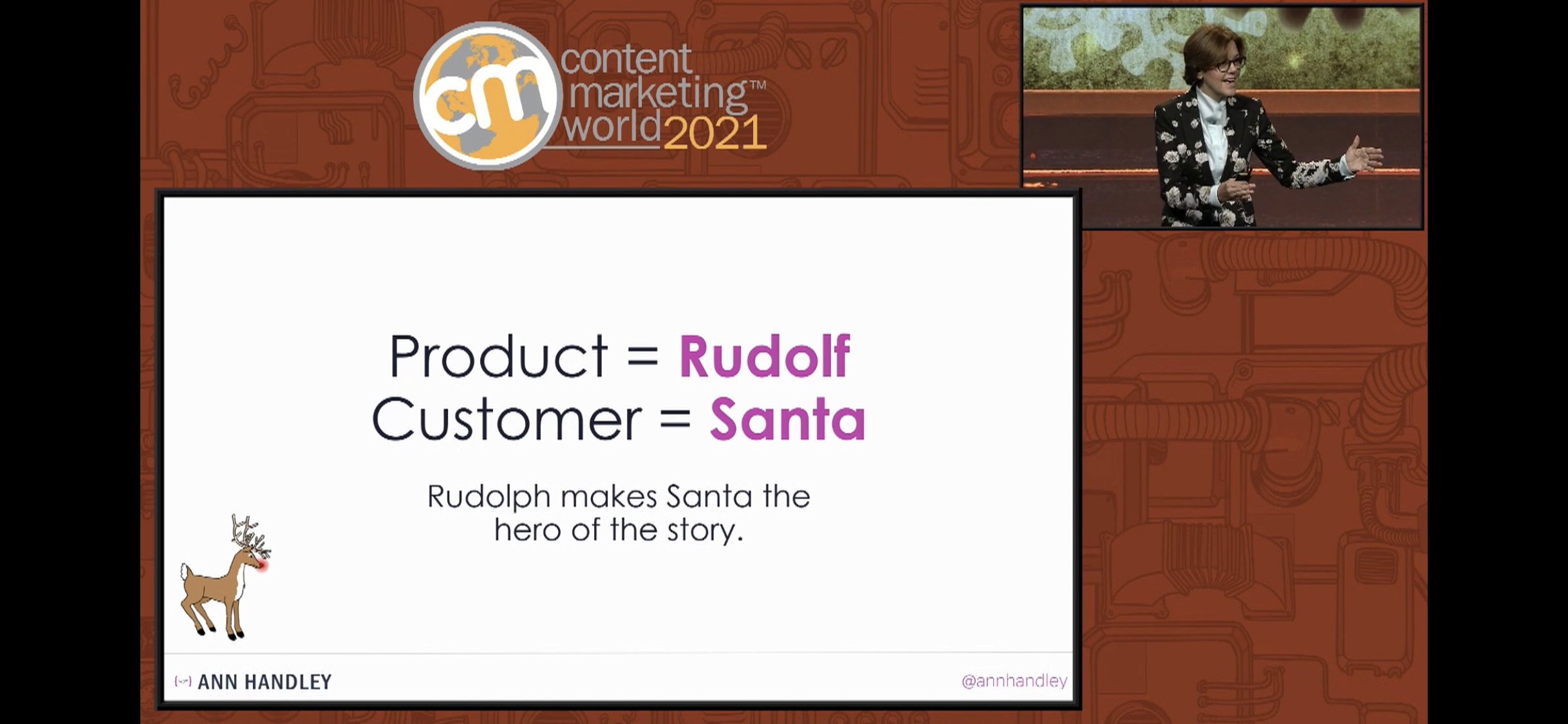 To demonstrate, Handley first breaks down the holiday classic through a storytelling lens:
Once upon a time there was a Rudolph.
He has the capacity to light up a room.
Some people doubt it because he's not like the others.
But one day, there's a terrible storm.
Which means Santa needs him.
To help the kids believe in the magic of Christmas.
And that matters because Christmas would otherwise be cancelled. 
Which brings together a community of misfits and North Pole elves.
And then she quickly adjusts it into a marketing storytelling model, mad-libs style: 
Once upon a time there was a [your product]. 
It has the capacity to [your product's superpower].
Some people doubt it because [what detractors claim].
But one day, [why now?].
Which means [people now need this].
To help [whom does your customer serve?]
And that matters because [how your customer becomes the hero].
Which brings together [the larger market you serve].
Handley asserts you can use this timeless framework to market anything. And you can also use this framework to highlight the need for excellent storytelling within your own organization.
Because, Handley accentuates, "this kind of storytelling is not about the product, and instead, about the audience we serve."
A Gutsy Tale of Two Facebook Ads
Handley continues her emphasis on the importance of story by recounting a tale of two Facebook ads. She had grown to hate her tattered, past-its-prime couch at her cottage in Maine, and set out to sell it. This presented her with a classic marketing challenge: how do you sell something when you're not the perfect buyer?
Facebook Ad #1

Caption: FREE COUCHES: Two gently used brown loveseats from a smoke-free, pet-free seasonal cottage. Very comfortable, no tears or rips. $0. 
The Outcome?
Even though the bare-bones ad was literally giving away the couches for free, it generated only one inquiry that requested delivery. Handley promptly declined. ROI = 0%. 
Let's try this again with a good old A/B test. 
Facebook Ad #2

Caption: PUMPKIN SPICE COUCHES x2: Two upholstered gently used loveseats in a rich caramel hue. Deep, comfortable seating. Generous arm with sturdy back pillow supports. Perfect for binging Netflix or cozying up with your bestie on a chilly autumn night. From a smoke-free, pet-free seasonal cottage. Sad to see these go! $95 for the pair. These won't last. 
The Outcome?
On the much more descriptive ad variant, Handley received eight inquiries and sold the old couch for the ad's asking price. ROI = 10,000%.
What made all the difference? The details. In Facebook Ad #2, Handley expertly uses craft and particulars to paint the audience into the story. In a few short lines, she manages to let them know: 
What does it look like? The couches aren't washed-out brown. They're pumpkin-spice and caramel hued. 
What does it feel like? They're not just any old seats. They provide deep, supportive, comfy seating. 
How can a potential buyer use it? "Binging Netflix; cozying up with your bestie on a chilly autumn night."
What emotions are entrenched? "Sad to see these go."
To drive the point home, Handley maps the couch tale back to the Rudolph framework:
Once upon a time there were two brown couches. 
They have the capacity to offer a comfy spot to sit. 
Some people doubt them because they're kinda ugly. 
But one day, an old sofa finally collapses. 
Which means the Mom searches on Facebook. 
To help her family have a better spot to sit. 
And that matters because the big game is on this weekend. 
Which brings together the entire family. Without family the entire backbone of society crumbles. 
The Rudolph Method comes through yet again to help Handley deliver a riveting, customer-centric story that successfully inspires conversion. 
The Handley Code
Before Handley goes, she implores us to do this kind of artful storytelling in our own content:
"Because stories add context, and context adds immediate value. Invite your audience to be a part of the narrative."
It's not lost on me that in quite a meta approach, Handley used the "Rudolph Method" to tell her own Content Marketing World session story. She found relevant moments to drive urgency and address doubts. She invited me into the narrative by injecting wit, rich detail, humor, and a sense of humanity via her own personal experiences. And in this tale, her "product" allows us marketers to be the hero of the story by empowering us to tell better stories to our audiences. Masterful. 
As I zipped through the rest of my own day at Content Marketing World, these questions reverberated inside my own head: How will you be more creative? How will you use words and classic narrative arcs to bring your audience into your world? How will you make your customer the hero of your story?
You can download Handley's "Rudolph Method" storytelling framework here. 
Looking for more of the best of CMWorld 2021? Check out our session: Content Marketing Predictions for 2022 (And How to Navigate Them).