Putting together a successful financial services content marketing strategy needs to revolve around education, relationship-building, and trust – and it has to be done in a compelling way to keep audiences engaged. That's easier said than done for financial services brands that deal with complex and somewhat "unsexy" topics like Roth IRAs and home equity loans.
Then again, consumers have shown that they are willing to invest their time in financial content. Here are some numbers to support that:
According to a recent Experian study, nearly half (49%) of Gen Zers surveyed are interested in learning more about personal finance. Translation: The interest is there, but it's up to you to empower this audience with information that both educates and entertains to improve their financial literacy. 
When it comes to managing finances, 75% of Americans say they do it themselves with no help from a professional or online service, according to a CNBC and Acorns Invest In You Savings Survey. In other words, consumers are researching key financial topics in order to make important decisions on their own.
This gives financial services brands a huge opportunity to step in and become that credible authority to help consumers improve their financial lives.
Building a Connection With Content
In Brandpoint's State of Content Marketing for Financial Services report financial services marketers reported on the content formats they found most effective in their space: 75% said infographics, 44% said video, and 37% said blogging.
No matter the format, marketers recognize that financial services content marketing can help reach new customers and create loyalty among existing ones. They cited that the biggest benefits of content marketing for their businesses has been:
to create brand awareness (61%)
for customer relationship building (60%)
for customer education (53%)
Of course, there are always some challenges when putting together a content marketing plan. For starters, in the financial services sector, there are a lot of restrictions when it comes to content. Financial companies must adhere to various compliance requirements as banking is heavily regulated. As such, you may have to add certain qualifiers and fine-print items to your content — making it challenging to still sound conversational and not lose the reader. Compliance issues aside, financial content also tends to include complex topics, which is why it requires skilled content creators to find ways to tell stories and share information in a way that isn't boring.
And as Edelman's 2021 Trust Barometer reveals, consumer trust in financial institutions took a steep decline between 2020-2021, indicating financial brands will have to work diligently and consciously to steadily rebuild the trust of its customers.  
Despite having such hurdles, creating financial service content marketing that is compelling and ultimately helps your bottom line is totally doable. If you're looking for some inspiration, here's a portfolio of financial services content marketing strategy tactics in action, straight from today's top brands.
Financial Services Content Marketing Examples
Santander Bank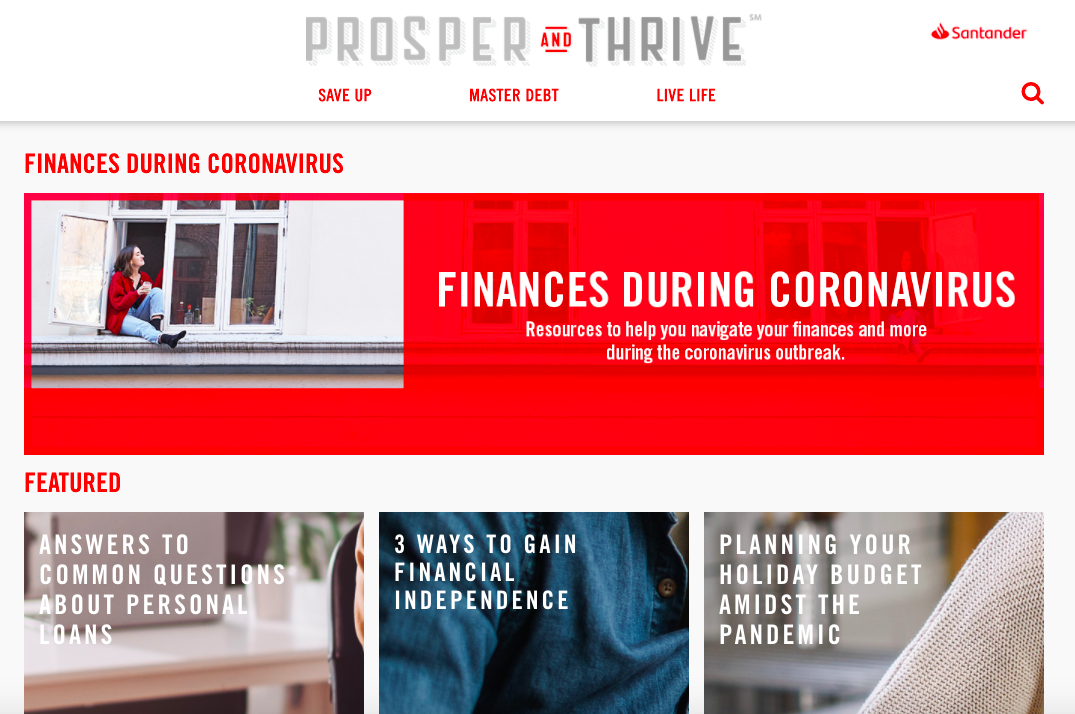 Santander Bank has had a lot of success in using content to reach prospective customers. For example, its Prosper and Thrive content hub was created with millennials in mind back in 2016, and very quickly garnered more than 1 million site visits and 200,000 social engagements.
Taking a page out of that playbook, Santander also launched a content-driven website called Business First back in 2017, aimed at small business banking customers. 
Business First features lots of actionable advice, strategies, and inspirational success stories for entrepreneurs and small business owners. Articles and videos are often interactive, easily digestible, and aimed at businesspeople in various stages of operation (like its timely "Stories of Resilience" webinar for small business owners).  

The site continually aims to inspire this group via storytelling with their content designed for small business owners in specific industries. "People see themselves in other people so sharing or showing how an individual worked with your team to useyour products/services helps others envision themselves in the same position with positive outcomes," says Rebecca Epperson, President of Chartwell Agency, an integrated marketing firm based in northern Illinois with many financial clients.
Pro tip: Create personalized and customized content for different niches. "Sending the same newsletter to families with small children and retirees is a waste," says Epperson. "They have completely different needs/wants/interests. Of course there may be some overlap, but try to ensure you're engaging with customers where they are, not where you are."
Synchrony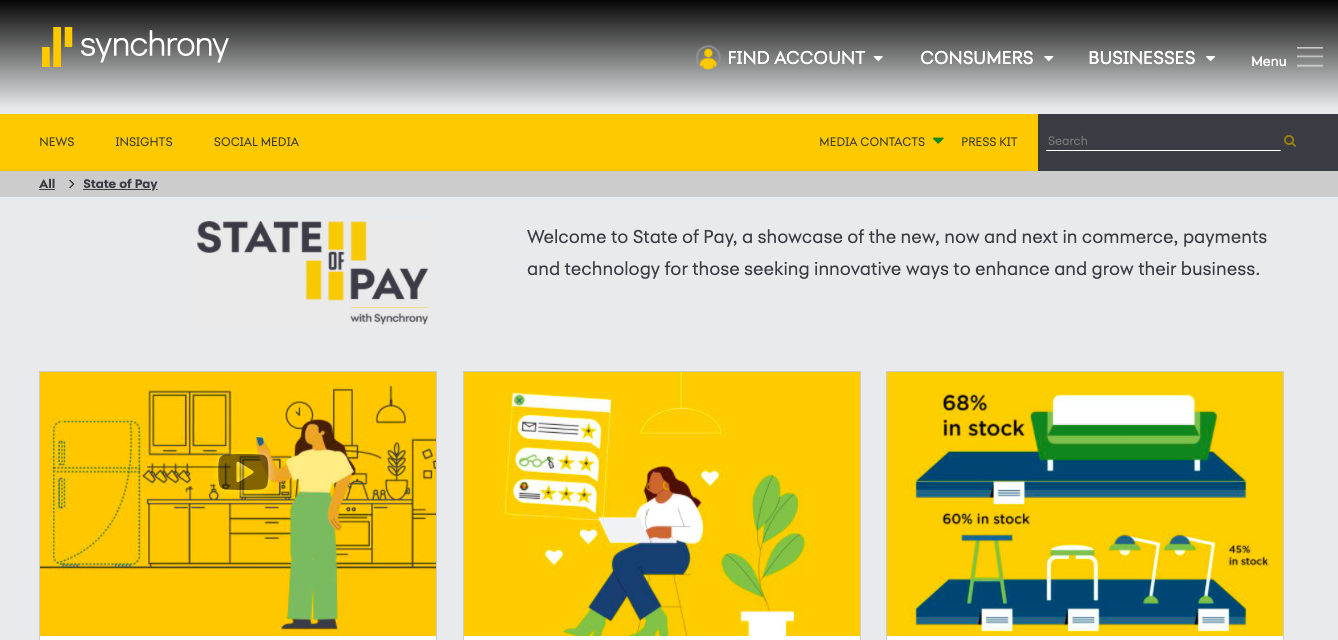 Known best as an issuer of retail store credit cards, Synchrony decided to embark on a big content initiative called State of Pay. Partnering with CNBC, the project aims to "showcase the new, now, and next in commerce, payments, and technology for those seeking innovative ways to enhance and grow their business." The effort earned Synchrony a finalist spot in the CMI 2019 awards.
State of Pay explores how the way people pay for things is changing, and features interviews with retail commerce thought leaders. With CNBC as a partner, the content is distributed on their channels as well as on social media.
Some content pieces feature an eye-opening statistic and short video like this segment about "Checkout-Free Stores," while others are articles, including this one on "4 Trends Shaping Retail."
Pro tip: Thought leadership can be very powerful, and by partnering with large news organizations, financial services companies can amplify the voices of their executives and insights from their brand.
Acorns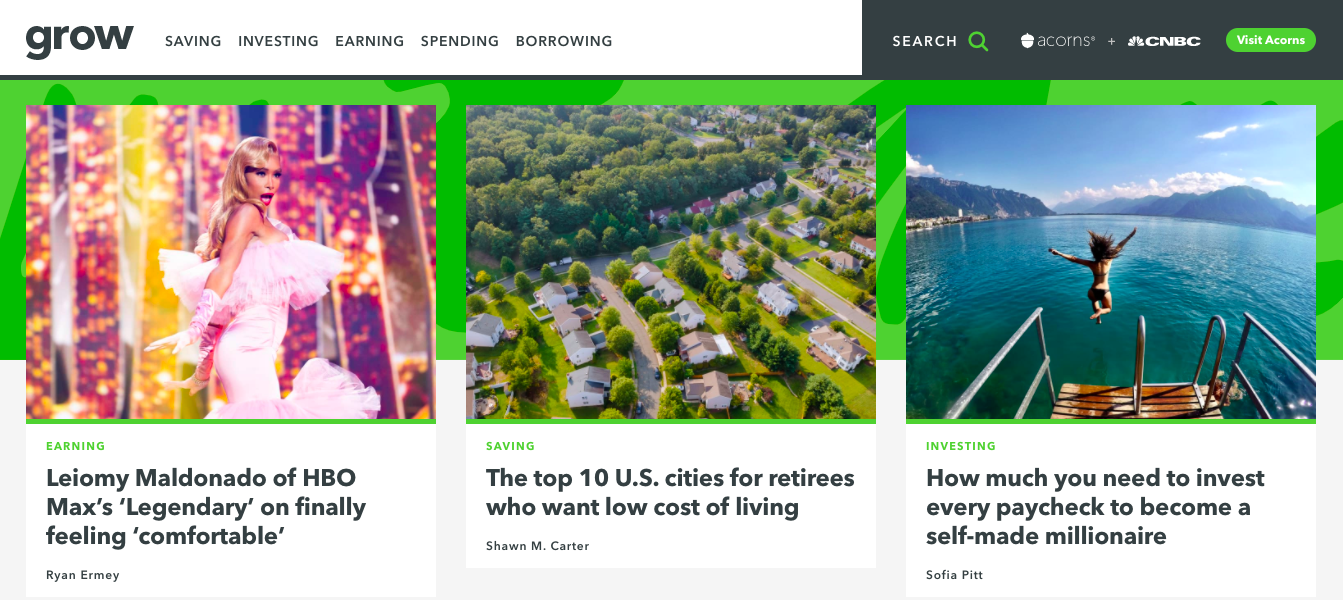 Acorns is an app that automatically rounds up your purchases and invests your spare change in stocks. To get the word out, the company created an in-house online magazine called Grow, and hired financial journalists to run it. In its first year (from 2016 to 2017), it had five million site visitors.
If you browse the image-heavy, colorful site, you'll recognize that a lot of the content is aimed at a target audience that skews younger and towards those who aren't necessarily affluent. There's no stuffy, boring investment acronyms to parse.
Instead, it aims to empower readers to take charge of their finances, even if they're first starting out and can only take baby steps. Content is broken down into saving, investing, earning, spending, and borrowing (both videos and articles) and puts reader pain points and questions front and center.
While all the content has a money hook, the brand manages to keep things enticing and contemporary by blending financial and lifestyle, as evidenced in their content that celebrates the side hustle, or helps users profit from their art with NFTs. 
Pro tip: Captivating your target audience means understanding their motivations and interests, and also finding ways to keep them engaged.
"Instead of talking about interest rates or new products/service, focus efforts on storytelling," says Epperson.
Bank On Audience Trust
Content marketing strategies for financial services brands must align with audience needs. What's more, marketers need to really hone in on how customers are searching for information. Hint: They're not using "bank speak."
"Years ago we worked with a client whose content used the internal lingo so much that it became a detriment," says Epperson. They used words like "wealth management advisor" and "commercial lender," rather than "retirement experts" or "business banker," which is what customers were searching for.
"We found a big turnaround when we changed up the wording/content that was consistent what people were seeking," she says.
Once you know your audience and the value that you can offer them, the final step is creating content that is simplified but informative, educational but entertaining. Remember that it's their money on the line, and consumers only want to work with brands that they can count on as a trusted resource. Your content is one of the best ways to develop that trust.