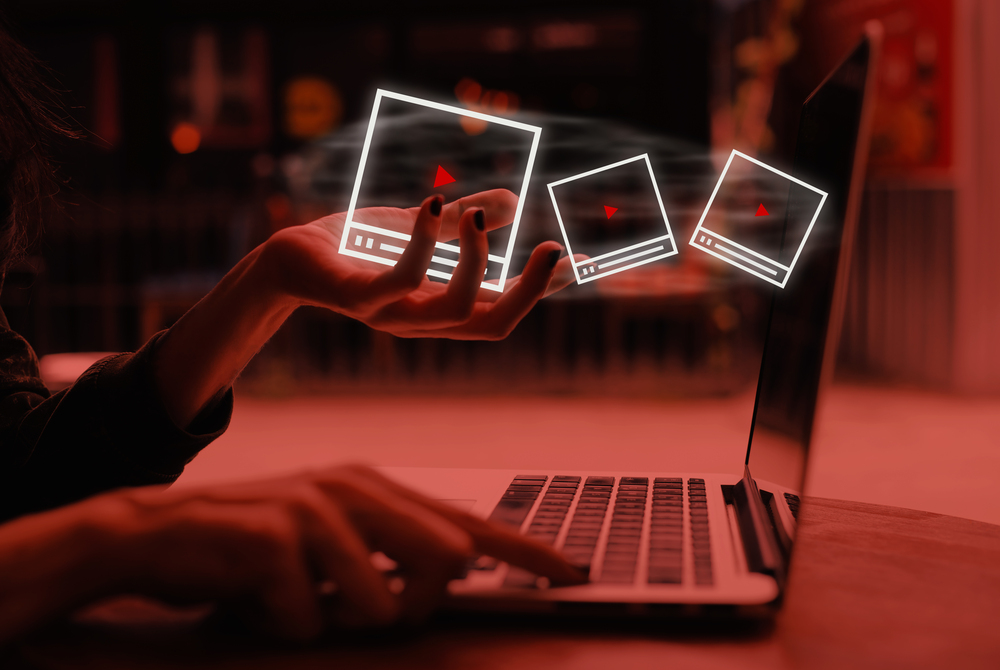 Take the headaches out of video marketing and enhance your ROI in 2021 with our 3 key tips.
Video doesn't just dazzle and delight us — it helps users learn and better recall information. In fact, according to Social Media Week, viewers say they retain 95% of a message when obtained via video.
With its nearly unrivaled ability to grab attention and educate, video has been and will continue to remain one of the most effective formats in the modern marketer's arsenal. But what does video marketing actually mean and how can brands make the most of it in 2021?
What is Video Marketing?
Ask ten different marketers what a video is, and you'll get 10 different responses:
TV ads
YouTube
Cinemagraphs
Something you used to rent from Blockbuster
Movies
Social Ads
Netflix
Reels
VHS
Anything with motion and sound
The truth is, it's all of the above. Video has rapidly evolved since it was first introduced in the 1930s as a word to describe the visual channel, rather than the auditory channel, in early TV experiments.
Regardless of how we define it in our modern times, video is no longer a medium dominated solely by Big Agencies and TV execs— it's grown far beyond the 30-second ad.
Video is now something we live, breathe, create, love, hate, every day to the tune of 1 billion hours of video viewed every day.
It's also an integral part of all marketing and communication.Yet investing in it with our marketing dollars still carries a certain stigma. A stigma of being:
Expensive
Time consuming
Risky
And that stigma isn't completely unfounded — those of us who have worked on video projects have all probably been burnt in some shape or form by misguided execution. What was once an excellent idea slowly gets flogged to death over 6 months of stakeholder revisions.
But thankfully, video has changed and so should our approach.
Here are 3 tips to help your business make the best use of video marketing in 2021, sans exorbitant costs and headache-inducing revision rounds:
1) Repurpose, Repurpose, Repurpose
Here's a secret production tip agencies don't like to tell you:
"You don't need a camera to shoot a video."
It's true. If you look through your archives you're probably sitting on a ton of footage — some of it great, some of it questionable.
The key is to look through your asset library for content that delivers a core message — something that is still valuable in terms of resonating with your brand and your audience today. It could perhaps be a soundbite from your CEO, a customer comment, or maybe part of some cool footage you shot at your last shoot.
One of the best parts of this approach is that this content has already been through stakeholder revisions, legal, and compliance so your probability of getting new iterations of that content approved with little friction is much higher.
Take inventory of the video footage you already have, parse out valuable moments and then re-purpose it by enlisting a talented designer/animator who can cut, polish, add some text, and breathe new life into the work you already have.
This leads me to my second tip.
2) Stop Fussing Over Video Length
Ask 10 marketers how long a video should be, and you'll get 10 different answers.
Ask yourself: How long should a video be? How long should a video on social be? How long should a video on YouTube be? Think about it. What are your answers?
Do you want to know what the right answer is? "IT DOESN'T MATTER"
(As long as the message and creative is solid).
Stop trying to fit everything into 6 seconds.
Stop trying to extend a 6 second message into 30 seconds.
Start by understanding what value you want to deliver to your customer. Then deliver that message in the most creative, concise and easy to understand manner possible.
Let's not catch ourselves out again, trying to put time restrictions on our messages. If it's good, if it's interesting, if it's valuable — the right people will watch it.
Which leads me to the last tip.
3) Conceptualize Videos Agnostic of Platform
When considering what to build, the starting point shouldn't be "let's create a cool Instagram story".
As Clayton tells us, the starting point is helping your customer to get a job done.
Once we have this guiding our vision, our job with video is to deliver that message in the right way.
It may mean we need to build a 1-minute explainer video. That core video can and should then be tailored and optimized to live on any platform your customer may be.
Now that you've got a solid core video that delivers a targeted message to help your customers get a job done, we land back at my first point.
Repurpose (again!)
Make sure you sweat this asset to make the most of your investment.
Say you end up with an awesome 1-minute explainer video. Think about how you can slice that asset into:
Social cut-downs — perhaps highlighting one key point from the full video and linking back to the full video on your own content hub to drive traffic.

Audio podcasts — video needs full attention to be viewed but audio podcasts are becoming increasingly popular due to their ability to be consumed while multitasking)
Small clips to add a wow factor to client presentations and decks
An SEO-optimized blog post — embed your video and wrap it with text from the video transcription or other relevant copy to give readers another entry point to view it, and help search engines crawl the content simultaneously
Repackage
Flipping this around, think about how you can take your 1-minute explainer video and combine it with other relevant video clips from your archive to create a longer-form video. By getting a bit creative with voiceover and editing techniques, you can craft a compelling, longer-length video story that feels organic and intentional.
Many are forecasting 2021 to be a year of creative reinvigoration, mirroring the surge of creativity and imagination that defined the post-pandemic 1920s. It's your year to be a part of that resurgence. Don't overthink it. Be fearless in your creativity, strategic in your approach, and watch your return on video content marketing soar in 2021 and beyond.