In a time where consumer sentiment towards data collection is turning more sour by the minute and once-relied upon data sources have all but vanished, creating targeted marketing campaigns has become harder than ever. But fear not. With a little ingenuity, you can reinvent your approach to collecting and harnessing audience insights to create personalized experiences, all while remaining privacy-compliant. 
Enter studioID's 2023 Audience Snapshots — expert analysis of our own first-party data designed to clue you in on your audience's distinct behaviors, preferences, and insights. So you can build marketing campaigns that speak to the issues and evolutions your audience actually cares about. 
Based on engagement data from our reader base of over 14 million decision-makers, we've assembled a snapshot for 28 of the distinct industries Industry Dive's award-winning journalism covers. From banking to utilities, marketers from all walks can gather the insights they need to build high-performance content marketing campaigns in the age of privacy. Each snapshot features a breakdown of the top trends, approaches, articles, and keywords niche audiences engage with most.
But we're not the type of people to just give you the data and run. What follows is a collection of analysis and tips to help you use each section of our Audience Snapshots 2023 — and similar first-party data —  to the benefit of your content strategy and marketing program at large. So download your industry's snapshot, and then head back here to make the most of the rich audience insights within.
Step 1: Understand the People Behind and Value of the Insights
To make the most of our snapshots or any kind of audience insights for that matter, it's critical to start by getting a clear picture of who the people behind the numbers are. 
Any audience data worth its salt will give you a solid background of things like sample size and general demographics. 
Some key items to look for:
Sample size: One of the golden rules of statistical significance is the sample size. The larger the sample size, the more accurate average values will be. Large sample sizes also ensure higher outlier detection and make for smaller margins of error. 

Job titles: Getting a sense of some of the job titles the insights are stemming from is an excellent way to ensure the data you're looking at is matching up with the group you're looking to target.

Other authority markers: Look for additional markers of authority like % of samples above a certain job level, the status of the companies the readers are coming from, and beyond to ensure you're looking at quality data from people with decision-making power.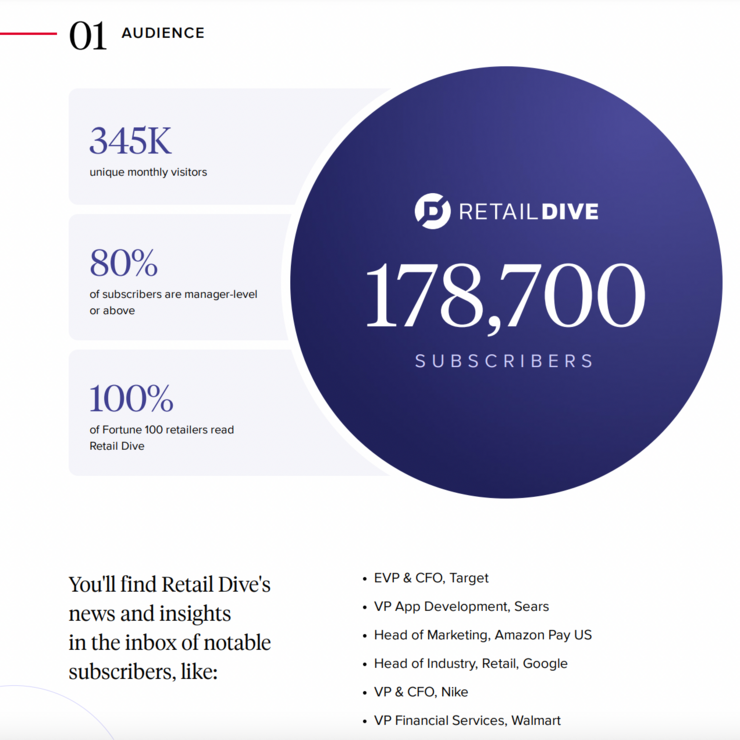 Above: Retail Dive Snapshot 2023 | Audience Information
Step 2: Understand What Captivates Your Audience | Top Articles, Keywords, and More
Now comes the fun part: doing a little detective work across key areas of top engagement and performance. 
Top 10 Headlines
Writing great headlines for your audience is an essential skill. Look down the list of top 10 articles and see if you can decipher any patterns: Does this audience prefer headlines with numbers in them? Or do they prefer more jarring or thought-provoking headlines that leave a curiosity gap? Are they glued to the successes and/or failures of high-profile companies in said industry? 
See what themes emerge and start to experiment with headlines that match the general styles that have garnered the most engagement.
Beyond headlines, look into the substance of the top-performing articles:
Are they long or are they short? Insight: 70% of all top-performing articles analyzed for Audience Snapshots 2023 were 700 words or more. 

Do they revolve around opinion-based analysis from expert voices? Or are they a little more concrete, chock full of facts and figures?

Does this audience crave breaking updates from across the field, or are they more focused on tactical executions and retrospectives?

In addition to the expert analysis our studioID strategists have provided, are there any other overarching themes you can surmise across stories, painting a larger picture of industry sentiment as it pertains to your brand's solutions?
You might find it's a little bit of everything. But by taking a keen eye to the top-performing articles, you can better understand and reflect on the sort of stories and tactics that grab your audience's attention — and holds it. 
2x As Long Stories
This section represents stories that users spent two times as long engaging with in comparison to the average story. Parse through these articles and compare them to some of the Top 10 Articles:
What about the 2x as long articles separate them from the pack? 

Do they cover something particularly newsworthy or controversial? Or maybe it's the approach and tone of the article that really hooked them? 

Do they contain stats that help the reader wrap their head around lofty concepts? 

Do they leverage charts and other kinds of visual media to keep the user engaged and scrolling down page? 
Keywords Resonating Right Now
Keywords are an essential tool for any modern content or demand gen marketer, and are a pillar of any successful SEO strategy.
Assess the keywords resonating right now with your brand's value proposition and differentiators in mind to suss out which your brand is best poised to address. 
In other words:
Which keywords do you have the authority to speak to? 

Which might be oversaturated or indicative of something your brand should avoid speaking about?

Who from your organization might have expertise in that specific arena? Can you interview them to showcase your brand's distinct perspective and highlight your expertise? 
And be sure to take these primary keywords and go one step further. Do your research to uncover the actual search intents and user questions behind those keywords to create content that's a perfect match.
Once you have a good sense of the keywords/search intents you're going to target, one of the best uses of keywords is in SEO-optimized articles for your blog.
Top 5 Topics, Issues of Focus, and Industry Themes
These three sections of each snapshot combine to give you a sense of what your target audience is up against today, as well as a hint at what they'll be focused on well into the future. 
Parse through these sections and supplement with your own expertise and research to determine which are big concepts right now, but will likely wane in importance in the months to come — and which are here to stay for years to come. 
A good model to consider for this is studioID's trend-tracking framework: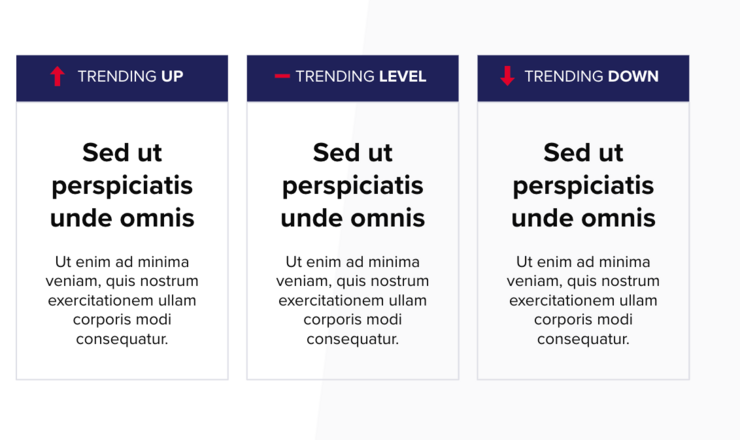 See if you can classify issues and evolutions in each of the three buckets to decide which you may want to tackle, and which you should likely skip. 
For the of-the-moment issues, do you have a highly valuable perspective you can get out the door quickly enough before it becomes "old news"?
And for the issues that will be of importance to your audience for years to come, put together a content strategy that plays the long game and stays on that particular "beat," covering all of the surrounding subtopics that will unfold as the years go on. By doing this well early on, you can solidify yourself as an authority on that topic in your audience's eyes — and keep them turning back to you for updates as the topic evolves. 
And when you're ready to really take all of this to the next level to own a wholly unique perspective in your industry, dive into ownable conversations. 
Step 3: Turn Insights Into Action + Refine Personas
Now that you understand what the audience insights are about, and the topics and mechanics of what that particular audience cares about, it's time to put it all together to assemble a high-performance content strategy. 
Content Insights for Marketers
Within this section of audience snapshots, you'll find characteristics of top-performing content, top-performing content types, as well as approach recommendations based on our industry expertise and the picture the data paints when assessed as a collective. 
Characteristics + Formats
You'll find that some audiences prefer lengthy, all-encompassing whitepapers they can sink their teeth into — while others prefer quick-hit articles and lively webinars they can listen to while multitasking. Use these insights to not only make more informed investments in content formats, but also make more informed investments in advertising placements within our publications. 
Recommendations
Don't forget: it's all in the approach. The earlier pieces of the snapshot give you the "what," while the Recommendations subsection gives you the all-important "how." These insights will help you come up with angles that resonate with this audience, saving you time and energy from potentially misfiring in your storytelling approach. And remember: memorable connections — especially with niche audiences who have their own secret languages — are born from authenticity. Keep it real through every element of your approach.
Action Item: Refine Your Marketing Personas
You've gone through the snapshots with a fine tooth comb, and now it's time to make the findings work for you by using them to refresh your audience personas. 
Ask yourself if your current marketing personas:
Speak to of the current pain points this  audience is facing

Indicate the top value propositions/solutions of your brand in relation to said pain points

Reflect current audience motivations 

Capture the kinds of headlines, tones, and storytelling approaches this audience prefers 

Note content consumption habits, including the content formats this audience prefers

Nod to search behavior and current high-value keywords 
If any section of your current marketing personas is lacking across the above areas, be sure to update them with the latest audience insights. Once you've done so, consider holding a team-wide meeting to discuss the personas, answer questions, and beyond to drive adoption and proper use. 
With a little retouching and fine-tuning to make sure your personas are as current and valuable as they can be, you and others in your organization can more effectively reach and resonate with your target audience.
Need any help using these insights to craft high-performance content strategy + marketing campaigns? studioID is never more than a few clicks away.