Table of Contents
Over the last hundred years, our industry has seen some incredible marketing success stories — and a few marketing failures as well. But with a commitment to brand storytelling and dynamic content strategies that are tailored to audience interests and a company's unique value proposition, incredible results become possible. 
Whether scrambling to recover or creating a business from scratch, smart content has the power to shape brand narratives and navigate potential pitfalls. But the wrong move can send a company off the rails. In times of challenge, transformation, or meteoric rise, it never hurts to look back at timeless marketing lessons from leading brands.
Legendary Brand Rise: Airbnb
Airbnb started in 2008 as a simple idea: a way to earn rent money by offering guests a place to sleep on an air mattress in a San Francisco apartment. In the 15 years that have passed, they've leveraged brand storytelling and stand-out content marketing to become one of the most recognizable brands on the planet, transforming the way the world travels. 
By focusing on the unique experiences hosts and their homes could provide, Airbnb distinguished itself from traditional hotels and accommodations to create a global community fueled by the desire to live like a local. And with four million hosts who have welcomed over 1.4 billion guests across 220 countries — not to mention 2022's reported $8.4 billion in revenue, a 40% jump from the previous year — something seems to be working.
This summer, the brand gets back to its roots with a new campaign that's focused on Airbnb Rooms and the people who provide them. Tapping into their users' craving for authentic travel experiences as well as their own community-driven marketing values, the intimately-narrated, diary-like videos share personal snapshots and specific memories of what make Airbnb stays so special: the hosts that make them possible. 
We think of performance marketing as more of a way to laser in to balance supply and demand rather than a way to just purchase a large amount of customers.
— Brian Chesky, CEO of Airbnb
Lessons Learned
Authentic narratives resonate more deeply than manufactured ones. With a customer-centric approach that embraces real experiences, testimonials, and user-generated content, Airbnb has been able to foster and sustain a passionate and highly-engaged community. Like "living local," identify your unique value proposition — and make sure it meets an existing need or desire.
Epic Marketing Fall: Oldsmobile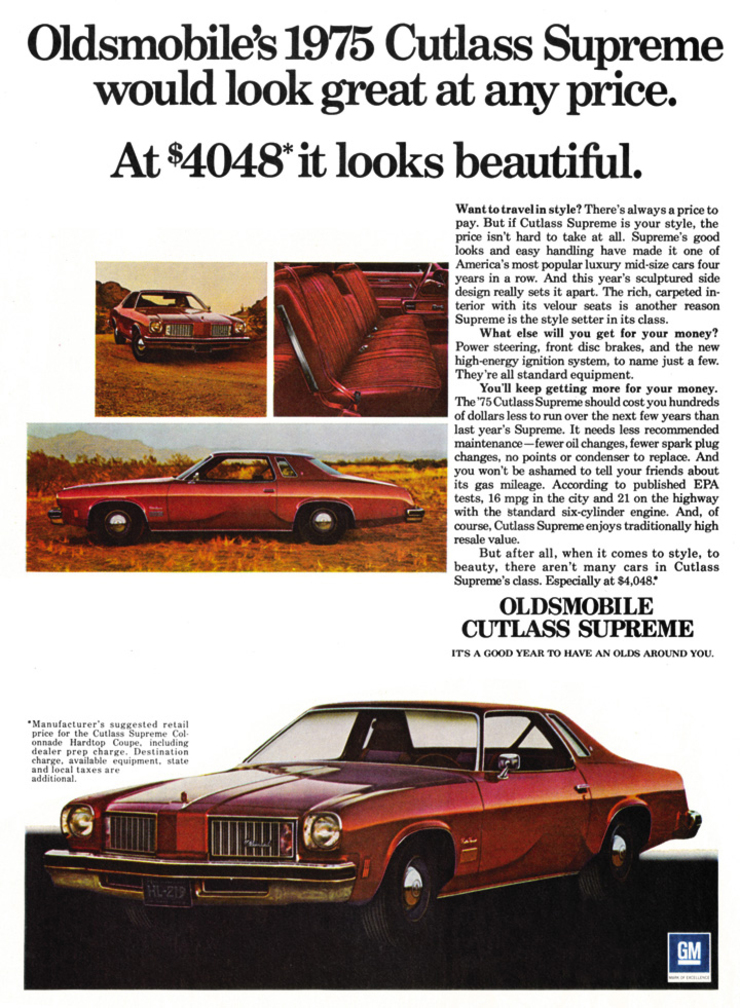 Let's jump in the ol' marketing time machine for a moment and go back to 1975. Disco was in, Ford was President, and The Oldsmobile Cutlass was officially the best-selling car of the year. General Motors was riding high, and it looked as though the Oldsmobile-led gravy train would never stop.
Fast forward a short 13 years later to 1988. After reaching an all-time high of sales in 1985 with 1,066,122 units sold, General Motors found themselves with a big problem on the horizon as sales started to take a dip. The Oldsmobile was starting to be perceived as a 'dated' vehicle. The crux of the issue being that the very ideals that the Oldsmobile brand stood for — the product form of progressive, middle-class triumph — was rapidly transforming and becoming an outdated concept in and of itself. 
What's a beloved brand to do? With the likes of Ford and Toyota nipping at their heels, General Motors had to take action, and fast. Staring out into an only-widening generation gap, GM decided Oldsmobile was in desperate need of a rebrand that would resonate with up and coming drivers. They set out to develop 'the next-generation of Oldsmobile vehicles' and hired a public relations/marketing agency to launch the new class of cars.
The ill-fated campaign was dubbed 'This is Not Your Father's Oldsmobile' and hit magazines and media outlets everywhere in 1988.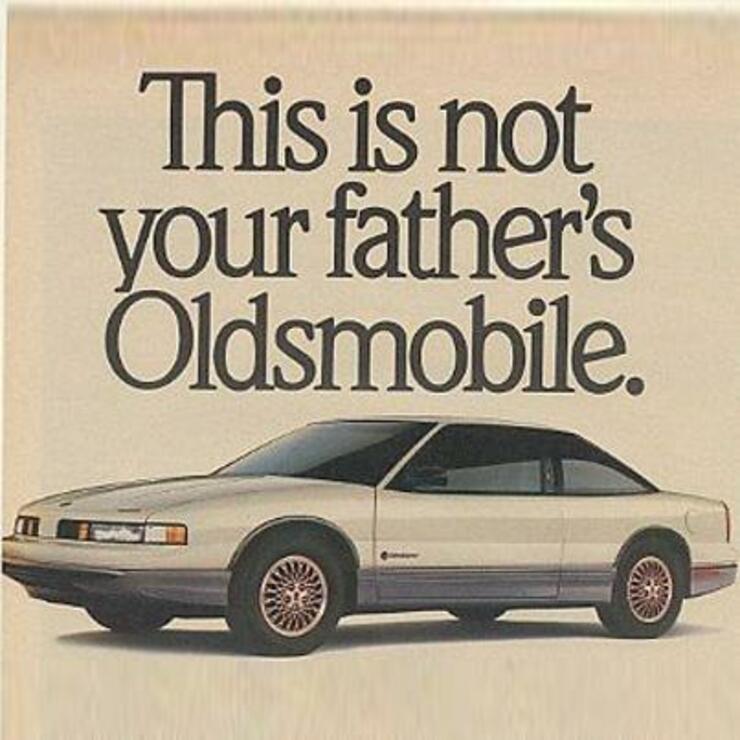 In an attempt to close the generation gap, this marketing campaign single handedly alienated all sides instead. In one fell swoop, the campaign cast aside its core purchasing demographic — middle-aged fathers — by proclaiming their choice, and by proxy, even something a father would choose at all, was something to be embarrassed by. 
On the other side, the ad also failed to demonstrate what was modern, slick, or future-forward about the new lineup to qualify it as a hip choice for the younger demographics — making it an astronomical failure across the board as sales plummeted. Despite several attempts at comeback campaigns, the once-king of cars never did make it back to its former glory. In April of 2004, the Oldsmobile brand was officially dissolved from the GM lineup. 
Every company wants its brands to have a powerful meaning, and the idea of being perfectly in sync with the cultural moment sounds great. But the Olds story points to the related risk: When the cultural moment passes, a brand can quickly become the object of what may not be your father's nostalgia but is nostalgia just the same.
Lessons Learned
We get it. The generational gap is a worthy opponent. And with each new generation, it seems harder and harder to figure out what makes the rising class tick. But it's never a wise choice to hurl the marketing version of a slap in the face directly at the group of people who made your brand valuable in the first place — unless your ready and willing to lose them forever. As the old adage goes, "don't bite the hand that feeds."
Instead, think of ways you can honor the demographics who made you who you are, while running dedicated campaigns that aim to capture the younger generations with value propositions tailored to their specific needs and wants. Pleasing one crowd doesn't always have to isolate another. 
📚 Related Reading: 4 Tips to Better Engage Gen Z With Marketing
Historic Brand Comeback: Polaroid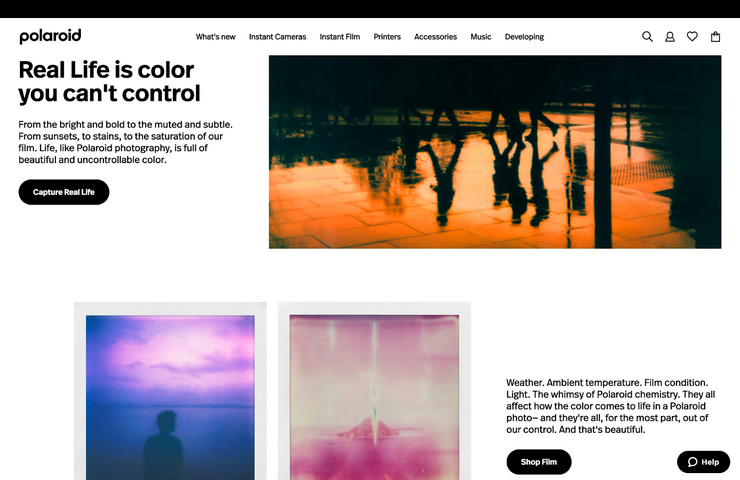 Thinking about it today, it's hard to imagine that back in 2001, Polaroid was filing for bankruptcy. The digital photography revolution had pushed the company to the brink of obsolescence, but after a slew of short-lived CEOs and false re-starts, the brand was born anew. 
Recognizing the tangible joy of physical photos and their nostalgic value, Polaroid introduced a new range of products with cross-over digital capabilities, colorfully-bordered film and other features to attract a new generation of photographers. They tapped into the retro wave with marketing campaigns that appealed to both older consumers reminiscing about the past and younger ones intrigued by the charms of analog prints. And through partnerships with noted artists and influencers, they solidified appeal with millennials and Gen Z audiences.
On platforms like TikTok and Instagram, Polaroid continues to juxtapose old-school charm with modern aesthetics, celebrating their heritage as well as new product lines. The brand's latest campaign, Real Life, marks the launch of the new Generation 2 instant camera and is a perfect tribute to all the imperfections that make life "unintentionally beautiful… as it is. Just like Polaroid Photography." Aiming to equate "real life" with "Polaroid truths," it centers around the work and stories of 15 creators from around the globe and their efforts to capture the everyday moments that make life magical. 
It's about celebrating our heritage and bringing it forward through our products… and making our brand relevant in life's various moments.
— Aaron Paine, former Director of Social Media and Digital Strategy at C&A Marketing
Lessons Learned
When paired with contemporary content strategies, nostalgia can be a powerful marketing tool that strikes a chord with both older and younger demographics. Supporting creators and leveraging platforms that align with a brand's essence — like Instagram for photography — can reinforce messaging and, in this case, work wonders to showcase its vintage appeal in the digital age.