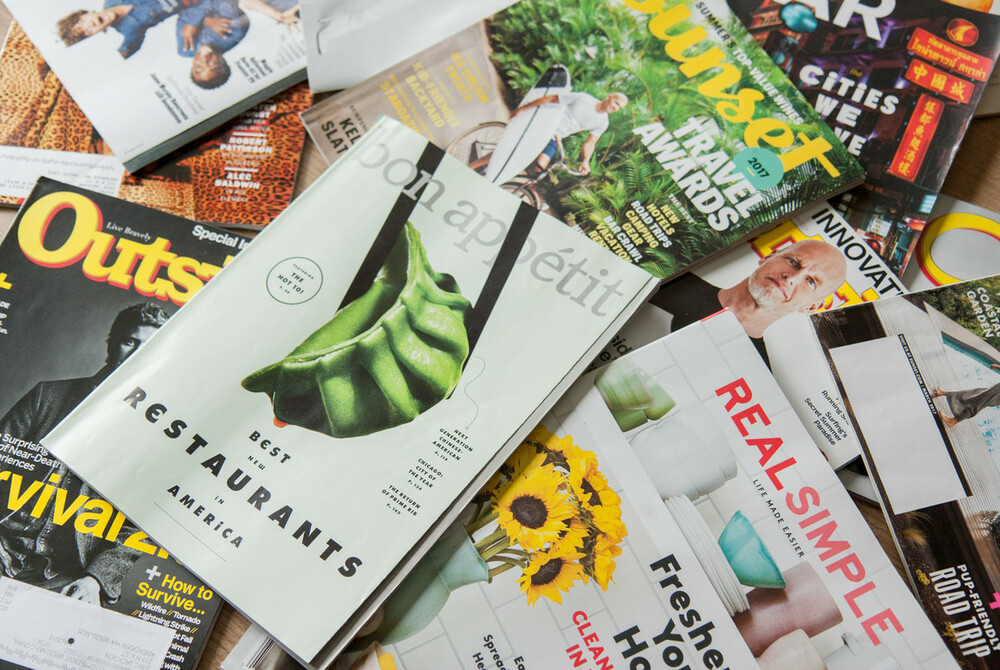 [Editor's Note: This article has been updated to reflect 2023 best practices.]
What do email newsletters, social media channels, and website personalization have in common?
They all require constant fuel, and that fuel is content.
Running a successful content marketing program is not a day trip. It is a long-distance journey across the country and back. Having a constant flow of content to attract, engage, and retain audiences across all digital channels is paramount to success, just as a constant flow of gasoline is critical for a long-distance drive. 
Licensed content is that perpetual fuel source. It's an integral part of every highly effective content marketing program we've seen at studioID. Combining licensed content with a brand's own original content is the ideal way to attract and retain an audience and achieve the highest ROI on your content marketing. Brands that use licensed content see higher click-through rates and engagement rates, grow their audiences more quickly, and see a higher repeat visit rate. This is the reason why so many of studioID's clients invest in licensed content as part of their programs. 
What is licensed content?
Licensed content, also referred to as "syndicated content" or "third-party content," is content that has been created by someone else who maintains legal ownership of it. The owner (licensor) issues a license to the client (licensee) allowing them to republish a copy of the full article on their own property in its original form. Licenses usually state where the content is allowed to appear (on a licensee's content hub, for example), the length of time it can appear, and what promotion or distribution is allowed. Additional licenses contain the following parameters of use:
The licensee must give attribution to the original publisher.
The licensee maintains the author's byline.
The licensee is not allowed to edit or add copy to the article. Any additional insights or commentary must be presented before or after the body of the article. 
The licensed article must carry the canonical URL of the original article, if provided.
Here are a few examples of hubs featuring licensed content: 
Rue La La's Rue Now content hub features fashion, beauty, travel, and celebrity stories from lifestyle publications like PureWow, InStyle, Refinery29, and Fashionista. 
Across our very own blog, springboard, you'll find articles about technology and marketing trends from Forbes, Ad Age, and Marketing Dive. 
There are many benefits to using licensed content in your content strategy. But there is also a lot of confusion about whether licensed content will help – or hurt – your content marketing. Some content marketers believe that licensed content will give them an SEO boost, while others fear that Google will penalize them for using it. Others wonder whether it's worth the investment or whether they'd be better off using that money to assign a suite of articles to freelancers.
We want to set the record straight. Here you will find honest answers to the most common licensed content claims so you can make an informed decision about what's best for your content marketing program.
The Claim: Licensed content improves SEO.
The Truth: Yes.
How it Works: Licensed content contributes to a brand's SEO by helping it publish more content that search engines can index. Using licensed content, brands can increase their depth of content around specific themes or keywords, helping them build authority in those areas. In addition, brands can use licensed content to drive social shares, backlinks, and internal links. All of these factors boost SEO. 
Contrary to popular belief, when used correctly, licensed content does not hurt SEO. There is no such thing as a duplicate content penalty when it is clear that the use is under a legal syndication relationship and not a nefarious attempt to deceive search engines. Licensors frequently require that licensed content carry canonical URLs, which identifies that content has been legally licensed.
However, don't expect licensed content to rank well in Google searches. It won't. Licensed content, as powerful as it may be, has already been published elsewhere. Canonical URLs protect the original publisher's SEO and ensure that they always rank first in search results.
The Claim: Licensed content can hurt SEO for having duplicate content.
The Truth: No, unless it is used with ill intent.
How it Works: Some content marketers have concerns regarding duplicated content and its potential damage to SEO. In fact, duplicated content does not hurt your organic search rankings unless it is used for malicious intent. Google states, "Duplicate content on a site is not grounds for action on that site unless it appears that the intent of the duplicate content is to be deceptive and manipulate search engine results." Therefore, as long as you are using licensed content for good intent, and include the canonical URLs, you will see an improvement to your organic search volumes.
The Claim: Licensed content helps save time and money on content production.
The Truth: Yes, with one caveat.
How It Works: Licensed content can be extremely helpful when you are first launching a new content hub or vertical – basically, any time when you need to build a depth of content around a certain topic. The content has already been ideated, researched, written, edited, and copyedited so it's publishing-ready. This saves you time in the content creation process.
Additionally, licensed content costs less than commissioning original pieces. For this reason, it's a cost-effective way to test new content topics or formats with audiences to learn what resonates. Licensed content can help you launch new topics quickly or easily pivot on strategy or seasonal shifts.
Plus, licensed content helps brands respond to timely news. Unlike news organizations, which are built to cover breaking stories, or consumer publishers, who may have embargoed notice about product releases or company announcements, many content marketers are not equipped to respond at a moment's notice. Licensed content can help fill those gaps. springboard, for example, often uses licensed content to cover happenings from the world of social media, SEO, and beyond that impact today's marketers. 
Licensed content can also be a fantastic tool to cover topics and issues that don't fall perfectly within your brand's content strategy, but are still of high relevance to your audience. 
An example of a licensed article from Marketing Dive on springboard 
However, there is one caveat to using licensed content: Content curation can often be challenging. It can take a lot of digging to find the perfect article that is on-brand and has the right tone and voice, evokes the right response from the reader, and does not contain competitive mentions. We offer expert licensed content curation services for teams that want to spare that energy for more pressing projects. 
The Claim: Licensed content helps build engagement with users.
The Truth: Absolutely. 
How it Works: A steady stream of high-quality, relevant content is critical for engaging audiences. Think about how you consume content. If you visited a blog and saw that its content was out-of-date, chances are, you wouldn't return. Same if you signed up for a company's email newsletter, or followed it on social, and it shared nothing but promotions. You'd unsubscribe pretty quickly.
Licensed content helps brands fuel their channels. Brands can use licensed articles to engage audiences on social and email.
A month-long experiment with a client newsletter revealed that licensed content garnered nearly the same engagement as original content – which shows the value in using licensed content to engage audiences while giving content marketers much-needed bandwidth to work on original pieces.
The Claim: Licensed content is not as valuable as original content.
The Truth: It depends.
How it Works: While there are many benefits to using licensed content, there are a few drawbacks that may lead to the perception that original is more valuable.
While licensed content can help with some aspects of SEO, as discussed above, only your original content will be able to achieve top Google rankings that may drive more organic traffic to your content hub. 
Licensed content also cannot tell your company's unique story or highlight the expertise of your executives. To do that, you need to create your own content. However, a few pieces of licensed content could make perfect companion pieces to your original content by providing trends, analysis, or a journalist's unbiased opinion on why something is important. Those licensed articles can whet your audience's appetite and prime them to receive your message about why your company is best able to provide a particular service or product. You can effectively use both forms of content to complement each other.
Additionally, licensed content from reputable publishers carries a lot of weight in the form of brand equity. This is especially important in highly regulated industries, like financial services or pharmaceuticals, where content needs to be highly vetted for accuracy. A publisher's brand name and proven vetting process not only enables the marketer to feel confident in using the article, but readers trust it, as well. In an A/B test conducted last year on a client's newsletter, we compared the click-through rate of article titles that clearly displayed the publisher name versus those that did not. Articles containing the publisher name had a 19% higher click-through rate, demonstrating that publisher brand equity helps drive user behavior.
The Claim: Licensed content contributes to positive ROI.
The Truth: Absolutely.
How It Works: In a recent paid media campaign, we tested 10 different articles: Three were licensed and seven were original. One licensed article was responsible for nearly 50% of the total conversions the campaign generated. Without that licensed article, the campaign would have been far less successful with fewer leads generated and at a higher cost per click. Plus, when you look at the big picture, the cost to license that article was less than that of producing an original piece; adding the licensed articles to the campaign drove down the overall spend and helped drive better ROI.
The Claim: You don't need to create original content if you have access to licensed content.
The Truth:  This is false.
How It Works: Original content should always be part of your content strategy. You need to showcase your brand and company's unique story and perspective through your own creative, original, in-depth pieces. Both licensed and original content are necessary to achieve the most successful content marketing program. (In fact, SEO experts recommend that licensed content comprise less than 50 percent of all content on content marketing hubs.) The two forms of content work hand-in-hand to help content marketers launch and scale content marketing programs that engage and delight audiences and drive ROI.
Interested in exploring how licensed content can accelerate your marketing program? Learn more.