Introducing the first annual springboard Top 50 list: a celebration of the best content marketing programs across the landscape. Selected based upon their stand-out dedication to orchestrating content programs that engage, assist, and entertain their audience above all else — these brands showed up and showed out in 2022. So, who came out on top? Across a variety of verticals, explore the crème de la crème of content marketing.
Finance/Payments
Square
Square, a financial services platform, helps millions of sellers run their businesses from secure credit card processing to point-of-sale solutions. Leading brands around the world trust Square to accept payments, strengthen customer relationships, and advance their business in-store and online.
Why Their Content Stands Out
Square's content hub, aptly titled Town Square, meets owners of businesses — both big and small — exactly where they are. It's this dedication to going far beyond product to help business owners from all niches succeed that sets Square apart from the crowd. From starting a business to managing the complexities of operation, Square's resources make the endeavor of entrepreneurship less daunting. With visual storytelling through infographics, and well-researched, forward-looking reports like their annual Future of Commerce piece, the payment company constantly innovates their content to better serve the needs of their variety of audience members. 
Content Spotlight: "Talking Squarely" — Podcast Series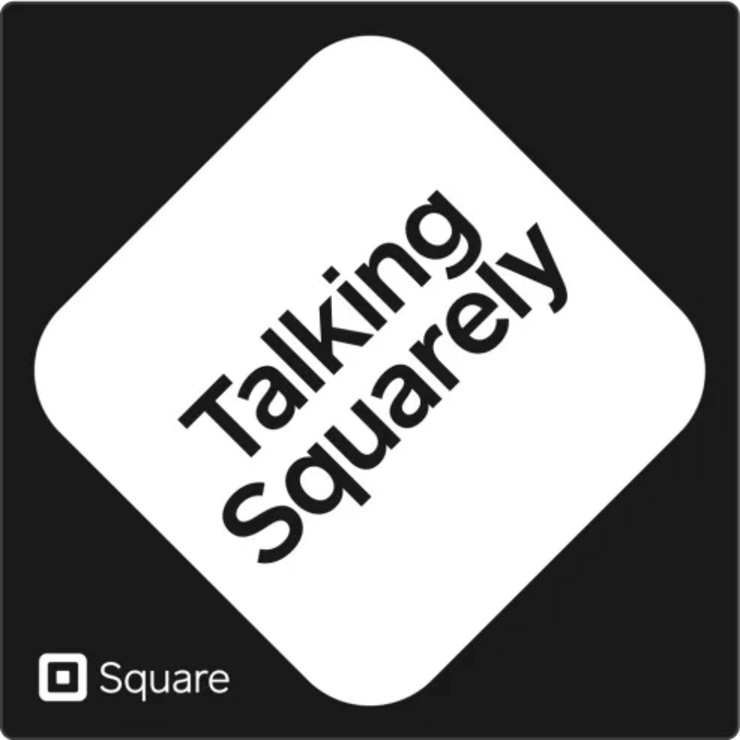 Listen on Spotify | Listen on Apple Podcasts
Square is more than keeping up with the Joneses with their industry-leading podcast, "Talking Squarely." Featuring business owners from nearly every industry under the sun, the discussions are straightforward and full of personal accounts and anecdotes. By tackling topics like professional obstacles and how to better balance entrepreneurial endeavors with a personal life, "Talking Squarely" gets to the heart of issues that business owners grapple with via insight straight from the source. 
Upwise
Upwise is a financial wellness app that aims to create good habits and help their customers feel more optimistic about their financial future. Upwise positions themselves as a service built around your needs that celebrates wins along your financial journey — all through a user-friendly app.
Why Their Content Stands Out
As a financial wellness app designed for a young, diverse audience base, Upwise takes an emotions-first approach to shepherd their audience through their personal finance journeys. Their content zeros in on Gen Z and Millennial money trends, educating their audience on topics like savings, debt, and budgeting with insight narrowed to their stage in life. Further appealing to their audience, Upwise tackles timely issues impacting the average Gen-Zer or Millennial in easily digestible formats, particularly video — all while expertly reflecting the emotions that come along with establishing yourself financially as a young person.
Content Spotlight: The "avalanche method" for paying off debt — Video

To watch this video and others, download the Upwise app.
In one short clip, Upwise manages to take the oppressive topic of debt and bring it down to scale. Through casual language, appealing graphics, and a simple step-by-step explanation, the financial app provides their audience with applicable strategies that make tackling debt feel doable and less of an impossible feat. With educational resources users want to watch, Upwise delivers helpful tips in stimulating ways, lowering the barriers for young people to learn about their finances. 
PwC
PricewaterhouseCoopers, commonly referred to as PwC, is a global, professional services corporation serving clients across the world. PwC offers consulting solutions including cybersecurity, tax, risk, cloud, and more.
Why Their Content Stands Out
As a leader in the professional services industry, PwC's content program excels in leveraging the brand's first-party internal and community data to benefit their audience. With content designed for high-level decision makers, from CFOs to COOs, PwC consistently speaks to relevant current events with their data to keep leaders tuned into industry evolutions. The brand runs countless surveys of their community in order to develop rich insights reports on trending topics like global digital trust, the metaverse, and the state of business growth. It's this dedication to data that's allowed PwC's insights to become a reliable resource integral to the success of business leaders everywhere.
Content Spotlight: Take on Tomorrow — Podcast Series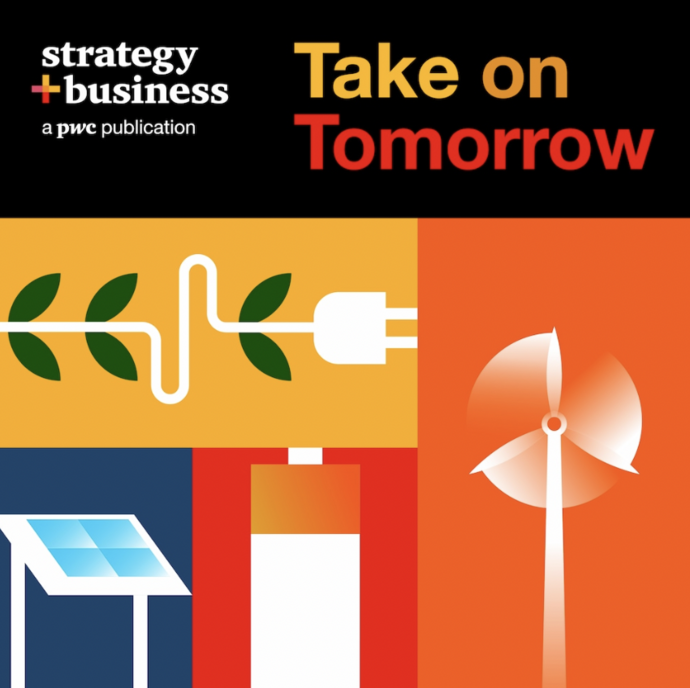 Listen on Spotify | Listen on Apple Podcasts
PwC's Take on Tomorrow podcast takes a macro-level approach to external evolutions affecting  corporations. Continuing along their data-forward strategy, the podcast gives business leaders the lowdown on large-scale developments impacting society — like privacy, crypto, and natural disasters — by painting a portrait with data points, and illustrating ways to overcome these obstacles with expertise-driven commentary.
American Express UK
American Express is a globally integrated payments company, providing customers with access to products, insights, and experiences that enrich lives and build business success. Learn more.
Why Their Content Stands Out
In a post-pandemic era, when the UK is undergoing financial turbulence and the future of small businesses can feel uncertain, American Express UK's Business Trends & Insights hub provides a comprehensive knowledge base for business owners.
With a suite of in-depth SEO-optimized articles, American Express delves into user search intents — from big-picture planning to hyper-specific queries — to uncover and provide answers to the questions on business owners' minds. To provide an additional layer of guidance, each article contains direct insight from a UK business and a relevant financial expert. Beyond articles, American Express makes exploring dense topics approachable via infographics and a range of video content.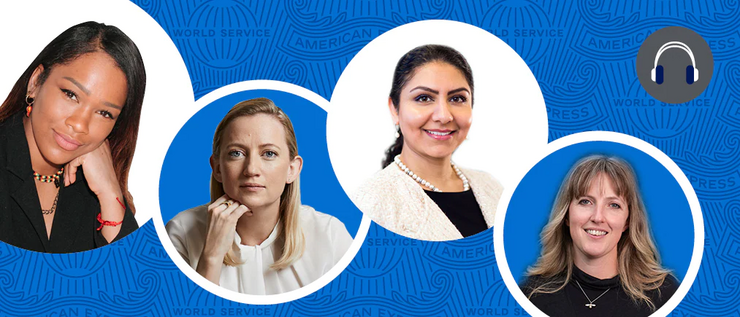 Listen on Spotify | Listen on Apple Podcasts
American Express' "Business Class: Money Minutes" podcast series smartly leans into the brand's own customer base to foster frank discussions with successful entrepreneurs. Each lively episode revolves around a different of-the-moment topic to inspire and empower others building their own businesses. You won't find any overt product pitches here — only real stories of hardships and victories that help one of the brand's core audiences navigate tumultuous times.
Banking
First Republic Bank
First Republic Bank is a U.S. bank offering services in private & business banking, trust, and wealth management. With a target market of low-risk, high-net-worth clientele, First Republic Bank strives to create a personalized banking experience with the customer at the focus of all they do.
Why Their Content Stands Out
With a range of different kinds of audience members in mind, First Republic Bank's content hub, "Insights & Education," balances the personal and financial aspects of their readers' lives. Tuned to the specific needs and goals of established professionals, First Republic Bank has a range of intent-driven, SEO content tailored to the worries and questions their audience has. Where First Republic Bank shines is in their emphasis on creating highly detailed, evergreen content that helps their audience navigate milestones in their financial lives.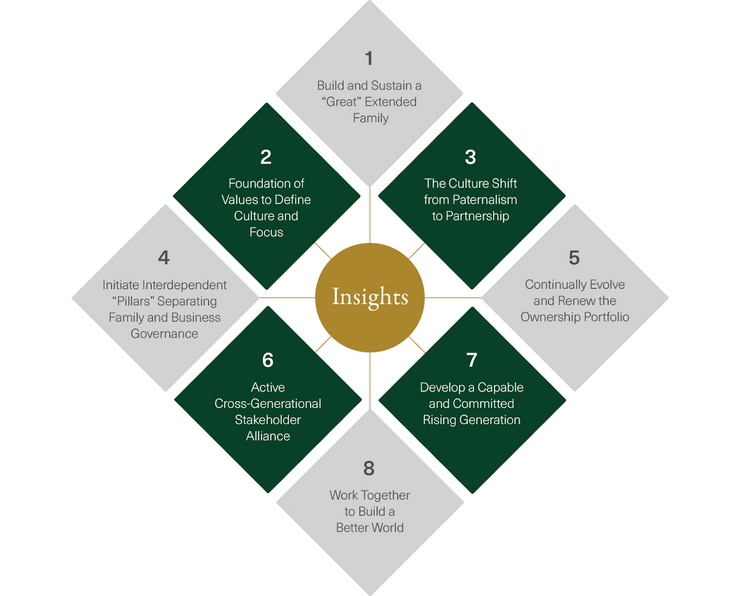 In a series of articles that are connected through an all-encompassing infographic, First Republic Bank shares insights from and for members of long-term generative families. The series expertly provides audience value by offering a niche group of individuals advice from those with a history of being in the same boat. This kind of few-and-far-between content is how First Republic Bank has emerged as a trusted resource to help family members use their wealth wisely.
Valley Bank
Valley Bank is a national commercial bank offering business, commercial, and personal banking services. At the intersection of transparency and personalized services, Valley Bank aims to empower its customers to achieve financial success.
Why Their Content Stands Out
With the underlying purpose of empowering their audience to reach their financial goals, Valley Bank's content program excels by providing newsroom-style coverage that mirrors the shifts in the world of their various segments. Aside from the classic financial education content, you'll find a trove of help-style stories geared toward the distinct needs of personal bankers vs. business bankers across Valley Bank's Learning Center.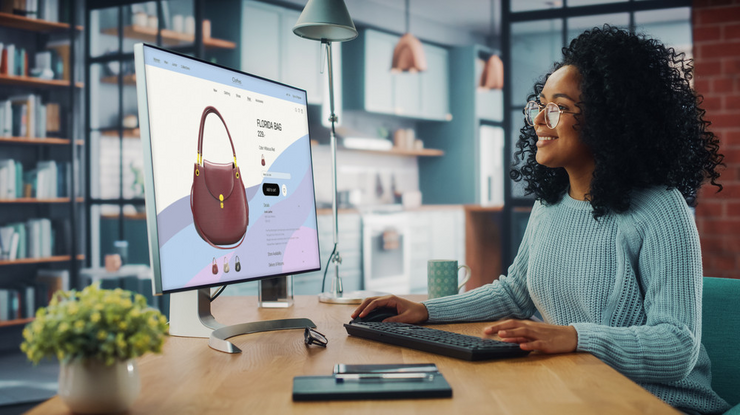 With the recent rise and quick adoption of BNPL options, some services seem too good to be true. Valley Bank continues their strategy of tackling trending monetary topics with this piece that provides a thoughtful explanation of customers' payment options, their impact on personal finances, and closes with a recommendation for how consumers can move forward.
PNC
PNC, a financial services corporation and bank, serves Americans throughout the U.S. Known for providing financial expertise and exceptional customer service, PNC's mission is to help its customers meet their financial goals.
Why Their Content Stands Out
PNC is dedicated to simplifying complex financial topics for its audience; an effort evident across their content hub — "PNC Insights." The hub features ideas and tips relating to personal, small business, corporate finance, and more — personalized to various life stages. Blog posts are often plain-spoken and action-oriented. And you'll even run into some familiar characters, like the tortoise and the hare, illustrating otherwise tough-to-grasp concepts like compounding interest via video and infographic.

PNC's My Finance Academy functions as its own mini hub, dedicated to helping one of its core audiences — students — build their financial knowledge and confidence. Here, students will find something for every leg of their journey: tailor-made tip articles, video-based hindsight advice from those who've been there, and even guidance for post-college life.
Santander Bank
Santander Bank is a global leader in financial services with the goal of simplifying banking, transforming businesses, and empowering communities. In addition to directly enriching the lives of its clients through banking, Santander dedicates itself to educating students around the world and protecting the environment.
Why Their Content Stands Out
Fittingly named, Santander's content hub, "Prosper and Thrive" focuses on providing financial journey guidance to their wide audience base. It's Santander's ability to provide in-the-weeds, actionable content for a variety of distinct users and circumstances that sets their program apart. 
Whether you're a recent grad looking to find their way around student loan debt, a young professional trying to hit it big with bitcoin, or well-established and on a mission to retire early, Santander provides content matched to every stage of your financial life. Their hub's navigation is even cleverly tuned to goals — using verbs like save, master, and live — to match their audience's aspirations.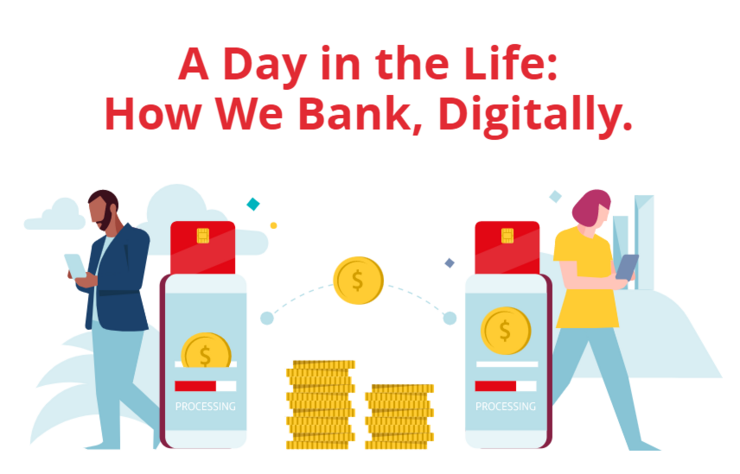 In this dynamic infographic, Santander smartly visualizes both proprietary and authoritative external data to paint a portrait of how the modern consumer relies on digital banking. Without being pushy or holier-than-thou, the piece underscores how utilizing digital resources ultimately makes the average consumer's life easier. The infographic serves as a visually engaging, pain-point-addressing resource for anyone in their audience that may be hesitant to make the switch to digital.
Tech
Snowflake
Snowflake, a cloud-computing data platform, offers data analytics and cloud-based data storage services. Commonly referred to as a "data-as-a-service" company, Snowflake allows organizations to utilize, share, and realize the true value of their data
Why Their Content Stands Out
Snowflake's content marketing program is well-executed, thoughtfully curated, and exemplifies full-funnel marketing. Between webinars, data reports, eBooks, guides, live and virtual events, and blog posts, Snowflake has content for every leg of their audience's knowledge journey. But it's Snowflake's dedication to subject-area deep dives that has their content program shining.
The brand's workload guides are nearly encyclopedic — offering Snowflake's audience a well-researched answer to every subtopic/subquestion within a given topic umbrella. A lesson in excellent SEO, the sub-articles within each guide go from 101-level all the way to advanced, making for a one-stop shop for their audience to further their knowledge.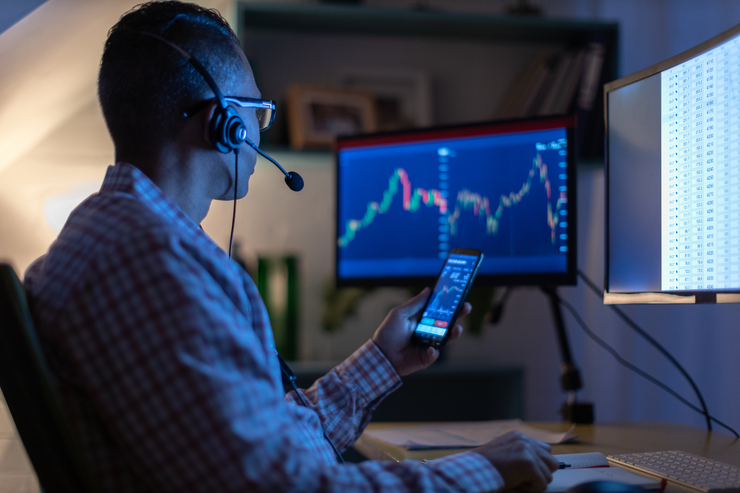 Continuing on their trend of providing soup-to-nuts resources, this report from Snowflake helps their audience modernize their company's data infrastructure with an all-encompassing approach. By tackling subtopics like leadership structure, new roles, and emerging paradigms, while also providing insight into how successful companies are modernizing, Snowflake creates yet another thorough resource tuned to their audience's educational needs.
WazeAds
Waze Ads, a division of the widely popular navigation app, operates with the purpose of driving in-store visits of on-the-go consumers. As the primary in-the-moment data source for millions of travelers, Waze Ads generates plentiful advertising opportunities for organizations.
Why Their Content Stands Out
As a leading navigation app, Waze has access to unparalleled first-party travel data that Waze Ads uses to power its content marketing. And it's Waze Ads' knack for packing this rich first-party data into assets designed to help their audience of marketers that sets their content program apart. Through goal-based articles, case studies, infographics, seasonal trend analysis, and more, Waze surfaces impactful proprietary data at every turn. The result is content that gives marketers all they need to confidently plan digital out-of-home campaigns tailored to the consumer and industry trends of today — and forecasts of what's to come.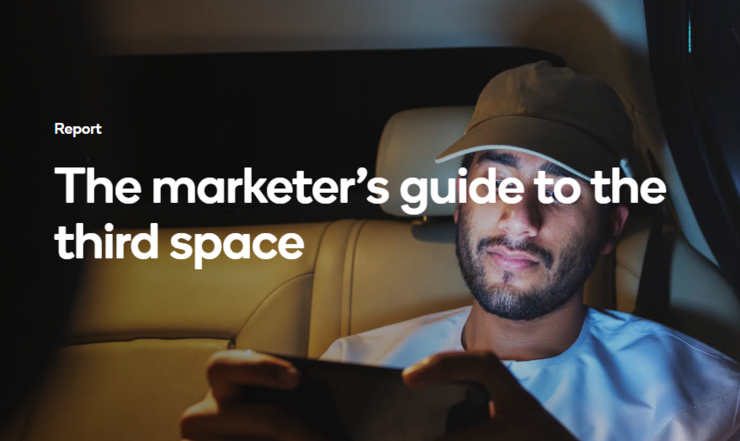 In this all-encompassing report from Waze, the brand yet again flexes its first-party data and niche know-how. Marketers are presented with a host of proprietary data points complimented by expertise from agency leaders in order to better capitalize on the opportunity recent driver data and trends present. 
DirecTV
DirecTV is a widely popular television provider serving millions of Americans across the United States. Offering both satellite and streaming capabilities, DirecTV provides customers with entertainment from the comfort of their own homes.
Why Their Content Stands Out
DirecTV Insider is DirecTV's comprehensive content hub that features an abundance of creative articles, guides, and opinion pieces for their audience to peruse. Between newsroom-style coverage of sports, movies, TV, and music, the brand's breadth of content remains steadfastly insightful and timely. It's this dedication to keeping their audience on the pulse of pop culture with a strong opinion that sets DirecTV's content program apart. 
Rather than just running down what to watch, DirecTV guides their audience through the constantly evolving entertainment space by bringing in the brand's opinion and drumming up hype — evidenced via dedicated features like roundups. Through this strategy, the brand emerges as a fellow TV & movie fanatic their audience can revel in the joys of modern entertainment alongside.
This DirecTV listicle is a prime example of how the brand blends a widely popular current event with relevant industry content to match their audience's mindset. The topic is timely, and the contents successfully funnels the excitement swirling around a major sporting event toward other entertainment of interest. Within the feature, DirecTV recommends shows from a variety of cable and streaming services, illustrating that their content hub is not self-serving, but rather, user-first.
TikTok
TikTok is a short-form video hosting service and social network. Featuring a variety of quick-hit user-submitted videos, from content such as pranks, stunts, tricks, jokes, and dance, TikTok has skyrocketed in popularity, emerging as a go-to entertainment platform for millions.
Why Their Content Stands Out
Across their robust newsroom, TikTok offers a host of articles, creator spotlights, community celebrations, trend reports, and more to help and entertain their distinct audiences of users and businesses. But it's TikTok's dedication to addressing the elephant of the room to the benefit of their audience that has their content program standing out from the pack.
In recent years, social media networks have caught major flack for being attributed to negatively impacting users' mental health — especially the younger generation. In a self-aware response, TikTok offers an entire safety section designed to help their users stay safe on the app. And the social giant addresses various mental health concerns via in-depth content like its Well-Being Guide, which provides tips for building a more supportive online community, and its Eating Disorder Guide, designed to help people grappling with eating or body image concerns.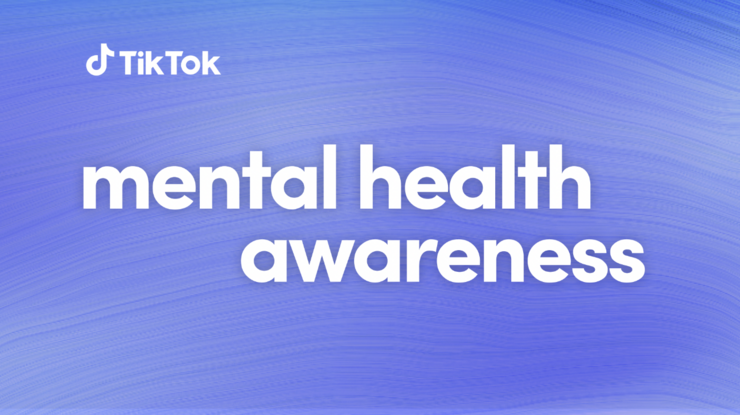 For this year's mental health awareness month, TikTok went all in to provide their audience with resources to stay mentally well — on their platform and beyond — in an effort to mitigate the negative impacts of social media use. The dedicated feature points users to supportive conversations on the platform, spotlights creators and brands breaking ground in the mental health space, and highlights TikTok's slate of mental-health events, like a mental-health check-in with an expert, broadcasts of mental-health benefit concerts, and discussions with celebrities about their own self-care journeys.
Emergn
Emergn is an international consulting firm, specializing in delivering digital products to their clients. In addition to consulting, Emergn works to provide intrinsic value from their clients' portfolios and offer educational services to increase internal efficiencies.
Why Their Content Stands Out
In the spirit of one of Emergn's core content pillars, learning skills & capabilities, the consulting firm excels at producing educational, action-based content for their audience. Well aware their audience's time is limited, Emergn cuts right to the chase with content designed to produce positive outcomes. With guides like "Moving from projects to products," articles on staying recession-proof, and webinars on improving product design with AI, Emergn successfully pushes their audience into an achievement-focused mindset with instructional content at every turn.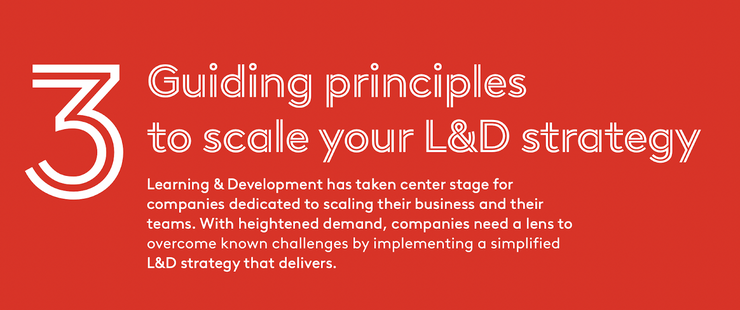 Continuing along their trend of producing goals-based content, Emergn expertly uses data visualizations to help their audience advance their businesses throughout this thorough, easy-to-understand guide.
Adobe
Adobe Inc. is a software company that specializes in digital experiences. Through Adobe platforms, customers can create, manage, and optimize a myriad of different content. Adobe spans countless industries, sectors, and fields, serving millions of customers across the world.
Why Their Content Stands Out
Adobe is a leader in creativity, marketing, and commerce. And they flex their prowess by providing real value not only through their products, but also through their content marketing. Whether for a student, designer, photographer, business, or all of the above, Adobe excels in creating hyper-specific content for their audience designed to inspire. From advice from successful editors, to niche user stories, to creative trend forecasts, Adobe offers something of interest for every kind of creative they serve.
Content Spotlight: CMO by Adobe — Content Hub

Creating content for content marketers isn't easy, but Adobe continues to be a daily go-to source for CMOs after many years via its dedicated hub, CMO by Adobe. Highlighting their proficiency in creating uber-specific content, Adobe provides expert insight and analysis that helps marketing leaders optimize their processes, navigate shifts in the landscape, and excel in their careers.
Spotify
Spotify, the audio-streaming giant, provides digital music, podcasts, and videos to hundreds of millions of active subscribers around the world. Today, Spotify is the most popular music streaming service and continues to be on the cutting edge of audio innovation.
Why Their Content Stands Out
Spotify, well-known for the viral "Spotify Wrapped" campaign at the end of each year, is the poster child for utilizing user data to make each individual's experience more entertaining and unique to them. Spotify's content hub, "For the Record" is packed with relevant content for music aficionados of every kind — whether they're a Spotify user or not. Spotify deftly blends internal promotional content with the latest stories in music and podcasting — and even smartly runs their own range of podcasts geared toward audience interests like discovering new music, hearing personal sagas of musicians, and the business side of streaming. It's their knack for delivering these kinds of hyper-curated experiences that set Spotify apart from both a content and service lens.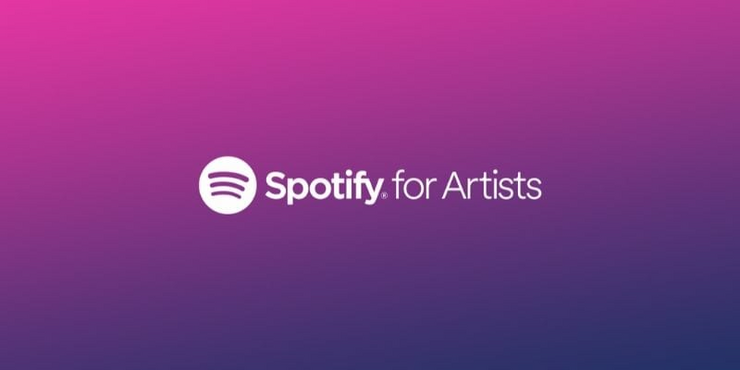 Once again showing off their talent for producing hyper-personalized experiences, Spotify provides value for the audience that matters most to their business: the artists who power their platform. From blog posts providing self-promotion tips, to videos featuring advice from established artists, the hub is a mecca for up-and-coming artists looking to get on Spotify users' radars and advance their careers.
BazaarVoice
BazaarVoice is a software company that crowdsources user-generated content for brands to repurpose in their marketing efforts. As a shopper-engagement platform, BazaarVoice helps retailers connect with customers in the hopes of motivating purchase decisions.
Why Their Content Stands Out
BazaarVoice produces educational, inspirational, and aspirational content to the delight of their audience. The steady stream of content BazaarVoice produces across industries, marketing roles, and topics is impressive — but quality doesn't suffer in the name of quantity. The software company's blog is a jam-packed hub built to help brands better engage with consumers in a social- and data-driven world. From cheeky how-to articles to comprehensive research reports on the most pressing topics in commerce, BazaarVoice provides a wealth of content for every stage of their audience's journey.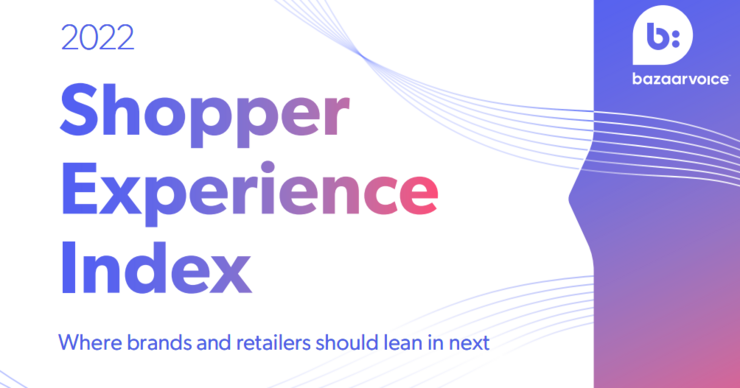 Serving retail commerce brands, BazarVoice curated a data-driven report that guides brands and retailers to better connect with shoppers in a digital world. By taking a firm stance and expertly highlighting how user-generated content can provide value to retailers, BazaarVoice delivers helpful insights to their audience with a subtle nod to their core product offering.
Atlassian
Atlassian Corporation is a software company offering a slate of project management tools for departments and teams across companies. Atlassian's tools include Confluence, Trello, and Jira.
Why Their Content Stands Out
At its core, Atlassian values teamwork, work-life balance, and achieving personal career potential. Its content marketing efforts embody these values through engaging yet playful content that still addresses serious topics employees face. Atlassian's easy-to-navigate Work Life blog guides users to podcasts and articles addressing common challenges employees may encounter on the job. And for more in-depth research, users can dive into Atlassian's detailed Guides & Research. For a more interactive experience, their audience can take one of the many quizzes Atlassian creates. The breadth of content formats on thoughtful topics demonstrates how Atlassian underscores their mission across their content.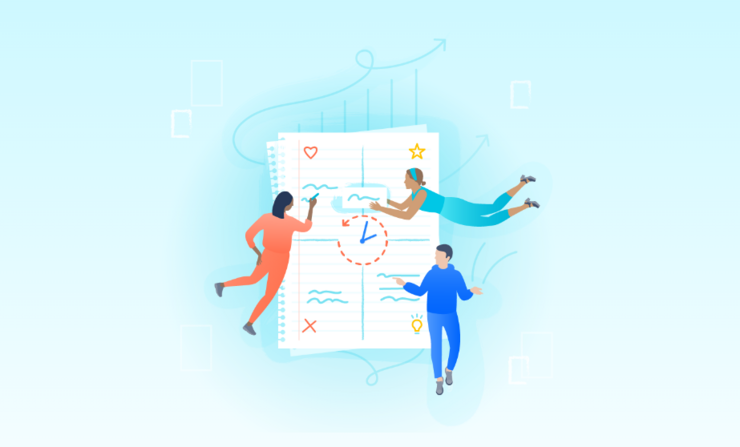 As a project management company, Atlassian provides expert pointers on the role of project management in the workplace. Rather than speeding on to the next project, Atlassian's playbook encourages teams to reflect on recent projects and apply these learnings to the next. The playbook includes detailed instructions, templates, and examples for team members to collaborate on — improving teamwork, synergy, and ultimately team culture.
Inmar Intelligence
Inmar Intelligence is a market-driven data platform company. The platform strives to help businesses understand the individualized needs of customers through data analysis. 
Why Their Content Stands Out
Inmar Intelligence is a content powerhouse. From the get-go, visitors to their site are met with a large volume of educational content that is highly relevant and timely. From press releases to industry analysis, to pertinent blog posts, Inmar provides the latest and greatest information their audience needs to understand their customers better.
But where Inmar really stands out from the crowd is in their ability to bottle their research and proprietary insights into a variety of mediums for their audience. Their dedicated trends & research section is home to a host of fact sheets, behavior reports, infographics, and more — all designed to help their audience make the most of opportunities and stay on the beat of constantly evolving customer expectations and trends.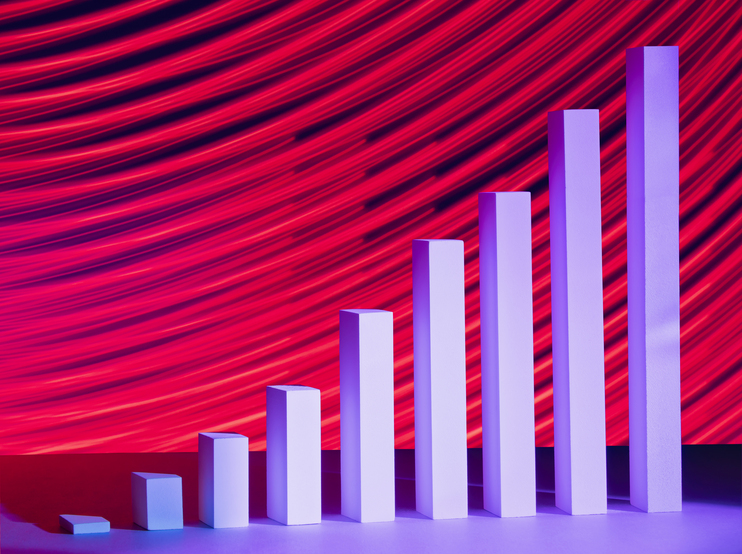 Recognizing that rising inflation is becoming an increasingly worrisome and critical topic for their audience, Inmar hosted an expert-led panel discussion to ease the concerns of retailers and brands. Complete with the latest research and actionable tips on using promotions to boost sales, this new spin on an oversaturated topic provides Inmar's audience with a much-needed map to navigate a major challenge.
Unbounce
Unbounce is an AI-powered software company that allows brands to create landing pages complete with unique "smart features". Unbounce also provides AI-generated copywriting and traffic optimization tools.
Why Their Content Stands Out
Artificial intelligence, or AI, is a fairly new buzzword that is out of many companies' scope of expertise. The good news for brands is Unbounce's content program has you covered. Much of Unbounce's content is centered around making AI palatable and easily understandable for their audience. The software company's "Conversion Intelligence Resources" dive deep into AI and cuts to the heart of why it matters in marketing. Offering both in-depth analysis of conversion intelligence and insights on less-dense topics, like the keys to copy and landing page design, Unbounce gives their audience options to find the level of information they're looking for.

This in-depth report contains easy-to-follow visuals, data points, and takeaways for the reader. Leaders of small businesses often don't have much spare time for light reading, let alone a deep dive on complex technological topics. This report breaks down the rather dense topic of AI into digestible and useful insights for the everyday business owner.
PhotoShelter
PhotoShelter is a digital asset management platform designed to aid creators in managing, collaborating, and sharing their work. Serving both brands and individual photographers, PhotoShelter promises to protect artists' visual media while allowing them to promote their work with maximum engagement.
Why Their Content Stands Out
PhotoShelter Stories unlocks a world of resources for companies and solo photographers alike, featuring case studies from high-profile brands and downloadable guides for better storytelling. But where the platform's marketing expertise shines through is in their video content strategy.
A lesson in repurposing and wringing out R.O.I., Photoshelther harnesses their powerful content produced at live events — including interviews, case studies, and speaking sessions — and brings it to their online audience via Summit Talks — a page dedicated to inspiring visual storytelling workflows. The videos are jam-packed with informational tidbits and imaginative ideas to get Photoshelter's audience well on their way to producing their next visual masterpiece.
Teeming with binge- and often drool-worthy videos (I mean, just look at that food photography), Photoshelter's Behind the Scenes with Storytellers gives us a peek into how brands, and more importantly, real people, use the platform to scale their business. What could have been humdrum written case studies are transformed into unique personal stories that allow Photoshelter's audience to see themselves — and their own potential — in the content.
Zendesk
Zendesk is a software-as-a-service company that provides products related to customer support, sales, and communications. As a self-proclaimed champion of customer service, Zendesk builds software to keep its customers' businesses in sync through its products.
Why Their Content Stands Out
With content tailored to customer service agents, Zendesk's blog is both a knowledge base and a safe haven for sales professionals. The brand has clear reverence for the fact that customer service can be an emotionally taxing line of work, and their program excels in its ability to reflect this sentiment. True to their name, Zendesk's content is nothing short of soothing. Their tone remains steadfastly empathetic, their visuals tranquilizing, and their point of view is decidedly positive — much to the delight of their audience. Through their range of blog posts, free whitepapers, guides, and on-demand webinars, Zendesk solidifies themselves as a partner who just plain gets it in an industry where compassion is due.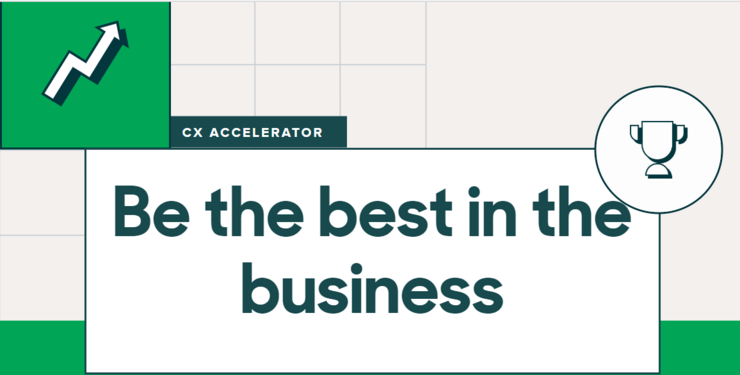 Zendesk's CX Accelerator Report 2022 illustrates the brand's knack for solving audience problems by tying their best insights together. At the end of a short quiz that compares responses with other leading customer experience professionals, the audience is given a personalized deep dive results report, offered access to all of Zendesk's CX events on demand, and are even given an expected ROI calculator — allowing the experience to serve as a one-stop-shop for their audience to take their ops to the next level.
SAP
SAP SE is a software and technology solutions company. As a leading enterprise resource planning software, SAP develops solutions to manage business operations and customer relations.
Why Their Content Stands Out
As the self-proclaimed "future of customer engagement and experience" SAP has a lot to live up to. And their content program doesn't disappoint. SAP understands the value of entertainment in driving a great customer experience for their audience, and achieves this through delivering a dose of the unexpected. SAP's content hub is visually stunning with vibrant and dynamic visuals and a dark-mode backdrop.
The dynamic elements catch users' attention and draw their eye to specific pieces. Their insights and advice are well-researched, yet delivered in a tone that remains consistently playful, casual, and even, at times, downright silly. The result is a breadth of content that is just as light-hearted and entertaining as it is effective — a dangerous combination in a landscape filled with monotone content.

At the intersection of pop culture and marketing, SAP produces blog posts like this one that deliver CX lessons in a culturally relevant manner. Millions of articles have been written about building a brand, but this unique approach to taking notes from a fan-favorite franchise to breathe new life into a potentially stale topic shows why SAP excels at keeping their audience coming back for more.
Salesforce
Salesforce, Inc. is a cloud-based software company that provides customer relationship management software and applications. The widely used software provides sales, marketing automation, analytics, customer service, and application development to users.
Why Their Content Stands Out
Salesforce is going all-in on content in their venture to educate and inspire their wide audience of business professionals. Now that they've crossed emerging as a leading CRM off their list, Salesforce is setting themselves up to become a full-fledged media company. The software company's media hub, Salesforce+, features expertly curated original series, episodes, and specials — an experience that makes you feel like you're perusing a true streaming app. 
In addition to visual media, Salesforce produces thoughtful blog posts, customer success stories, and events tailored to countless industries. Through their authoritative tone and coverage, Salesforce doesn't beat around the bush or shy away from hard-hitting and hot-button topics in order to help their audience keep on the cutting edge of their industry.
Content Spotlight: Trailblazer  — Series

Just one of the many examples of their exceptional visual content, Trailblazer, a Salesforce+ series, highlights Black leaders and their journey to build successful careers, communities, and companies (with Salesforce, of course). The resulting stories are heartfelt and triumphant, and effectively inspire by allowing Salesforce's audience to see professionals like themselves overcoming obstacles and reaching new heights.
Sikich
Sikich is a technology and professional services company. Delivering accounting, tax, audit, technology, and consulting services, Sikich aims to transform the digital strategies of their clients.
Why Their Content Stands Out
Serving a breadth of clients in complex industries, Sikich stands out for their dedication to distilling intricate and abstract concepts for their audience via visual storytelling. The consulting firm produces a steady stream of on-trend articles and webinars, but it's their exceptional, dynamic infographics that exemplify their ability to tune to their audience's learning styles. Concepts that would otherwise be a chore for their audience to dive into or wrap their head around become easy to understand and actionable.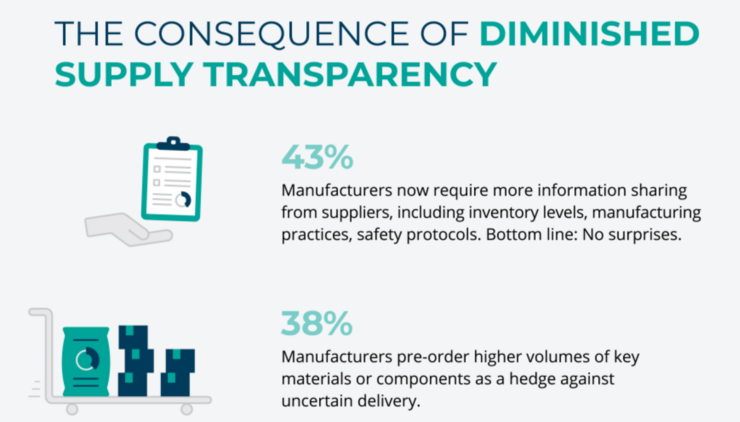 In one of Sikich's dynamic infographics, the brand smartly distills their in-depth research report into a visual highlight reel. The issues that are currently limiting the flow of U.S. imports are easily and quickly discernable for Sikich's audience of busy professionals and can be shared with their colleagues and leaders in a flash to spark conversations that bring about real change and enhance processes.
Brandfolder
Brandfolder is a digital asset management software built for marketers to better organize, create, and promote their digital assets. Brandfolder integrates itself into marketers' processes to allow them to focus their energy on creating quality content.
Why Their Content Stands Out
As a marketing software company, you would expect Brandfolder to hold their own when it comes to marketing content. And they do all that and then some. Brandfolder's highly engaging website includes a blog complete with featured resources — articles, ebooks, webinars, and infographics — on topics worthwhile to their audience of marketers.
But where Brandfolder's program stands out from the pack is in its dedication to producing content purely geared toward helping their audience circumvent challenges and sharpen their skills. On the brand's hub, marketers will find tips on overcoming creative block, recommendations for branding books that will make them better marketers, and an examination of purpose-driven brands. By digging their heels into crafting thoughtfully curated culture pieces, Brandfolder keeps their core audience coming back for more.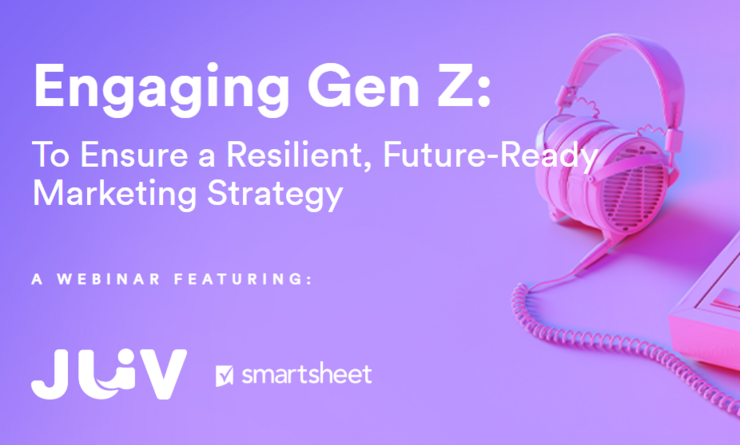 Continuing on their trend of addressing culture-based topics rather than product-based ones,  Brandfolder dives into the what, why, and how of Gen Z marketing. A topic that many marketers have struggled to crack the code on, Brandfolder takes an in-depth look to help marketers evolve their strategy to appeal to the new generation.
Celtra
Celtra is a creative, cloud-based software that automates creative production, creates dynamic ads, and manages social ads performance. Streamlining the creative and distribution process for brands, Celtra offers a number of services that transform processes and workflows.
Why Their Content Stands Out
As a media software company, Celtra's 'Resources' tab offers a wealth of captivating marketing content between their variety of articles, e-books, a podcast, and, and beyond. But where Celtra sets themselves apart is in their ability to deliver well-produced audio and visual content to their audience that speaks to the larger issues swirling around the ad industry. In both long- and short-form formats, the software company creates expertise-driven videos for designers and marketers alike.

Listen on Spotify | Listen on Apple Podcasts
In their podcast series, Brand-Side, Celtra explores high-level and culture-based topics via thoughtful interviews with external guests from across the ad industry. By tackling concepts like DE&I, Web 3.0, and authentic storytelling with leaders from other commendable companies, Celtra offers their audience a window into the strategies and mindset of leaders in the space that they won't get anywhere else.
Cybersecurity
IBM
The International Business Machines Corporation, commonly referred to as IBM, is a multinational technology company. IBM offers a range of products and services including but not limited to AI, Cloud & Enterprise Software, consulting, and automation.
Why Their Content Stands Out
"Security Intelligence" is one of IBM's many audience-specific content hubs — and a prime example of how they've emerged as one of the most well-respected and trusted business entities. This premier thought leadership destination is a definitive source of truth for security professionals. 
An example of a true brand newsroom, Security Intelligence is dedicated to helping security professionals stay on the edge of the industry and advance their knowledge. High-quality threat research, breaking news, and insights-driven coverage are delivered on a daily basis across a range of formats, including podcasts, reports, articles, and more. With consistent editorial stories reviewed by experts and a solid intent-driven SEO strategy, it's no wonder why IBM's Security Intelligence is a fan favorite amongst today's security professionals.

Running for 17 years and counting, IBM wisely leans into their first-party data to deliver their annual Cost of a Data Breach report. On a mission to help security pros save time and limit losses, the report winds through compelling stats and data visualizations that hammer home the very real threats and fallout of data breaches — before it provides complete measures and recommendations the reader can take to protect themselves from danger. Timely, authoritative, and proprietary, this report is an annual resource relied upon by security professionals everywhere. 
Education
Pearson
Pearson, an education publishing and assessment service, catering to schools, corporations, and students. Using technology, Pearson delivers digital learning products to people around the world.
Why Their Content Stands Out
Primarily sparked by the events of the pandemic, Pearson tackles the mental health crisis facing students and educators head-on. Pearson's Mental Health & Anxiety Resource Center offers educators a wealth of tools, insight reports, and success stories  to help address the mental health concerns of students in a meaningful, action-focused way. 
While their commitment to student mental health is evident, Pearson is careful to not forget about educators, offering well-researched tips to combat issues like burnout. To further their resource library, the education service shares not only original content but also valuable resources from other trusted sources. As a collective, Pearson's content marketing efforts showcase a genuine dedication to bettering the well-being of their core demographic.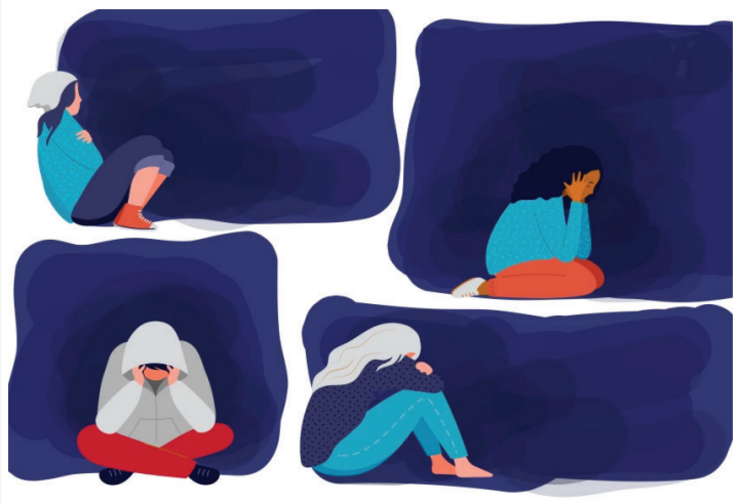 With content that moves in lockstep with the always-evolving ecosystem of education, Pearson developed an all-encompassing mental health guide for K-12 educators. The guide is all about action, giving educators tools to identify worrisome mental health signs, talk about mental health in the classroom, and make a real difference in the lives of students. The guide is personable and compassionate but is also backed by hard data and current events relevant to both teachers and students.
Human Resources
iCIMS
Internet Collaborative Information Management Systems., better known as iCIMS, is an enterprise recruiting and human resources platform. As a talent company, iCIMS is built for employers to find and shape the workforce they're searching for.
Why Their Content Stands Out
Designed to help their audience of human resource professionals excel, iCIMS's resources is chock full of high-quality content, complete with a blog, ebooks & guides, research reports, and more. HR pros can brush up on the latest and greatest terminology via iCIMS's "Talent Acquisition Glossary," or they can sit back and learn actionable talent engagement strategies with the brand's high-value webinars.  
But where iCIMS leads is in their ability to transform data into valuable insights. The brand uses a blend of its own proprietary insights coupled with authoritative data from the industry to produce a range of detailed, visually engaging reports. HR pros will find of-the-moment monthly workforce reports, as well as DE&I reports, cohort-based reports, and more to stay on the pulse of the ever-changing hiring and recruitment landscape. The reports even feature a friendly chatbot that asks the user if they're interested in taking next steps.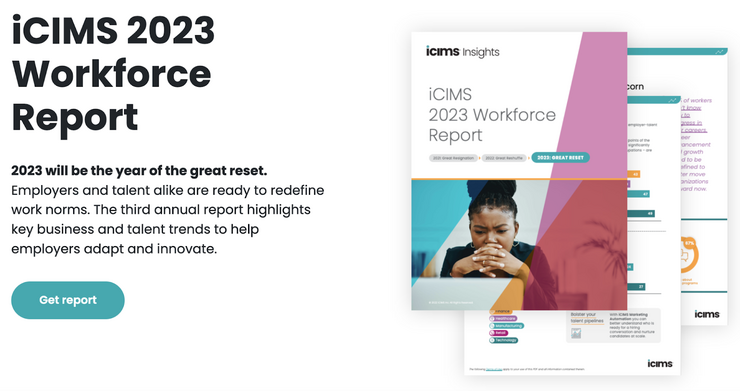 iCIMS' 2023 Workforce Report is a year-ahead roundup of key business and talent trends designed to help employers stay on the leading edge. But iCIMS doesn't just leave the data and run. Rather, the brand takes a strong stance throughout the report, defining the year ahead as the "great reset," and illustrating their most critical points via neatly tied together data visualizations. The result is a piece that provides HR professionals with a vision of the year to come while underscoring iCIMS' position as a true thought leader in the industry.
Society for Human Resource Management
The Society for Human Resource Management (SHRM) is a membership network connecting human resource professionals. SHRM provides education, certifications, and networking opportunities while lobbying Congress on behalf of their members.
Why Their Content Stands Out
In the spirit of their tagline, "Better Workplaces, Better World," SHRM takes a holistic approach to content creation with each piece created to improve the employee experience. Through surveys, reports, interactive tools, and events SHRM provides numerous opportunities for current and potential members to up their HR proficiency and skills. With much of SHRM's content backed by their very own research organization, SHRM Research Institute, the membership network establishes itself as a trusted source of information for HR professionals. 
SHRM particularly stands out for their sheer breadth of coverage. The brand manages to pump out a consistent mix of both evergreen content and timely content to address nearly every topic — and subtopic — their audience might be curious about. 
Content Spotlight: Honest HR — Podcast Series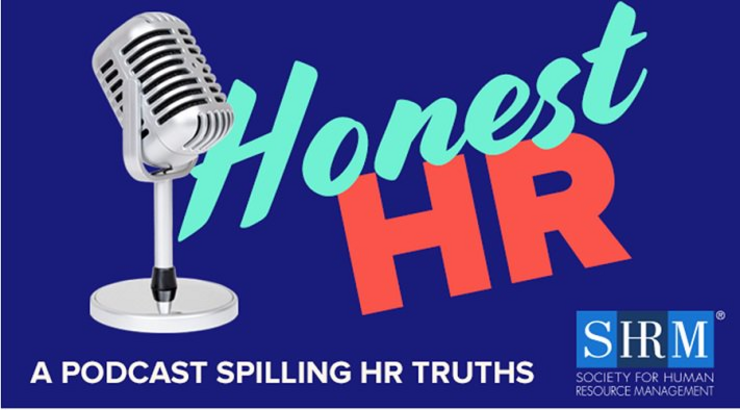 Listen on Spotify | Listen on Apple Podcasts 
Continuing along their strategy to leave no topic untouched, SHRM's Honest HR podcast, delivers candid, foresight-led conversations for HR professionals by HR professionals. Addressing everything from good employees gone bad, to DE&I, to mental health via workplace anecdotes, insightful interviews, and more, the series achieves its goal of "pushing back to move forward."
Marketing
Vibes
Vibes is a mobile marketing platform offering capabilities like audience & experience management, text message marketing, and multi-channel automation. Vibes helps brands connect with their audiences at scale while emphasizing security and compliance.
Why Their Content Stands Out
Vibes helps their vast audience base navigate the world of mobile marketing by offering a thoughtful blend of both generalized content and content that's tailored to specific sectors. But perhaps where Vibes serves their audience best is in the content designed to help companies more effectively maneuver the highly regulated landscape that is mobile marketing. 
Across their steady stream of blog posts, video, and audio content, you'll find recurring themes of privacy, compliance, and transparency addressed in an approachable manner. The result is content that helps Vibes' audience steer clear of fines and legal violations they might not otherwise be aware of — making mobile marketing a less risky and overwhelming endeavor entirely.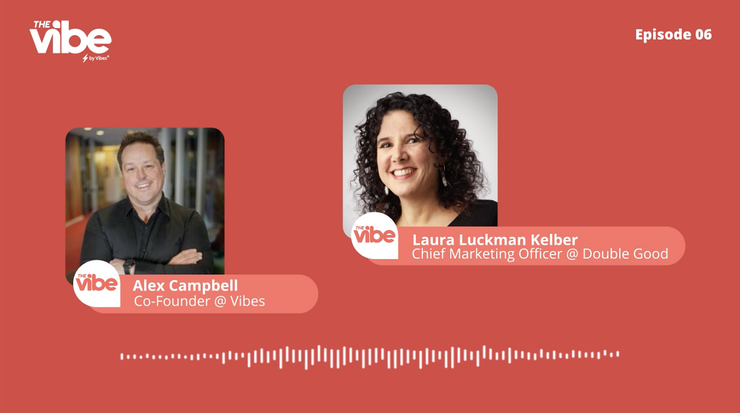 In each episode of "The Vibe" podcast series, Vibes brings on an external expert to tackle a different concept within the realm of mobile marketing. The topics selected range from tactical to philosophical, but the tone is always down-to-earth. Continuing along their endeavor to help their audience avoid legal troubles via data misuse, episode 6 is an experience-led look into the value of transparency.
Hubspot
Hubspot is a producer of software products for marketers from inbound marketing to sales. Aptly named, Hubspot is the hub for content marketers across the globe to gather insights and education on all aspects of marketing.
Why Their Content Stands Out
Perhaps one of the most recognizable names in the industry, Hubspot has unquestionably established itself as a leader in content, and particularly, inbound marketing. So much of their success has been achieved by truly prioritizing their audience's needs above all else, as the brand offers their expert resources to even non-users of their software platforms.
In fact, you'd be hard-pressed to find a modern marketer who hasn't enhanced their marketing skills via Hubspot collateral in some way or another.  
Hubspot's keenly aware that if you're in the business of inbound marketing, you surely have to "put your money where your mouth is." And they do just that. The brand has managed to underscore the efficacy of inbound marketing through their own inbound marketing strategies, effectively blanketing the landscape with their high-ranking accumulation of blog posts, free courses & certifications, newsletters, podcasts, and videos to emerge as a household name for marketers everywhere.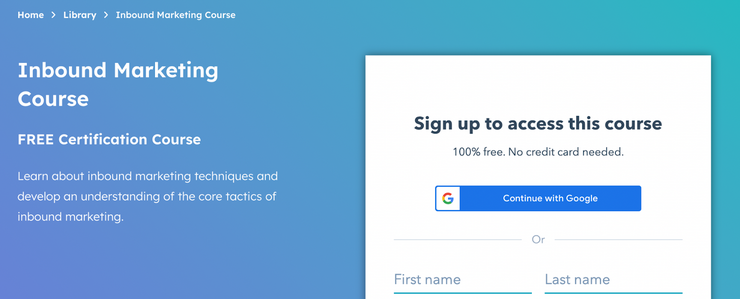 Hubspot's "Inbound Marketing Course" isn't one of those thin product webinars masquerading as an educational course. Featuring nearly 5 hours of education via 7 lessons, 24 explainer videos, and 7 quizzes, this course is a soup-to-nuts masterclass in inbound marketing — and a prime example of Hubspot's devotion to marketing education. Once completed, the user is even awarded a certificate that holds real weight with employers due to Hubspot's well-earned prestige. Oh, and did we mention; it's entirely free?
Gong
Gong, a revenue intelligence company, analyzes customer-facing interactions to deliver insights to sales teams. Through Gong's analysis, sales teams are able to better align with customer success, sales enablement, and marketing departments within their organization.
Why Their Content Stands Out
As a company built on using data as an advantage, Gong expertly harnesses first-party data to deliver strong content. "Gong Labs," the dedicated research arm of Gong's blog, publishes analysis by its data research team to aid readers in winning more deals. With an understanding that sales is a nuanced process involving both rational and emotional thinking, Gong is careful to balance heavy data with the human side of sales across their breadth of articles, guides, webinars, and their very own podcast. Through this dedication, Gong makes otherwise dense data approachable and actionable to help their audience master sales conversations, sales management, and the art of closing deals.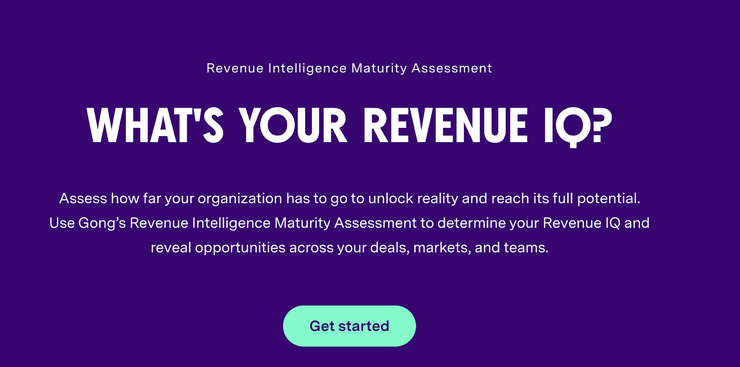 In Gong's "What's Your Revenue IQ?" Revenue Intelligence Maturity Assessment, the company leveraged their own data to develop a proprietary maturity scale based on proficiency across core areas within sales operations. The resulting advice is substantial, accessible, and precisely tailored to a user's maturity level, effectively sharpening the user's sales acumen while accentuating Gong's expertise in the arena.
Canva
Canva is a graphic design platform used to streamline custom graphic creation. Canva makes  creation of social media posts, presentations, invitations, business cards, and more a breeze — allowing all users to be a graphic designer.
Why Their Content Stands Out
Canva's content program swirls around two core goals: help users unlock the full powers of their platform, and create a sense of community that keeps them coming back time and again. Well aware that many of their users are design novices, Canva seems to have produced a piece of content for every use case, minor question, and frustration you'd encounter working on their platform between their help center and hub's "learn" tab. 
To establish a sense of community, Canva consistently celebrates design at large, frequently running design contests and challenges, and continually leaning into user-generated content to spotlight user stories. For brands and individual users alike, Canva provides the high-level education a person needs to succeed with design, inclusive of mechanics like color theory, and branding basics.

A lesson in audience segmentation, Canva's "Education" hub is entirely dedicated to serving one of their core demographics: teachers and students. The hub is chock full of platform-based resources for both parties, like recommended templates, lesson plan ideas, and presentation tips.  But once again, Canva goes far beyond platform to help teachers achieve big-picture initiatives at the heart of their work via resources on topics like social-emotional learning and forming lasting class relationships.
Mailchimp
Mailchimp is an email automation platform helping brands and individuals streamline their communications. Primarily email marketing focused, Mailchimp also provides marketing and webpage add-on tools.
Why Their Content Stands Out
If there's one word to describe Mailchimp's content, it's all-encompassing. Mailchimp offers a vast library of marketing tools and tactics for e-commerce, marketing automation, CRMs, and more. Not to mention, Mailchimp has community networks specially designed for freelancers, agencies, and developers. But where Mailchimp really sets themselves apart from the pack is in "Mailchimp Presents," their hub for original podcasts and videos. 
Via the range of Mailchimp-produced films, series, and podcasts offered, the hub will have you feeling like you're checking out selections for an indie film festival. Featuring filmmakers, musicians, entrepreneurs, and artists from across the globe, "MailChimp Presents" tells stories that celebrate the spirit of creativity, innovation, and artistry.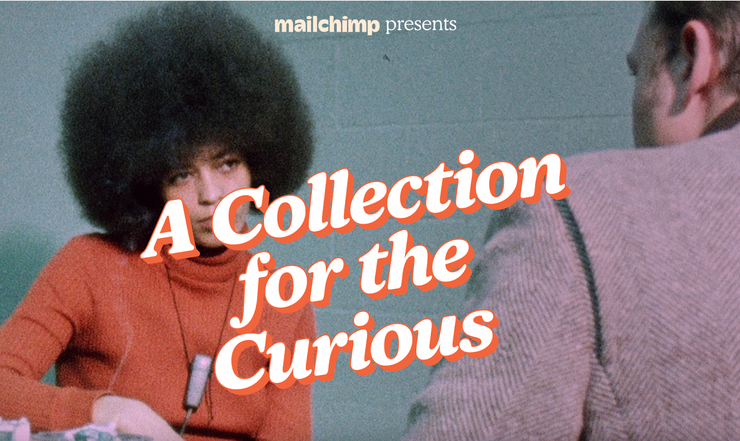 Featuring a collection of full-on films that explore everything from found footage, to cave drawings, to pyrotechnics, to bugs, MailChimp's "A Collection for the Curious" is nothing short of content marketing brilliance. It delightfully serves no other purpose than to invigorate Mailchimp's audience of creatives, standing as a true love letter to the radical rebellion and feverish curiosity at the heart of any creative pursuit.
Drift
Drift.com, Inc., a conversation cloud company, helps businesses communicate with their customers through online chat, email, video, and more. Drift enables businesses to streamline their communications to increase customer satisfaction and sales efficiency.
Why Their Content Stands Out
Drift specializes in mastering the perfect messaging for businesses in the most efficient way, and this goal is reflected throughout their content marketing. Drift's content revolves around  a strong educational purpose, even dubbing itself as the "#1 learning community for marketing and sales." To make good on this proclamation, Drift offers learning resources in the form of books, webinars, podcasts, and even full-fledged training & certification programs, functioning nearly like an academy for its audience. 
Whether you want to master conversational marketing or accelerate your revenue, Drift has content crafted for you. As a bonus feature, Drift's content marketing also makes use of one of its own products within its content. When selecting a piece of content to listen to, read, or download, its chatbot follows up with questions like if you'd like a copy emailed to you — allowing for a white-glove experience for the user, and for Drift to easily capture leads while showing off the benefits of one of its products.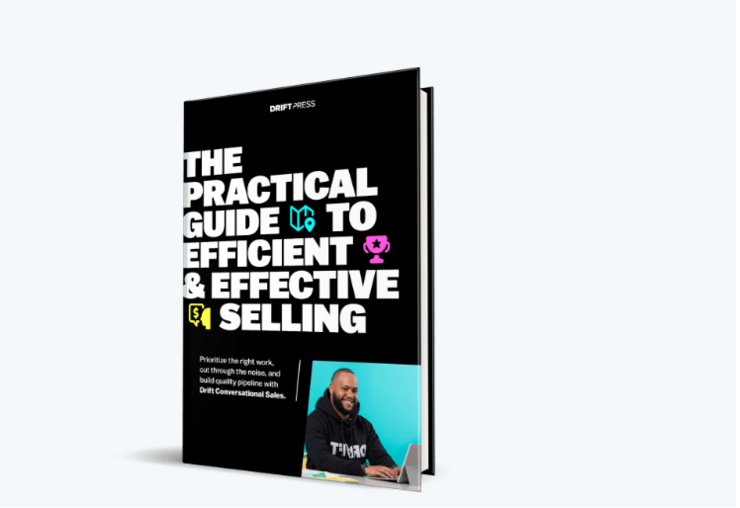 In Drift's "The Practical Guide to Efficient and Effective Selling" book, the brand shares its first-party data to help its audience better understand buyer intent and stop wasting time on the wrong work. The book offers a real schooling on the subject relevant to anyone in the space while also threading the benefits of Drift's products throughout. The audience walks away informed on the subject, but also aware of the ways Drift can uniquely help them in their endeavor: a win-win situation.
Utility
Shell
Shell is a multinational group of oil and gas companies committed to sustainability and minimizing its carbon footprint. Present in more than 70 countries, Shell is a global leader in energy solutions.
Why Their Content Stands Out
As one of the world's leading oil companies, Shell is acutely aware of the importance of corporate social responsibility and the realities of hot-button issues in a business like theirs. While many corporate responsibility efforts can come off as trendy or disingenuous, Shell strives to authentically quell audience fears and showcase their values at every turn. To illustrate their commitment to sustainability, Shell emphasizes innovation and climate change fighting practices through a number of profiles, articles, and reports. The brand also manages to tackle touchy topics, like human rights, in a sincere way. 
What emerges is a suite of content that straddles the line between content and PR, studded with themes of sustainability and social responsibility. Executed in a seamless and thorough manner, Shell reassures their audience with evidence of action in order to underline their commitment to reducing their carbon footprint and respecting human rights. 

As environmental concerns are top of mind for many individuals and corporations, Shell produced a guide for organizations to incorporate decarbonization into everyday practices. What would otherwise be a daunting mission is broken down into simple questions that apply to any business. The guide pushes Shell's audience to reconsider aspects of their organization,  in both the long and short term, to help them lower their carbon footprint and join Shell in becoming more environmentally conscious.
Media
Bloomberg
Bloomberg L.P. is a financial software, data, and media company delivering business news, data, and analysis to readers around the world. As a leader in business and markets, Bloomberg L.P. helps leaders across industries make informed business decisions.
Why Their Content Stands Out
Bloomberg began as a computerized system designed to provide real-time market data and financial analytics to Wall Street Firms. In perhaps one of the savviest blends of media, product, and content marketing in history, Bloomberg L.P. was formed as a financial portal with information on markets, currency conversion, news and events, and Bloomberg Terminal subscriptions.
Bloomberg's dedication to top-notch news coverage and reporting is a major contributor to their emergence as one of the most trusted sources and softwares in the financial world. Between their range of industry-specific radio shows, and their extensive list of thematic podcasts often led by their own journalists, Bloomberg truly has something to pique the interest of every member of their vast audience base. Bloomberg even bottles some of their most compelling stories into their episodic series, Giant Leap. So, whether you're a fan of print, audio, or video, the brand has content tuned to your specific consumption preferences.

Bloomberg's "Watchlist" tool is a premiere example of how the brand deftly threads the needle between their news and data offerings. Financial professionals and armchair stock watchers alike can sign up for the list to easily track companies and indexes, and never miss a breaking news story related to their customized portfolio again. With content this hyper-personalized and helpful, why would financial-minded folks turn anywhere else?
Healthcare
Pfizer
As a leading biopharmaceutical corporation, Pfizer works to innovate and distribute vaccines, medicines, and treatments to people all over the world.
Why Their Content Stands Out
In a landscape of increasingly disillusioned audiences, Pfizer is a glowing example of a brand that exercises transparency to establish trust. In the pursuit of delivering content people need to feel supported, Pfizer provides countless "behind the science" looks at their recent initiatives, breakthroughs, and innovations that impact millions of lives. 
In the form of articles, ebooks, and podcasts, the biopharmaceutical giant takes an understanding approach to engage a science-curious audience — connecting with them through a balance of personal stories, clinical trial data, and conversations with scientists and leaders on the front lines. Via a combination of plain-spoken language, down-to-earth illustrations, and revealing the people and processes behind medical advances, Pfizer pulls back the curtain in a way that feels genuine and approachable, further building a brand upheld by earned trust.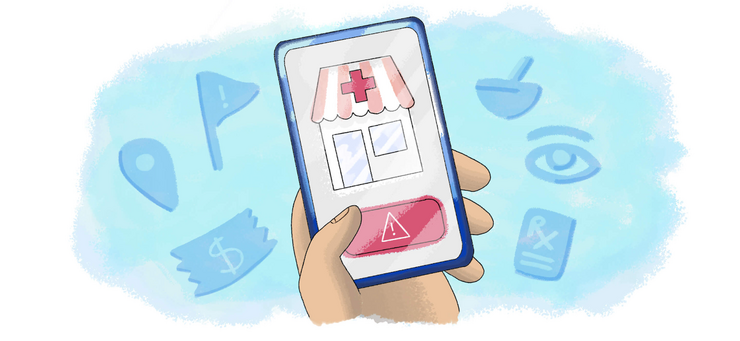 In this multimedia interactive piece, Pfizer addresses the recent and deadly concern of counterfeit medication. You won't find any convoluted language or alienating medical speak here — only an easy-to-understand look into the heart of the issue, bolstered by data visualizations, expert commentary, and even audio snippets from leaders in the space.
Ergotron
At the intersection of wellness and productivity, Ergoton produces furniture including standing desks, workstations, and mobile carts. Ergotron's products are designed with ergonomics and the comfort of the consumer in mind.
Why Their Content Stands Out
Serving a variety of markets from education to industrial, Ergotron creates content that is both approachable and authentic. From research reports to infographics to podcasts, Ergotron creates an inclusive hub that blends playful content with denser educational pieces. The furniture company also smartly incorporates insight from external healthcare specialists across their content, elevating their credibility and contributing to an air of transparency. 
Ergotron's underlying mission is to improve people's work environment through movement, and their content program excels in its ability to express this sentiment. Much of Ergotron's content revolves around the individual; addressing the unique pain points experienced by their variety of audience segments.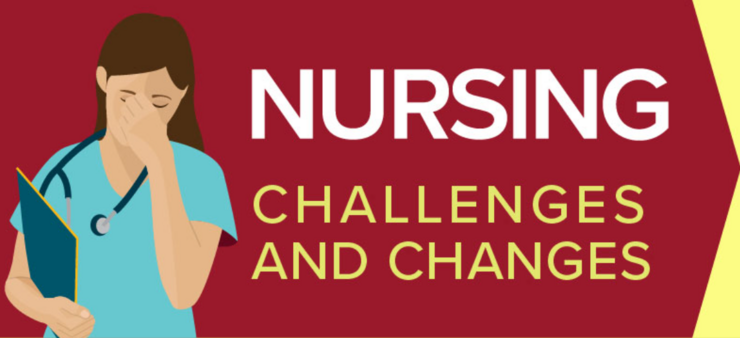 Underscoring their understanding of audience segmentation, this infographic is centered around the daily struggles nurses face. The infographic winds through the physical toll this profession takes and stats about the healthcare professional labor shortage — with notes about the relief that proper equipment can provide sprinkled in. By recognizing unique challenges and suggesting solutions, Ergotron highlights their ability to assist people across professions empathetically.
Cleveland Clinic
Cleveland Clinic is a non-profit medical center and teaching hospital. Known as a pioneer in research, education, and health. Cleveland Clinic has spearheaded numerous historic and life-saving medical breakthroughs.
Why Their Content Stands Out
While Cleveland Clinic is highly regarded as a maverick in medical innovation, they serve patients at every stage of their life — whether they're in need of life-saving care or a routine check-up. True to this mission, Cleveland Clinic's content program expertly balances the prominent role they play in both changing modern medicine and caring for everyday patients. 
Cleveland Clinic's "healthessentials" hub is brimming with articles on oral health, nutrition, family medicine, and practically any topic on the minds of the patients, families, and healthcare professionals they serve — while Cleveland Clinic's Newsroom hub houses their most pressing developments in medical trials, research studies, and inspiring patient success stories. By offering quality articles, podcasts, and videos across a variety of audience-centric avenues, Cleveland Clinic successfully meets the needs of everyone they serve.
Content Spotlight: Cardiac Consult — Podcast Series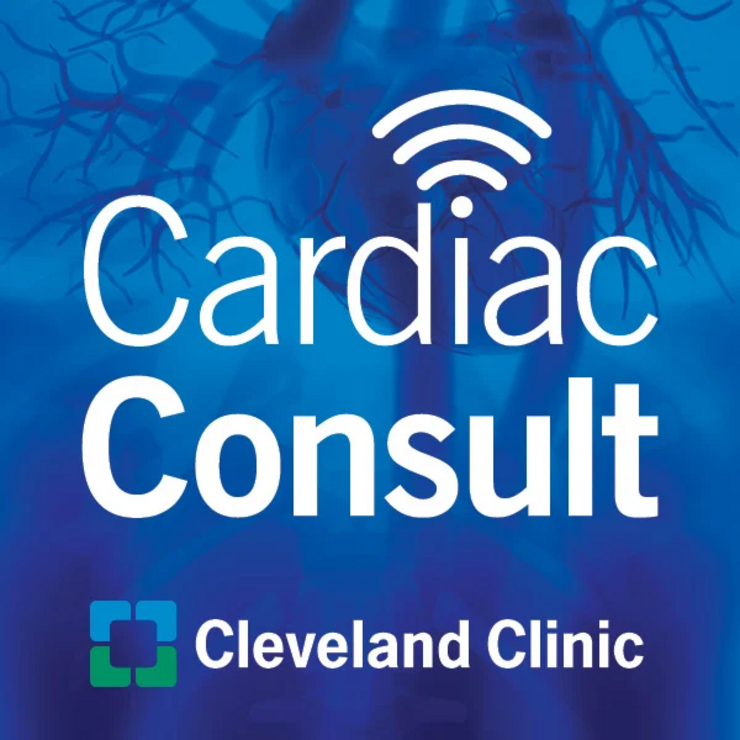 Listen on Spotify | Listen on Apple Podcasts 
In one of Cleveland Clinic's many podcast series designed for medical professionals, Cardiac Consult gives doctors a platform to discuss topics surrounding the heart and the vital role it plays in our bodies. Although the podcast series is made for healthcare professionals, it doesn't solely cover complex surgical treatments and the latest and greatest cardiac research. Instead, the podcast series balances in-the-weeds disease-state episodes with episodes on approachable topics, like keeping your heart healthy during the holidays. The result is an in-depth series that allows listeners to  choose the level of complexity they'd like with each episode. 
Food
McCormick
McCormick & Company is a manufacturing company that produces spices, seasonings, condiments, and more for businesses and households across the world. McCormick is a conglomerate, home to numerous household brands such as French's, Grill Mates, and Lawry's.
Why Their Content Stands Out
McCormick's content primarily focuses on helping consumers figure out a daily dilemma: what meals to make, and how to make them (using McCormick products, of course). The spice brand's content doesn't come off as self-serving, but rather is heavily SEO-driven and on the pulse of what consumers are looking for. Across their hub, you'll find evergreen seasonal guides, how-tos, and cooking 101 articles — all organized under a smart navigation system that allows users to choose their own adventure between cuisines, flavors, prep styles, and beyond.  McCormick creates shareable, digestible content that helps households make mouth-watering meals for their family.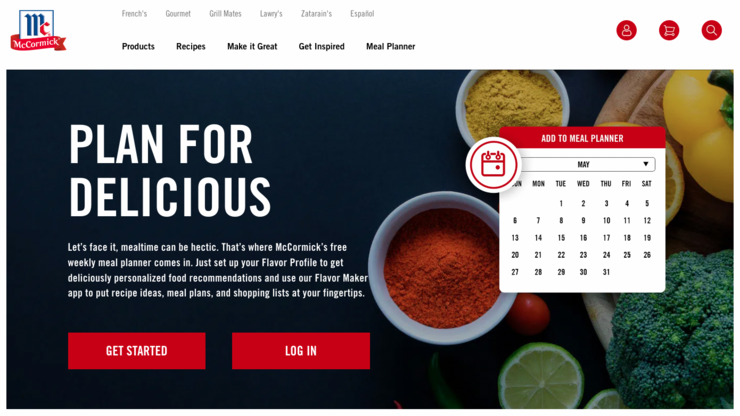 If McCormick's range of articles and videos are accouterments, their interactive Weekly Meal Planner tool is a four-course meal. Allowing users to pick their flavor profile, find and save matching recipes, schedule when to make them, create grocery lists and buy ingredients — and produce the final plates — the tool serves as a true one-stop-shop for the home cook. Gone is the daily stress involved in cooking, and opened is a world of new flavors and opportunities to have more fun in the kitchen.
DoorDash
DoorDash is an online food ordering and delivery company. Serving customers, restaurants, and "dashers," DoorDash works to empower local economies while increasing convenience for consumers.
Why Their Content Stands Out

Because DoorDash serves a broad market, it has the daunting task of creating content for all groups. From DoorDash's Newsroom to various blogs, DoorDash provides content for consumers, merchants, and its delivery personnel (also known as "dashers"). Because DoorDash is a technology company, it also has a devoted engineering blog featuring topics on innovation within the engineering space. But where the food-delivery leader wisely creates the most valuable content is its merchant hub. 
Containing resources for restaurants, grocery, pet stores, retail, and more, the merchant hub offers a dedicated learning center, blog, reports, and guides, all designed to help DoorDash's merchants thrive. Through this hub, the brand successfully facilitates a symbiotic relationship — allowing the small businesses and major chains that power the delivery company to flourish, and in turn, promoting the growth and health of DoorDash itself.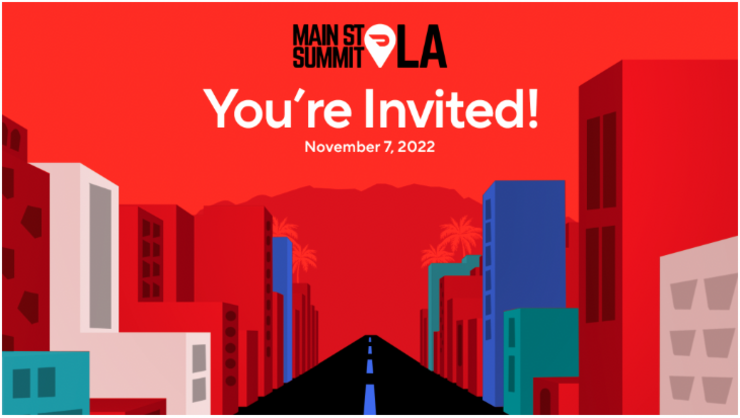 At DoorDash's "Main Street Summit | LA," the brand snowballs the success of their previous restaurant conferences into a first-ever in-person edition for merchants. The summit is an ingenious blend of content and event marketing powered by an assembly of first-party insights and a cast of local business leaders. In addition to face-to-face networking, the resulting summit includes everything from DoorDash masterclasses, to a rundown of what LA foodies are craving, to ways to build an authentic brand on social media — giving local merchants all they need to prosper.
Ben & Jerry's
Ben & Jerry's is an ice cream company known for its highly craveable and out-of-the-box flavors. Sold in grocery stores, convenience stores, and even its own storefronts, Ben & Jerry's has grown from a single parlor in the mountains of Vermont into a beloved multinational confectionery brand.
Why Their Content Stands Out
Lauded for its social advocacy, it's widely known that Ben & Jerry's is not just an ice cream company. In a time when so many companies stray from being even remotely political for fear of alienating segments of their audience, Ben & Jerry's fervently stands up for what they believe in. Their mission is to use their business platform to advance human rights, work for social justice, and protect the earth's ecosystems — quite a tall order that Ben & Jerry's tackles directly through its content marketing. The ice cream giant stays true to its brand by providing to-be-expected recipes, news, employee stories, and beyond. But it's the balance between light-hearted, food-oriented stories and controversial think-pieces that makes Ben & Jerry's content marketing efforts so unique.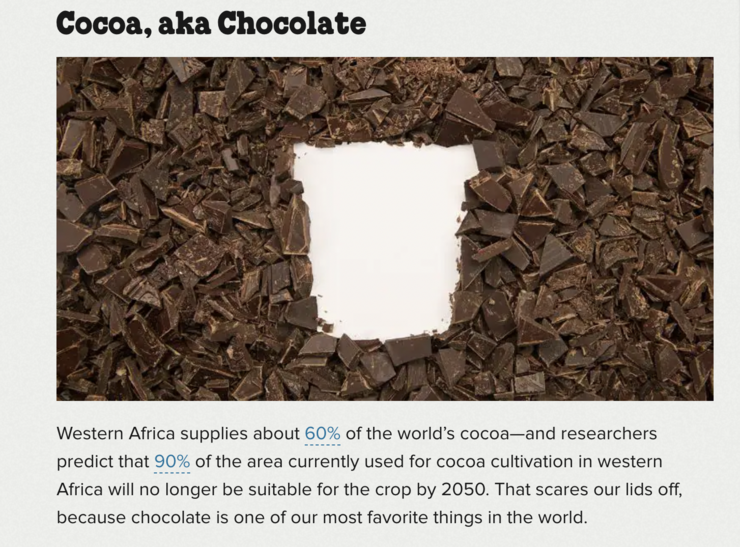 In Ben & Jerry's "Flavors We Could Lose to Climate Change" article, the brand cleverly calls attention to the very real threats of climate change by illustrating how the fate of something their audience loves dearly hangs in the balance: Ben & Jerry's ice cream flavors. Underpinned by authoritative statistics and closing with a call/ways for the user to push elected leaders to implement clean-energy policies, the brand advocates for action, rather than simply stoking fears.
Travel
Marriott International
Marriott International, Inc. is a hospitality corporation serving travelers all over the world. Marriott International operates over 30 brands across over 8,000 hotel, residential, and timeshare properties.
Why Their Content Stands Out
Marriott is a leader in creating wanderlust-inducing, distinctive content in the oversaturated space of airlines, hotels, and travel influencers. Marriott's content goes far above the surface-level, resort-focused guides that have become so commonplace in the industry. Rooted in sustainability, social responsibility, and pushing travelers to look beyond what meets the eye about a destination, Marriott is dedicated to helping people "travel better". Marriott's Traveler hub offers a diverse range of guides, multimedia articles, and podcasts, to underscore the rich histories and cultures of destinations — with an emphasis on appreciating them responsibly to protect these awe-inspiring spaces. By creating educational content with a sense of reverence, Marriot stays true to their vision of helping people experience the world in a meaningful way.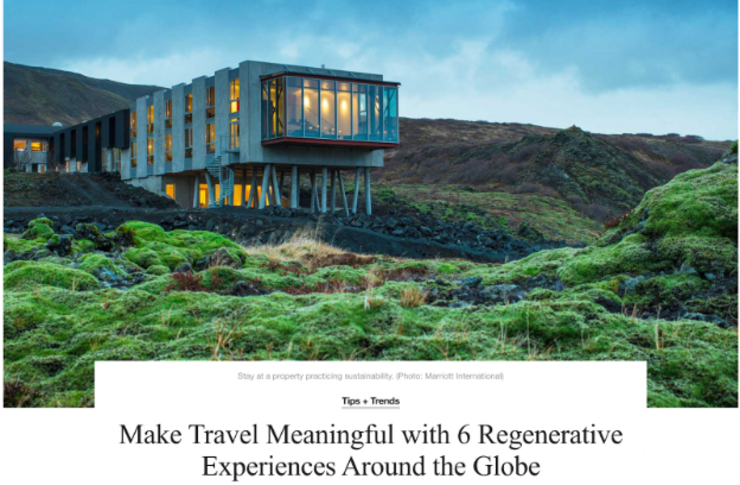 Marriott's "Make Travel Meaningful" article implores jetsetters to adventure responsibly and leave a destination better than they found it. From Santa Barbara, to Bali, to Berlin, the article trots the globe to give travelers a curated look at practices and tailored experiences they can partake in to support local communities, eat sustainably, and aid in environmental conservation.
Retail
REI
Recreational Equipment, Inc., also known as REI, is a retail company selling outdoor equipment, gear, and clothing for various recreational activities. The retailer is a consumer co-operative, meaning it's owned by consumers with the goal of meeting consumer needs, not necessarily generating profit.
Why Their Content Stands Out 
REI's content marketing program revolves around two central intentions: getting people outdoors and protecting our planet. Their Expert Advice section offers sage pointers for just about every outdoor pursuit under the sun. From buying guides, to training plans, to care & repair, to nutrition, REI makes content that takes the guesswork out of adventuring, while providing well-placed links to both their retail products and skills classes throughout. All of REI's content is backed by its "why" of outdoor equity, climate action, and environmental protection. But these values are especially evident in their dedicated impact pieces — which often have CTAs to contact local legislatures in the name of environmental advocacy.
Content Spotlight: Founder Spotlight: Martha Y Díaz, Itacate Foods — Co-op Cinema Video
In its Co-op Cinema section, the outdoor retailer highlights founders, explorers, and everyday athletes alike via short, beautifully shot mini-documentaries designed to inspire its audience. REI notably departs from pushing their own products in these stories — instead, opting to give the personal sagas of their subjects centerstage. 
Nike
Nike, Inc. is a multinational athletic apparel company engaged in the design, development, manufacturing, and worldwide marketing and sales of footwear, apparel, equipment, accessories, and services. As one of the most well-known activewear brands, Nike is a staple in the world of sports and beyond.
Why Their Content Stands Out
Best known for its inspiring video campaigns, Nike is a prime example of building a brand that goes far beyond products or services. Nike's on a quest to "bring inspiration and innovation to every athlete in the world," with an emphasis on the idea that everyone is an athlete. By producing thoughtful content for runners, boxers, skateboarders, and nearly every kind of athlete in between — Nike upholds its mission. On just one of its many visually stunning content hubs, Nike celebrates innovation through design, its rich history, and its commitment to building an inclusive community. 
Content Spotlight: Made to Play — Content Hub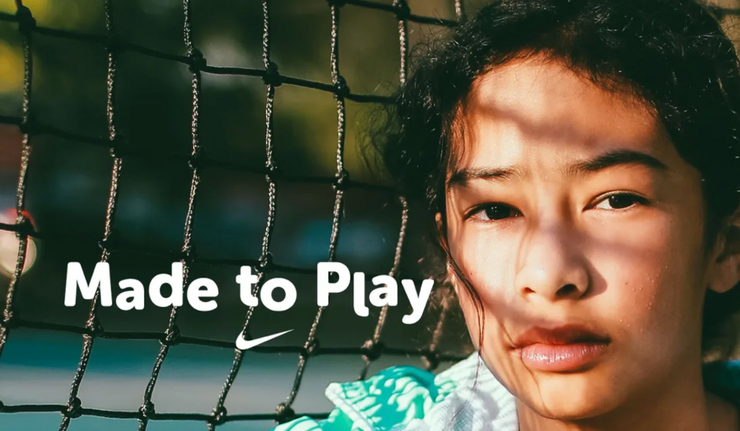 Nike's "Made to Play" content hub serves as a rallying cry to solve the current generation's "inactivity crisis," imploring local leaders to step up to the plate and get kids in their communities moving. The hub makes playmakers the heroes, yet threads Nike's value props at every turn — utilizing a mashup of videos, guides, checklists, and more to get folks learning about the issue, coaching for belonging, and championing for change.
Patagonia
Patagonia is a retailer of upscale clothing for the outdoors, sports, and everyday life. Often in the headlines for their sustainability initiatives, Patagonia is as much an advocate for fighting the climate crisis as they are a clothing company.
Why Their Content Stands Out
In a time where fast fashion runs rampant, Patagonia is the personification of a brand with a purpose, evidenced by responsible sourcing, worn wear initiatives, and comprehensive content marketing. The clothing brand employs personal storytelling to weave environmentally conscious themes into each piece of content they create, transforming their image from a clothing brand to the leader of a movement. 
In particular, Patagonia's "Stories" is a shining model of how the brand keeps their audience engaged by turning attention away from themselves and onto their community. Ranging from light-hearted to deeply serious in tone, this collection includes spotlights on everyday athletes and deep dives into how activists are affecting change across the world. Through articles, podcasts, and short films, Patagonia provides customers with various formats to consume their inspiring yet informative content. With a clear mission, Patagonia excels at producing purpose-driven content through a commitment to superb personal storytelling.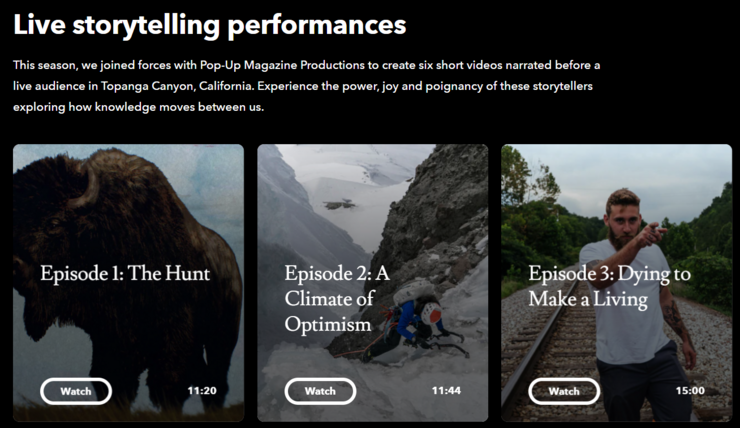 In this 6-episode series, Patagonia features live storytelling performances from adventurers and activists across the world. The speakers tell their story to a live audience as pre-shot short film footage adds color to the tale in the background. The result is a content two-for-one: an unforgettable in-person event experience that translates seamlessly into an on-demand viewing experience for those to enjoy at home — without a bit of the speaker's inspirational wisdom lost in the process.
Supply Chain
FedEx Office
FedEx Office Print & Ship Services Inc. is FedEx's store-front providing shipping, copying, printing, marketing, and office services. FedEx Office serves a vast number of industries from retail and higher education, to supply chain and biopharma.
Why Their Content Stands Out 
FedEx Office serves a variety of different audiences through their content program, but their commitment to serving one of their core audiences — business owners — is particularly noteworthy. From small to enterprise, FedEx Office excels at helping businesses of all sizes leverage the power of print and digital marketing design to thrive across their "Resources to inspire" hub. 
Small business owners will find advice geared toward navigating the day-to-day realities of entrepreneurship, with content on print materials necessary for small businesses, tips for a successful grand opening, how to combine print and digital marketing, and more. And enterprise-level businesses will find content geared toward cross-functional complexities, like applying proven marketing techniques to solve HR challenges, and surviving the decline in digital ad effectiveness. By working to frame their value against the distinct challenges different kinds of business owners face, FedEx Office emerges as an authentic partner for business owners everywhere.

In FedEx Office's 9 ways to attract holiday shoppers article, the brand continues on their strategy of helping business owners beyond product. Real tips backed by experience and data are delivered first and foremost — like the best time to send cards and the suggestion of hosting a special shopping day for your most loyal customers — with ways FedEx Office can help to achieve these goals peppered in.
Sports
Formula 1
Formula 1, commonly referred to as F1, has taken the world by storm as the premier league of high-class racing. The international sport features open-wheel single-seater vehicles competing in a professional motor race.
Why Their Content Stands Out 
Formula 1's commitment to creating engaging content geared toward hyping up its fanbase is a primary reason for its success in building brand recognition — and skyrocketing in popularity in recent years. Between media deals with streaming giants and podcasts featuring up-and-coming racers, F1 crafts content that embodies the thrill of racing. 
To rev up excitement around one of their most highly anticipated events — the Formula 1 Las Vegas Grand Prix — F1 produced a dedicated hub chock-full of driver-led hype videos, guides that detail "everything you need to know" from course design to things to do around town, and the latest news on the Las Vegas race. And it's still a whole year away.

With an 8.6 rating on IMDb and 5 seasons and counting, the series showcases the lives of the families, teams, and drivers who bring the sport to life. Blurring the line between content marketing and filmmaking, this high-speed thrill ride is enough to transform even newbies into superfans — and get you perusing tickets to experience the action live.