Industry conferences are back with a vengeance and rightfully so. Collaborating with others in your industry, sharing valuable insights, and expanding your network are just a few reasons why conferences are beneficial to marketers like you. In just a few weeks, the premier content marketing conference will kick off – Content Marketing World 2022. 
Content Marketing World is an annual conference for content marketers to gather and connect with fellow professionals. Here, ingenuity and partnerships thrive. This year, the conference takes on the high-level theme of "Drive Forward." Through more than 100 sessions, workshops, and industry forums, you'll learn from the best in the content marketing industry to fuel your content strategy and accelerate your overall marketing program. The 4-day event will take place at the Huntington Convention Center in Cleveland, Ohio between September 13 – September 16, 2022. 
"At Content Marketing World, you'll connect with a community of fellow content marketers eager to swap ideas that will spark new inspiration and keep your thinking fresh."
Last year marked studioID by Industry Dive's second go-round at the premier marketing event, and we're thrilled to be joining in on the action again this year. Whether you've yet to attend Content Marketing World, or are already a seasoned pro, we'd love to see you there as we share our insights across a few different avenues:
💬 Book a time to chat with us [and get a free retro fanny pack]. 
Radical Transparency: A Pfizer Masterclass in Developing Earned Trust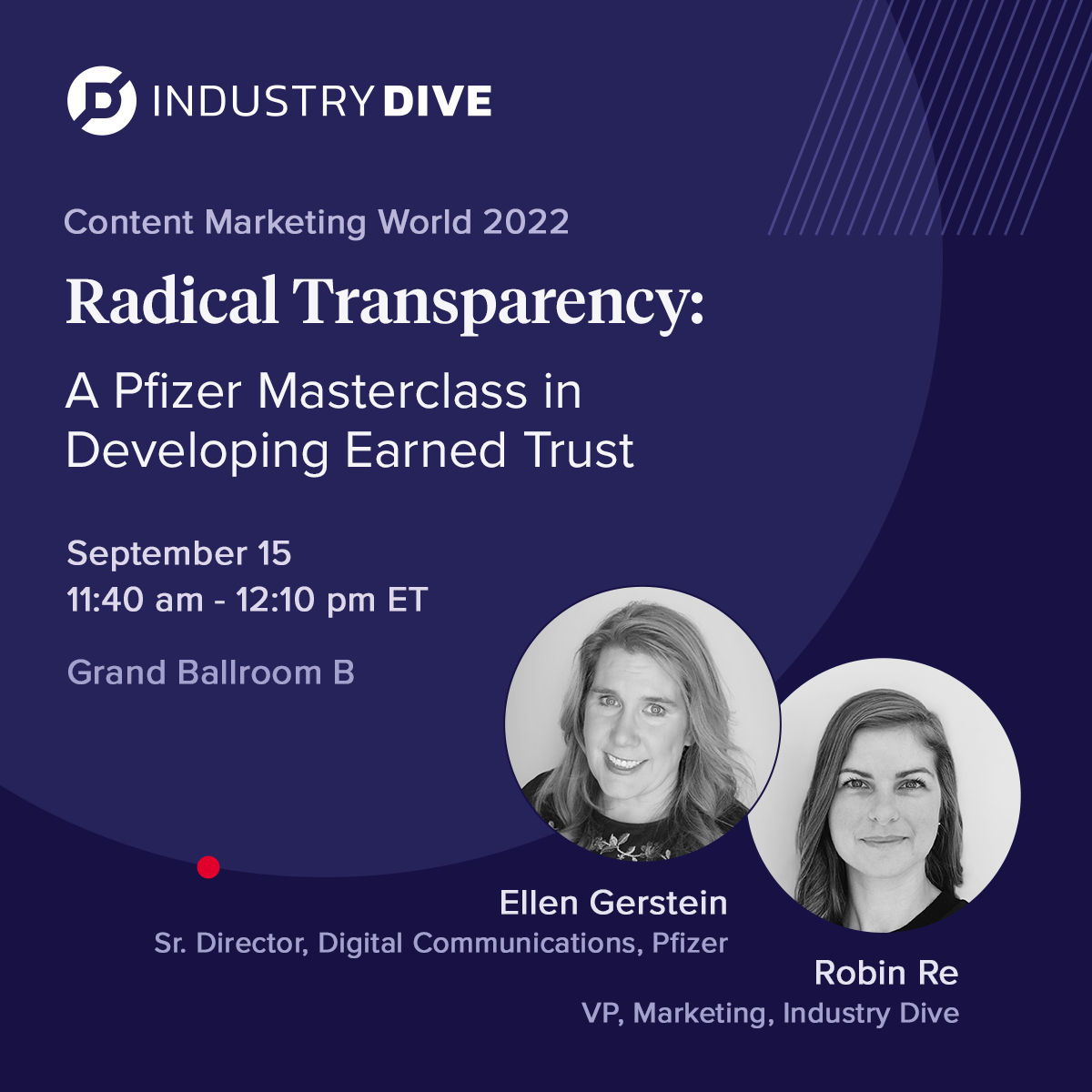 In an era rife with misinformation and subsequent skepticism, building trust with your audience has become more critical than ever. For our speaking session this year, Robin Re, VP Marketing, Industry Dive will sit down with Pfizer's Ellen Gerstein, Senior Director, Digital Communications to chat about what it takes to develop long-lasting, sustainable relationships with your audience. 
We'll dive into how Pfizer leans into journalistic, data-driven storytelling to ultimately build trust, drive brand growth, and solidify the pharmaceutical and biotech giant's  reputation. Named Masthead's 2021 Content Marketer of the Year, Ellen knows a thing or two about how to handle hot topics and break down complex issues, and has some incredible learnings to share. 
As an added bonus, all live speaker session attendees will receive an entry to win a $300 gas or EV charging station gift card.
WHAT: Live speaker session with Pfizer focused on building brand trust 
WHEN: Thursday, September 15th — 11:40am – 12:10pm ET
WHERE: Grand Ballroom B, Content Marketing World 22, Huntington Convention Center, Cleveland, OH
WHO: Robin Re, VP Marketing, Industry Dive x Ellen Gerstein, Senior Director Digital Communications, Pfizer
The Raddest Booth in the Game
As you make your way around CMWorld, take a pit stop to visit us at Booth #621. We'll be there all conference long to chat about revving up your content and advertising tactics, and fueling your program for years to come. You'll travel back to a time of ultimate nostalgia when you drop by our totally tubular booth.
Here you'll get the chance to face off against your colleagues (or shall we say competitors) in 4-player, head-to-head Mario Kart battles on the big screen. Show your peers who's boss, then take a victory lap around CMWorld. We'll be doling out retro giveaways and prizes including sunglasses, Mario Kart character figurines, and more!
Book a meeting to chat with us, and we'll reserve a FREE fanny pack for you to pick up when you swing by our booth. 
And the fun doesn't stop there. If you're in need of a boost, stop by our booth on Wednesday, September 14th from 3:30 PM – 6 PM. We'll be serving espresso martinis to fuel your evening before you head off to the CMWorld's Rock and Rock Hall of Fame Opening Party later that evening. 
WHAT: In-Booth Happy Hour
WHEN: Wednesday, September 14th — 3:30pm – 6pm ET
WHERE: Booth #621, Content Marketing World 2022, Huntington Convention Center, Cleveland, OH
Happy Hour With Industry Dive 
Close out your first day at Content Marketing World 2022 with complimentary cocktails, friendly competition, and conversations with content's best and brightest. Join us at Punch Bowl Social from 5pm – 7pm on Tuesday, September 13. We'll be serving cold drinks, and even colder serves across the ping pong table. There will be no shortage of entertainment with Scrabble, Connect Four, and Bonzini available for your enjoyment. If you're game, secure your spot today. 
WHAT: Off-site Happy Hour
WHEN: Tuesday, September 13 — 5pm – 7pm ET
WHERE: Punch Bowl Social, 1086 W. 11th St. Cleveland, OH
🥂 RSVP Now
What Else is Going on at CMWorld? 
There are dozens of speaker sessions on the agenda, but there are a few speakers and events that we're particularly excited about. While conferences are great for knowledge sharing, it's also important to let loose and take advantage of the cool perks offered too. CMWorld kicks off a great week with the Opening Party at the Rock & Roll Hall of Fame on Wednesday, September 14 from 7pm – 10pm.
Plus you can get moving and see some of the city's greatest sights at the #CMWorld Fun Run/Walk or clear your mind at #CMWorld Yoga offered both Wednesday, September 14, and Thursday, September 15th morning.
Once you register for Content Marketing World 2022, schedule a time to chat with us. We'd love to collaborate with you on how to level up your content marketing and advertising strategy. We hope to see you there.
>> Book a time to chat 💬
>> Register to attend CMWorld 2022