At 2022's long-awaited Content Marketing World conference, our VP of Marketing, Robin Re, sat down with Pfizer's Senior Director of Digital Communications, Ellen Gerstein, for a fireside chat titled Radical Transparency: A Pfizer Masterclass in Developing Earned Trust. 

Together, the duo took a deep dive into the difficult task of establishing confidence amongst today's increasingly skeptical audiences — a delicate balancing act that Pfizer is particularly well-versed in.
My team works under reputation communications, so our big goal is to build trust with our followers by supporting them and making sure they're getting exactly what they need
— Ellen Gerstein
And they're succeeding wildly. In 2020, the Axios Harris Poll of America's most reputable brands had Pfizer ranked at 61. Then, to the team's surprise and delight, last year they landed at #7. That's when Gerstein & her team "realized that people were starting to look at us as a trusted source of information." 
But how is it possible to make that kind of jump in just a year? And how do you keep that kind of traction going?  Watch the full interview to discover how studioID helps Pfizer lean into journalistic, data-driven storytelling to build trust, drive brand growth, and solidify reputation in an age of skepticism — or keep reading for a recap of the best advice and highlights from the discussion.
Deeply Understand Your Audience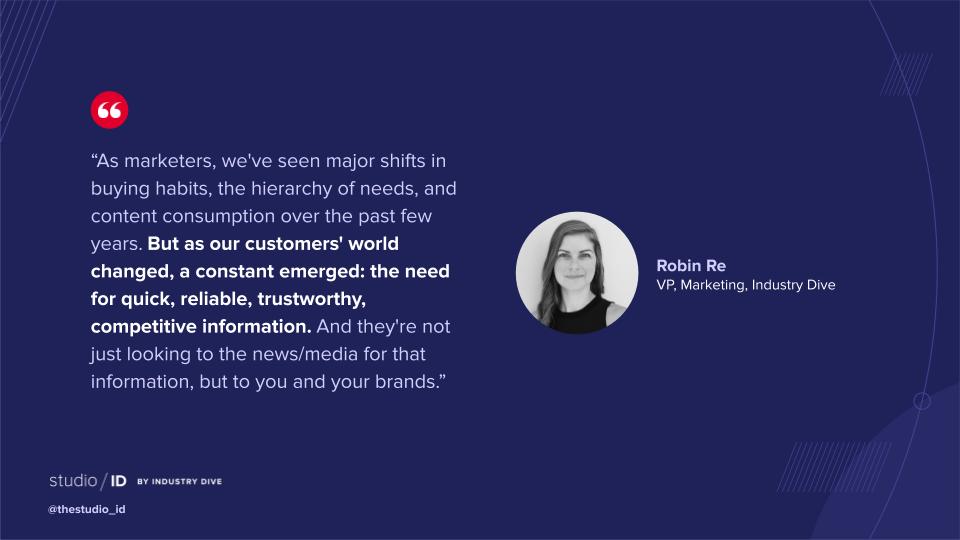 In working together, our first step was diving into audience research. Paired with stakeholder interviews and other customized methods of knowledge gathering, it was possible to flesh out five personas to build our content marketing strategy around. 
That was a real game-changer for us because with those people in mind as a north star, the team would always know exactly who they're creating content for.
When the research phase was done, the team moved into investing in the most impactful areas to enhance targeting. "We found that the core of our audience was what I like to call 'science-curious,'" Gerstein shares. "They were far more interested in understanding what was going on behind the scenes than the average person, but they weren't all PhDs. We had to skew Pfizer.com content to those specific needs and interests." 
People naturally wanted to know how it was possible to create a vaccine in nine months — so that became the content team's focus. By giving audiences a first-hand look into lab processes via on-site images + videos, showcasing the actual scientists behind developments, and leaning into plain-spoken language to explain dense concepts, Pfizer was able to effectively peel back the curtain. And offering that level of transparency paid off, as Pfizer quickly emerged as a trusted resource during a time of fearfulness and rampant misinformation.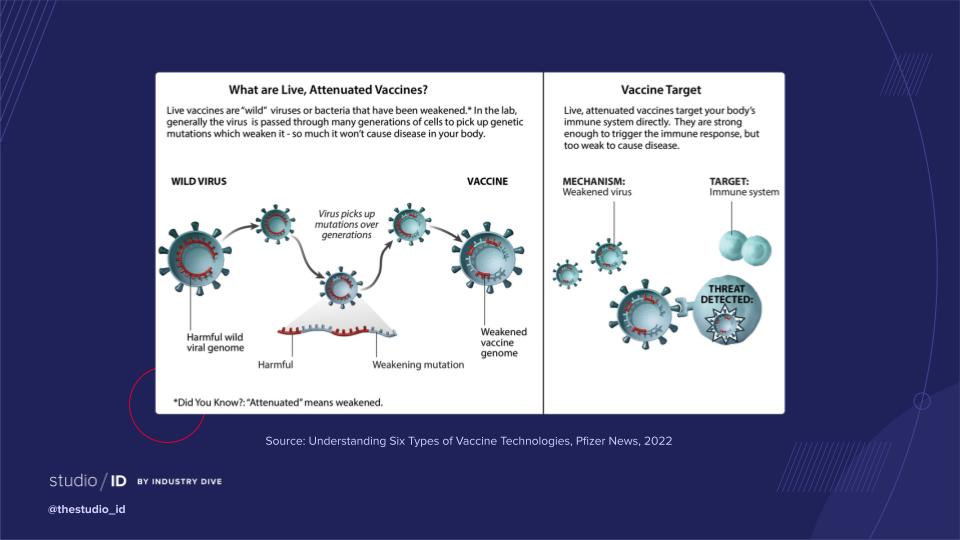 👥 Related Resource: Build stronger audience profiles with studioID's Audience Snapshot Reports.
Create Content Based on Their Needs and Interests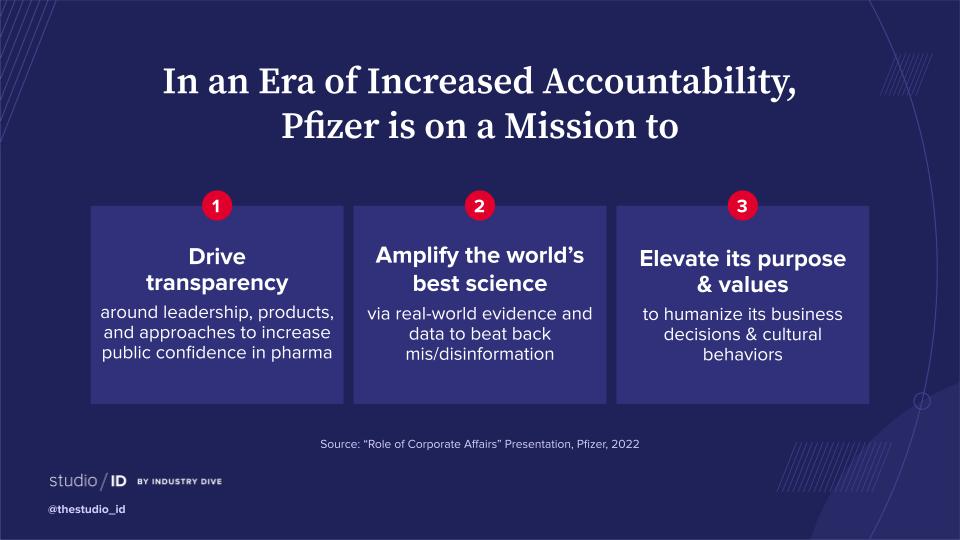 Obviously, content marketing is vital when it comes to earning trust and deepening the customer relationship. And to truly optimize their efforts, the first thing Gerstein asks when ideating content is whether it's aimed at the internal team, or toward Pfizer's audience. 
We always want to be talking to our audience. But sometimes we get pushback when we want to talk about things that the company may not be directly involved with.
"Early on in the pandemic, in January 2020, I wanted to start putting content out about the novel Coronavirus and I got shut down. We hadn't announced that we were going to be in the game yet and no one really knew what was going on." At the time, because of the impact on people and markets, that decision made sense. But when it came to other topics, not always.  
"We may not offer treatment in every area of oncology, for instance, but should we still talk about it?" Gerstein posits. "Yes! Because that's what our followers are asking for. That's what our audience is coming to us for, and we want to make sure to put our audience first and that we have the content to serve their needs." 
📚 Related Resource: How to Deliver the Content Your Audience Wants
Leverage Metrics to Cut Through Red Tape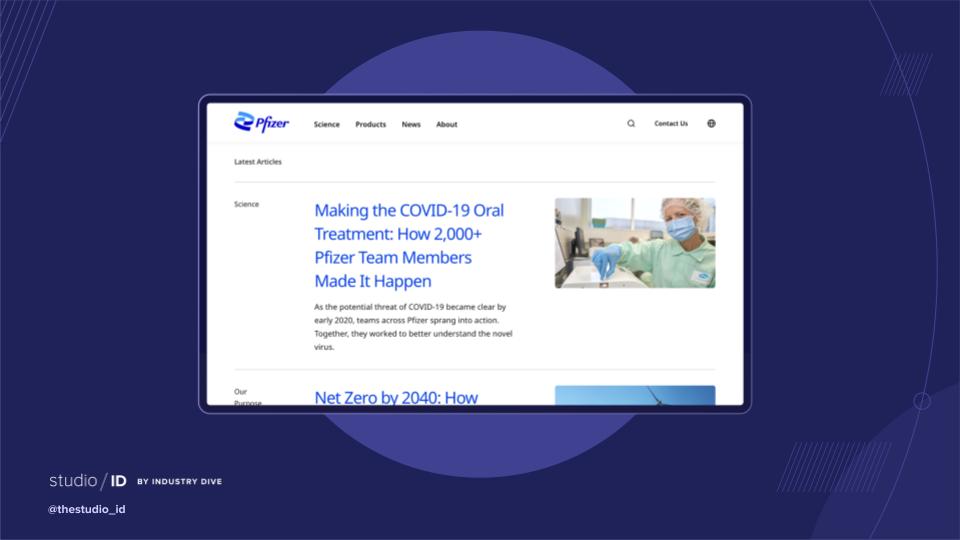 Working in a regulated industry presents unique challenges, Gerstein explains. "You can't just write an article or social post and put it out there to see how it does. There's lawyers, regulators, medical professionals and other stakeholders that have to get involved."
"You have to have the courage to stand up to people," she says. "If you're working on a project and it's taking six months, the tone of the conversation and the way your followers feel can change drastically. It's happened time and time again where I've looked at a piece of content, and said, 'Wow, it would have been great if we put this out a year ago,' if only it had gotten approved before." 
That's why it's so important to get a seat at the table. Luckily, back in February of 2020 a senior leader reacted to one of Gerstein's team's tweets about the then-novel Coronavirus, saying it was fantastic and that the company needed to produce more of the same. "We need to be seen as a trusted and reputable source of information and a company that cares about finding a solution," he'd said. To do that, the team leaned into the power of content marketing.
When I saw that feedback come through, we were off to the races. We were now allowed to talk about COVID-19.
It also helps that Pfizer CEO Albert Bourla reportedly has an attitude of "light-speed, get it done, try new things, fail fast," according to Gerstein. "When people say we shouldn't be doing this," about a certain content initiative, "I say, 'Albert wouldn't agree,'" she jests. But jokes aside, that's exactly what marketing teams need: a company culture that invites experimentation.
For hesitant leadership, the proof is in the data. "When we do things that are even remotely comparable, we show the metrics," Gerstein says. "We say, 'Look: we tried this tweet and, as a result, we got this much engagement,' clearly explaining what worked and what didn't, and the actions the team took to get those outcomes." 
⏯️ Related Resource: Watch How Do You Drive Long-Term Growth in Marketing?
Seek Out Content Partners and Be Open to New Ideas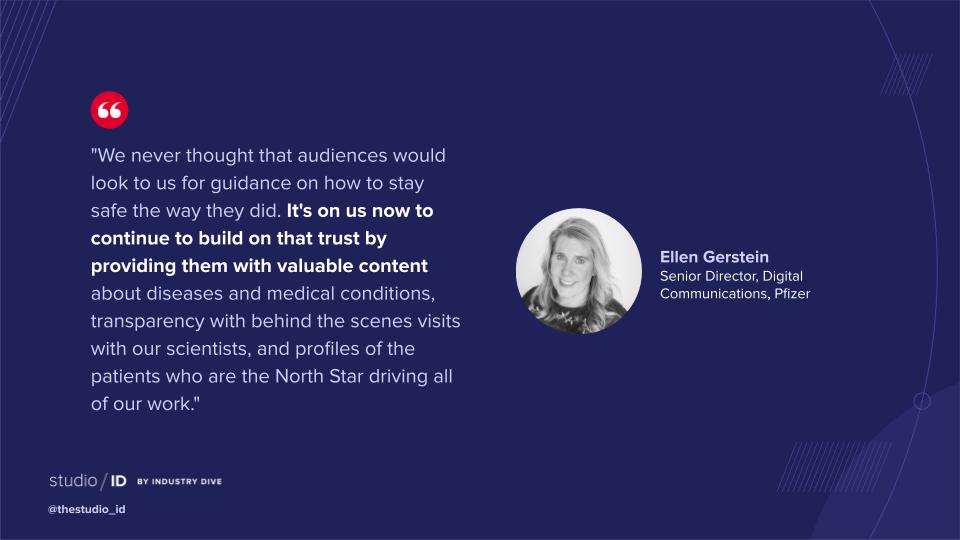 The team at studioID has been great at matching us toe to toe when we come in with crazy, messy ideas.
"We now have an editor-in-chief who has a lot of opinions about content. She's so great at picking articles and finding really great stories within Pfizer to tell. She also goes out and says, do you have any ideas for me? Who have you spoken to in our facilities? Can you bring those stories to me?"
At the end of a campaign, make sure partners know they were part of the success. 
Another great way to stay fresh and maintain an outsider perspective? Partnering with interdepartmental teams and making them part of your process. "We partner with many teams and we do it early on," Gerstein says. "When it comes to things like articles on diseases and conditions or profiles we've done on people at Pfizer, we come back to them a couple of times per year and let them know how that content performed and say, 'Because of you, we had this many impressions or this many visits to the site.'" 
⏯️ Related Resource: Watch How Can Brands Push the Envelope on Creativity Within B2B Marketing?
Remember: you never know where your next great idea will come from. One of Pfizer's newest video content efforts — a partnership with scientist and TikToker Darrion Nguyen called "I Heard It On The Internet" — originated in a conversation with their legal team, of all places. So keep your ears open and don't be afraid to veer away from the tried and true. 
Is your team ready to produce quality content at scale that earns trust and stands out from the competition? Get in touch.