[Editor's Note: This article has been updated to reflect 2023 best practices.]
At studioID, we're sticklers for meticulous SEO. Because we know that without proper optimization, even the most outstanding content will fall into the SERP abyss. But on the other side of the coin, content that's overly optimized for SEO runs the risk of coming off as inauthentic, bland, and robotic.
The 2023 on-page SEO checklist that follows gives you an actionable breakdown of the most critical tried-and-true practices. Keep it handy to make on-page optimization a breeze, all without sacrificing your story.
For a full rundown of the practices listed, check out How to Optimize On-Page SEO in 2023 (Without Sacrificing Your Story).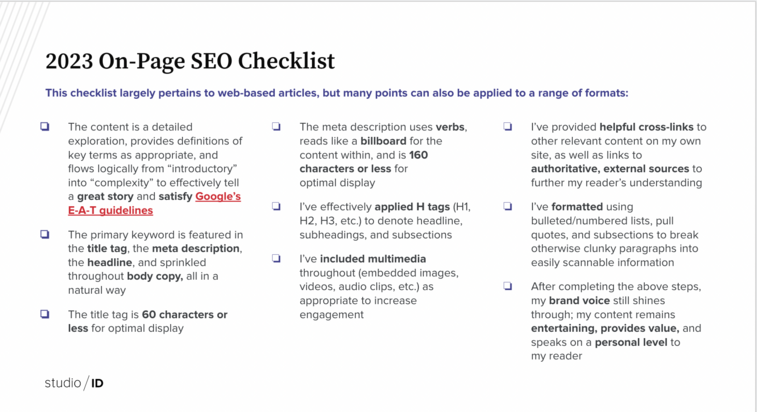 ✅ [Get the checklist in Google Slide format for easy editing + sharing.]
Check out these related reads to further your SEO endeavors:
4 SEO Updates + Trends to Keep on Your Radar in 2023
The 4 Pillars of a Successful SEO Strategy [Infographic]
Don't Let SEO Platforms Dictate Your Search Strategy

A Guide to SEO Forecasting (and Why it Matters) [Infographic]