Now that it's 2023 and the metaverse continues to expand, sometimes it kind of feels like we're living in the future. But certain brands have been there for a while. From next-gen technologies to forward-thinking campaigns, which brands have their sights set on staying ahead of the curve? Check out how these four industry leaders are leaning into emerging trends and technology to transform their content marketing strategy. 
Heinz: AI-Driven Content
Earlier this year, the Kraft Heinz Company announced a multi-year partnership with Google in an attempt to accelerate its digital transformation — and things have ramped up for the beloved ketchup brand. 
In February, Marketing Dive reported that the company would start "to use a variety of Google technologies in a bid to strengthen consumer relationships and engagement by delivering personalized content at scale." No doubt linked to this latest innovative, AI-driven effort which proves once and for all that Heinz is synonymous with ketchup.
Riffing off of last year's iteration of the Draw Ketchup campaign in which the brand anonymously asked folks to draw their idea of ketchup, the team turned to DALL-E 2: "a new AI system that can create realistic images and art from a description in natural language." When entering ketchup-related search terms like "ketchup renaissance," and "ketchup in outer space", they got just what they were hoping for: image after gloriously robotically-made image of varying versions of itsits ubiquitous tomato ketchup bottle.
"From the distinct keystone label to our iconic slow-pouring ketchup bottle, we know Heinz is unmistakable to people around the world," says Senior Brand Manager Jacqueline Chao, "and we're thrilled to see even the most unbiased source recognizes that when it comes to ketchup, it has to be Heinz."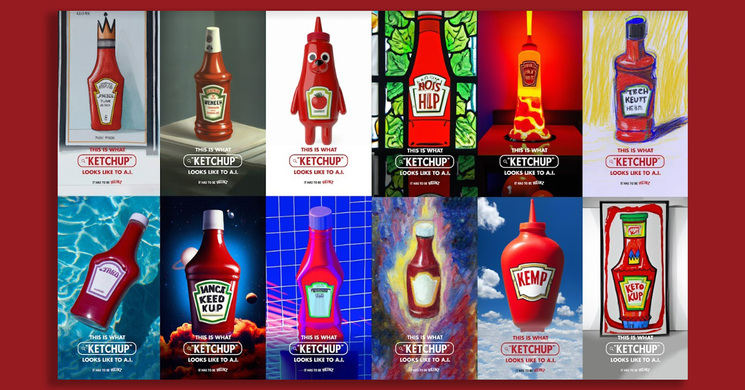 Image credit: Heinz
Extra engagement:
They also got fans involved by encouraging them to share image prompts, the best of which "were turned into social posts and print ads, helping [the brand] create the first-ever ad campaign with visuals generated entirely by artificial intelligence." More are on view for folks to check out whenever they want, along with the accompanying video spot, in a virtual gallery aptly located in the metaverse. 
Bottom line:
With the Draw Ketchup campaign, Heinz has tapped into the ever-growing hype around text-to-image machine learning while ingeniously proving the market dominance of everyone's favorite tomato-flavored condiment. Is there a way to incorporate the early stages of AI technology into your brand's content marketing strategy?
IBM: B2B Influencer Marketing
Influencer marketing is set to skyrocket in 2023 — and not just for B2C brands. It's an impactful content marketing strategy that does wonders to authentically boost brand awareness, sentiment, and exposure. And we're not just talking via Insta-celebs, stars, and famous designers. Case studies, customer stories, guest blogging, employee advocates, and more are all great examples of other B2B influencer content marketing strategies. But when there's an opportunity to work with someone who has a platform and a broader audience that makes sense for your brand, ump on the opportunity.
Case in point: When IBM reached out to fashion designer Gaurav Gupta to encourage a collaboration with its AI platform, Watson, it was a match made in B2B influencer heaven. Using the tech, which was designed in part to provide businesses with unique insights into their data by analyzing things like user tone and emotion, the master couturier created something completely new and stunning. 
"Using a custom-built IBM application infused with Watson's technology," Vogue India shared that "the designer was able to feed in his inspiration…[to produce] a never-before-seen sari-gown hybrid replete with LED lights," that changed colors based on a detailed social media study resulting in the identification of the wearer's personality traits.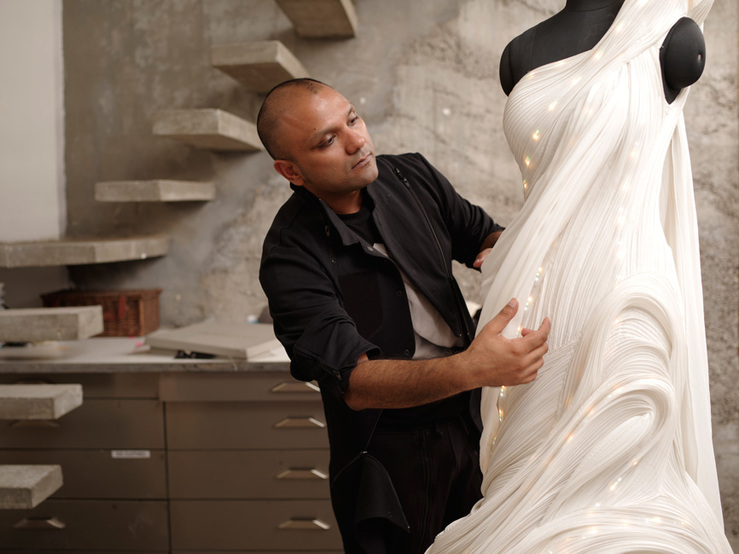 Extra engagement:
Displayed as an interactive art installation at Vogue India's first-ever Vogue Women of the Year Awards ceremony, the sari lit up in colors that corresponded to the winners' personalities throughout the event — and honorees got to take home their award along with a specially designed scroll detailing their personality traits as analyzed by IBM Watson. As an additional treat, guests and attendees were also invited to take part in the experience by entering their Twitter handles to find the color that best described their personality.
Bottom line:
The collaboration opened up IBM's capabilities to a whole new audience of potential B2B customers — in this case, within the fashion industry. And this year, AdAge reports that "the B2B influencer marketing vertical has the potential to generate $11.7 billion in revenue, with more than 38% of B2B companies currently exploring influencer marketing as a new lead-generation avenue." Is yours one of them?
Aircall + Tostitos: Sonic Branding 
Podcasts are all the rage right now, but they're only one part of the branded audio world.
Studies at Spotify show that "brands with music that fit their identity are 96% more likely to be recalled than those with non-fit music or no music at all… [and that people] are 24% more likely to buy a product with music that they recall, like, and understand."
That's why, these days, more and more businesses are investing in sonic branding.
SaaS phone solution Aircall is one such company. "Built to make phone systems accessible, transparent, and collaborative," the brand has sonic design agency Sixième Son to thank for its newly unveiled audio identity: "a mix between an easily memorable melody — inspired by the musical tastes of their music-loving founders –- and very bright electro textures; halfway between UX design and music."
Meanwhile, consumer brands like Tostitos are joining the bandwagon as well. "With consumers increasingly taking to audio content like podcasts," Marketing Dive reports that the business "developed a sonic brand in an attempt to cut through the noise." The resulting audio logo has been such a resounding success that the Frito-Lay label now has plans to expand their audio strategy across platforms like TikTok. 
"By incorporating sounds for its salsa jars, Tostitos brings awareness to its non-chip products…The audio logo makes use of the brand's jarred products by using them as a stand-in for drums."
Extra engagement:
Aircall leveraged their sonic branding effort to create a wider opportunity for employee- and team-building. They "chose a sonic identity that embodies technical solutions, energy and creativity, and the people behind them," the brand shares. And "the creative process involved employees coming from their New York and Parisian offices to record claps and finger snaps in Sixième Son's studios; a simple yet efficient musical element the whole entire concept relies on." 
"Acting like a real trigger, it starts the sonic conversation and sets the pace for fluid and dynamic interactions." 
Bottom line:
At Advertising Week, Frito-Lay revealed that its recent introduction of a sonic identity into their marketing strategy upped brand recall for Tostitos by 38%. "That figure is just for the sonic identity, just that second and a half," said Korri Kolesa, Chief Revenue Officer at audio intelligence firm Veritonic. "That's not with a tagline, that's not with a corresponding visual logo. That tells you how impactful audio is," and should be reason enough for your team to start exploring the unique sound your brand might have.