TikTok, Reels, YouTube Shorts, Instagram stories, TV spots … the list goes on. Short-form video content is everywhere you look these days — and all of it is fighting for your attention.
Most marketers agree that short-form videos are videos that are 60 seconds or less. And it's not hard to understand why the popularity of this quick-hit format has skyrocketed in recent years. Audiences have grown accustomed to getting what they need in an instant, so they have limited patience for content that doesn't immediately offer value. Consider the fact that consumers' attention spans continue to shorten, decreasing to an average of 8.25 seconds in 2022. 
58% of viewers will finish watching videos in under a minute. But if the video is over 20 minutes, only 24% of them will finish the video. 
Not to mention, short-form videos are more shareable than long-form videos, making them ideal for social media sharing and maximizing brand reach. In fact, in our recent Content Marketing Predictions survey, 75% of respondents expect video to be their most successful content format in 2023, with several respondents sharing that short-form video in particular is the top-of-mind strategy for their organization.
Short-form video content is popular with consumers and highly valuable for brands. So, how can your brand capitalize on short-form videos this year — and put your own unique spin on these leading trends? Read on to explore 5 short-form video content trends to effectively reach your audience in 2023.
Animated Short-Form Videos
Whether it be animation's ability to dazzle by instantly transporting us to other realms, its nostalgia factor, or the larger-than-life characters it allows us to get to know, modern audiences can't get enough of this video style. In fact, some of the most popular shows on TV today — think Rick and Morty and Big Mouth — are entirely animated. 
And the surrounding statistics don't lie. Animated content "grabs the attention of consumers in less than 1/10th of a second." With so much content clutter out there, leaning into approaches that capture your viewer's attention is mission-critical.
Beyond its ability to catch attention, animation marketing can do a lot in terms of moving the needle on purchasing decisions. 
Most people (94%) watch [animated] explainer videos to understand the product or the brand better, and 84% of the watchers decided to make a purchase after the video.
— Hubspot
You should especially consider leaning into this trend if your brand has some otherwise clunky or complex topics it needs to break down for your audience. According to a psychology study from the NIH, "animation aids the viewer in attaining greater conceptual understanding … As a result, the animation is found to be helpful in enhancing learning skills, food marketing, and teaching strategy."
From product demos to brand storytelling pieces, animated content is a sound strategy to lean on to grab attention, boil down complicated concepts, and influence purchasing decisions in a minute or less.
Best-In-Class Short-Form Animation Example: Semrush
Marketers know that SEO and keyword research can be a beast. Semrush tackles this common issue in an animated video spotlighting the benefits of their "magical" keyword research tool. 
Why it Works:
Semrush wastes no time capturing interest by immediately hitting the audience with high-action graphics, and even employs a mascot of sorts to run the show with the introduction of a 'magician' character. The constant movement and vibrant, cohesive color schemes make it captivating and pleasant to watch — all while succinctly showing the viewer real images of the tool, and how they can use it to their advantage.
Through a blend of attention-grabbing graphics, music, and storytelling that simplifies an otherwise complex topic, Semrush models what a successful animated short-form video looks like. And the numbers speak for themselves: At the time of this article posting, this video has amassed 1.1M views in only four months. 
Authentic Influencer-Style Short-Form Videos 
Scripted, hyper-produced content has its time and place. But in recent years, largely thanks to the rise of TikTok, a whole new wave of video has been dominating the scene: authentic, off-the-cuff videos starring 'everyday' people, many of whom have risen to influencer status. 
You'll find this format blanketing social media feeds — in the form of daily vlogs, listicles, Get Ready With Mes (GRWMs), reaction-style, also known as duet videos, and Outfit of the Days (OOTDs) to name a few. The more brands can find ways to mirror the genuine feeling of an organic daily vlog or find creative ways to partner with influencers to achieve their goals, the more viewers will relate to their content.
61% of consumers trust influencer recommendations, compared to 38% who trust brand-produced content.
Short-form influencer-style videos are so successful because they're: 
Trustworthy — Consumers tend to trust information coming from 'real people,' especially in the B2C space, and via an influencer they've come to recognize — more than product-pushing content from brands.

Subtle — This lax, everyday content style is a subtle way to promote a product or service, similar to product placement tactics in movies and TV.

Authentic — Everyday content creators and influencers feel more like you and me, and more authentic than often out-of-touch, ultra-rich celebrities. Therefore, we're more easily able to empathize with them. 

Engaging — Typically edited in a unique, hyper-engaging way — think sharp, quick cuts, warp-speed narratives complemented by float-in text, exaggerated reactions, music, and sound effects, this style is designed to command attention. 

Relevant — Because the turnaround time for these types of videos is shorter, it allows you to play off of a never-ending stream of trends, prompts, and tropes.

High in Reach and Cross-Platform Potential — Even if you're not on TikTok where this style of video reigns supreme, you've surely encountered one of these influencer-style videos elsewhere. Because of their high re-share value, these videos often naturally make their way to other platforms like Instagram, get shared as links in group chats, and beyond. 
Lean into this short-form video content trend to boost views and promote your products/services in clever and fun ways. These kinds of videos are easy to create, can be filmed on a smartphone, and require little editing expertise.
Personal, authentic content will always have a place on YouTube. If your brand can lean into vlog-style content or put a more personal touch on your brand videos, you may see an uptick in traffic.
Best-In-Class Influencer-Style Short-Form Video Example: Nike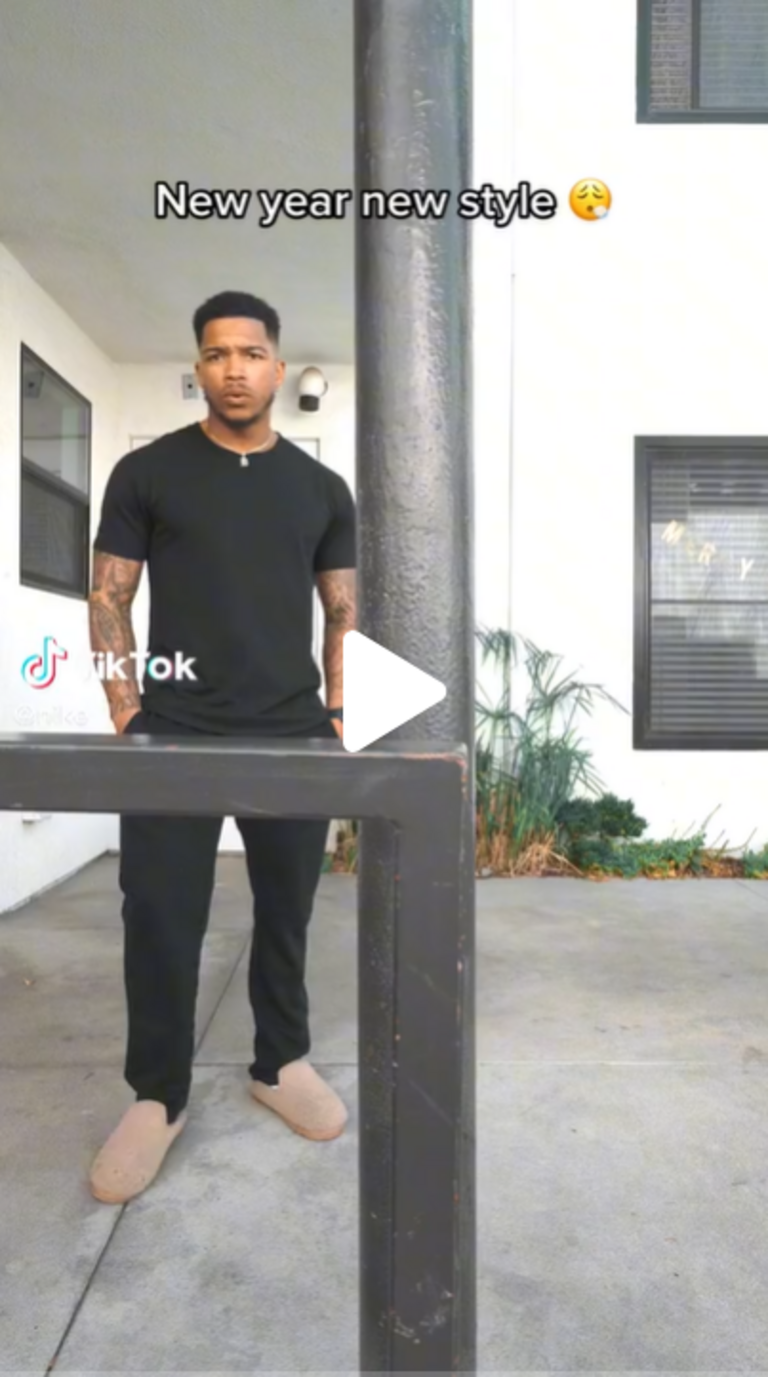 Not only does Nike flex their celebrity partnerships, but they also participate in trends and utilize user-generated content to create short-form videos. 
Why it Works:
This video expertly features an 'everyday' person gone influencer sporting the signature swoosh in a "fit check." While this person isn't a celebrity, in the modern era, they might as well be, as they embody a similar aspirational nature for today's audiences.
Complete with inventive editing, the use of a trending sound, and the confident 'play-to-the-camera' energy of the influencer, this video advertises Nike products in a subtle and engaging way. And it's not a one-off, either. Nike smartly has an entire short-form video series around the prompt of the #nikefitcheck — a brilliant way to leverage user-generated content. 
The Power of Sound and Sonic Branding in Short-Form Video
From music, to voice-overs, to sonic branding, sound is just as — if not more — important than visuals in modern short-form video content. Ever since sound and film were able to be united, the two have been a match made in heaven. These modern-day mash ups of videos built around a song or a sound largely began in 2014 with Triller, transitioned to TikTok, and were adopted by Reels soon after — and are becoming more commonplace by the minute. 
But just what makes the use of music and sound in short-form video content so successful? 
Music is the great connector — Everyone loves music. It unites us, inspires us, and it helps us make sense of the world around us. And in the case of modern-day video marketing, it serves as a perfect prompt to riff videos off of.

It invites 'copycat' videos — Once a popular track or sound hits the short-form video sphere with an accompanying trope, it cues an avalanche of 'copycat' videos, where users take the crux of the song and aim to put their own spin on it with comedic, wild, and wholly entertaining video. 

Example: Take the hugely popular Taylor Swift song "Anti-Hero." Shortly after release, everybody and their mother used this sound, putting their own unique spin on the relatable lyrics. 

Sound simply makes for more engaging videos — Sound on TikTok makes users less likely to skip, watch longer on average, and feel more positive.
73% of TikTok users say they "stop and look" at ads that utilize sound.
Pro tip: Music and sound trends move fast — like, really fast. What's relevant one week could be obsolete and overdone by the next. If you're going to play off of an existing music trend, make sure you strike while the iron is hot. And equally, do your research to know when a music trend's (or any video trend for that matter) 15 minutes are up. Jumping on a trend that's stale or a mismatch for your brand can actually damage your brand perception by making your brand look wholly out of touch. 
Sonic Branding
Aside from trending music sounds, the use of sonic branding in short-form video content is also on the rise. From McDonald's classic "ba da ba ba ba," to Taco Bell's signature "bong," to Home Depot's recent theme-song gone TikTok stunt, there are countless ways for brands to play off of a signature sound to increase brand association. And the use of sound isn't just for fun and games. A YouGov survey revealed that sound is directly linked to consumer spending habits.
20% of young adults are more inclined to choose or buy a product from a brand with a sonic identity compared to those without.
Best-In-Class Sonic Branding Short-Form Video Example: Netflix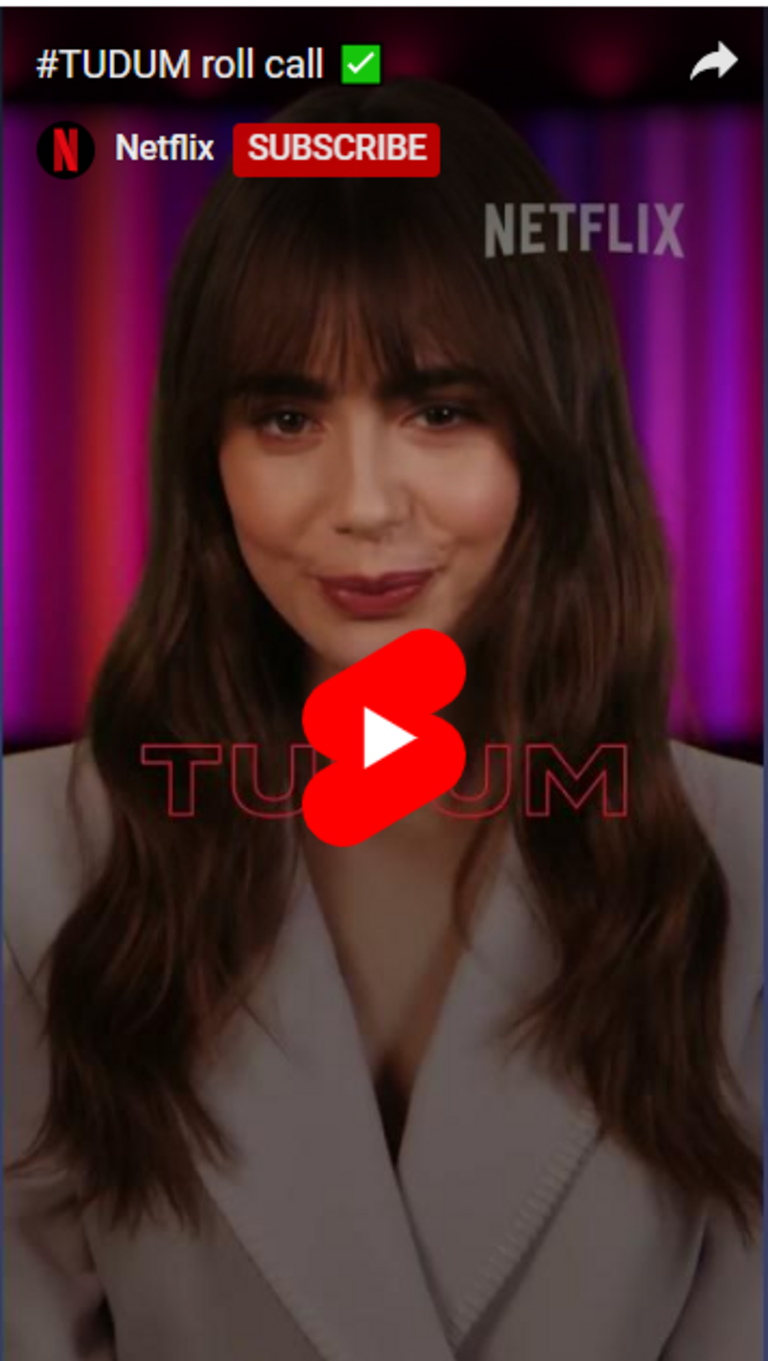 Netflix's iconic "tudum" played at the beginning of each original film or series is a quintessential example of a sound synonymous with a brand. Harnessing the power of its branded sound, Netflix promotes its original film and television festival, cleverly named "Tudum," in this YouTube Short. 
Why it Works: 
Paired with the star power of the hottest Netflix actors and actresses, Netflix successfully markets its event, with its branded sound playing a starring role in the video. A classic case of 'Pavlov's dog,' the recognizable sound works elicit the same positive response one feels when sitting back, relaxing, and watching their favorite show or movie.
Silent & Caption-Based Short-Form Videos
On the opposite side of the spectrum, you'll also find silent short-form videos trending in 2023. In a world with so much content, why wouldn't you want to tantalize all the senses? There's a few reasons why silent videos are finding success. 
92% of people watch with the sound off on mobile devices.
Videos without sound are perfect for viewers on the go, in public places, or multi-taskers. Silent videos or videos with subtitles are designed to be fully consumed on mute making them watchable in all settings. Not to mention that subtitles and captions instantly make your videos more accessible to hearing-impaired viewers. 
Often, these videos do have some kind of music or subtle backing track if you were to punch the volume up. But what makes them different is that the crux of the video doesn't hinge on the music or sound. So, viewers can get the same value out of watching the video with or without sound, making it more adaptable and available to more viewers.
Best-In-Class 'Silent' Short-Form Video Example: Tasty
Widely regarded as the crème de la crème of short-form recipe videos, Tasty, the food media company, creates videos of indulgent recipes, unconventional food challenges, and well-respected restaurant reviews. 
Why it Works: 
While much of their content is audio-based, Tasty's videos are often designed for non-audio listeners, with subtitles included for speech or pleasing visuals of recipes or food — no audio needed. With the only sound being upbeat background music, the viewing experience is just as enjoyable and informative without sound. As a media company, Tasty has mastered the art of short-form video content and is a best-in-class example of how silent video can perform well with viewers.
Microlearning Short-Form Videos
Microlearning is a strategy, often used in educational settings, that breaks down dense concepts into short-form units for the ease of the reader, viewer, or listener. Incorporating microlearning into your short-form video strategy allows you to produce snackable pieces of content and give consumers a higher chance of retaining the information you're presenting.
Mobile microlearning produces 4 times higher engagement rates and 50% better knowledge retention than traditional e-learning tools.
Applied to a business case, marketers can use this tactic to simplify complex products, concepts, or ideas. From finance to healthcare, short-form microlearning videos are perfect for companies in industries that may appear daunting to consumers. Incorporating short spurts of information into videos can make dense topics less overwhelming and gives the viewer a better understanding of the concepts.
Marketers can use microlearning in videos like:
Tutorials

Product demos 

Educational resources 

Testimonials 
Best-In-Class Microlearning Short-Form Video Example — IBM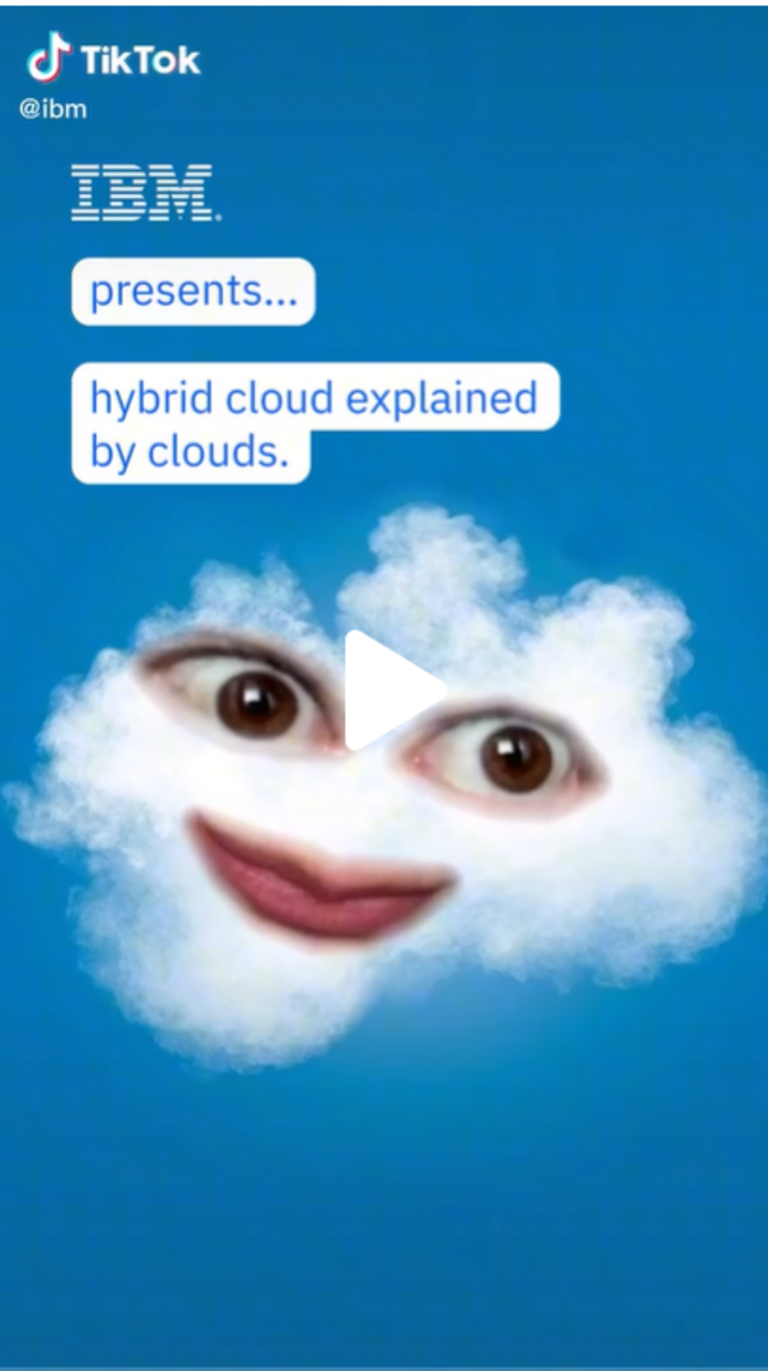 You know that one teacher who always said, "learning is fun!"? IBM proves that to be true in its viral and educational TikTok, featuring an anthropomorphized cloud, complete with facial features. (Yes, you read that right — a sentient cloud teaching about the cloud.) With a creative spin, the technology giant tackles the confusing topic of hybrid cloud management in less than 40 seconds.
Why it Works: 
The causal tone, amusing visuals, short length, and use of popular TikTok filters all contribute to this microlearning success. IBM is synonymous with 'super smart, buttoned-up technology leaders' and getting to see a more silly side of the brand is an unexpected breath of fresh air. Trimming down a complicated topic into a short lesson allows the viewer to retain small bits of information at a time, rather than overloading them with an influx of intel. 
Where Should You Go From Here?
While many short-form video trends are fun and flashy, it's important to note that brands shouldn't just hop onto trends because they're popular. Evaluate what story your brand is trying to tell and what type of videos make sense for your brand, audience, and industry. Consumers can agree that there's nothing worse than brands jumping onto trends they have no business participating in. 
That being said, the first step is to do something. 54% of people say they want to see more video content, in general, from people and brands they support. It doesn't have to be perfect, but if you're a modern brand with zero video presence, it's high time you make your video debut. Implement these short-form video content trends to appeal to current consumers. 
Looking for more content creation tips? Check out these resources:
🎥 Need a hand creating share-worthy short-form videos? Contact us to work with our team of seasoned strategists, writers, animators, designers, videographers, sound engineers, and producers.