ChatGPT has sent shockwaves across industries since its release late last year. And even after a few months on, everyone's still talking about the new tech and what it means for wide-ranging fields like law, medicine, academia, content marketing and far beyond. 
Marketing teams are especially abuzz with all kinds of speculation, of course. That's why Content Marketing Institute's General Manager Stephanie Stahl teamed up with ON24's VP of Content Marketing Mark Bornstein to set the record straight and show exactly what the tech can (and can't) do with an interactive webinar: ChatGPT vs. Content Marketing.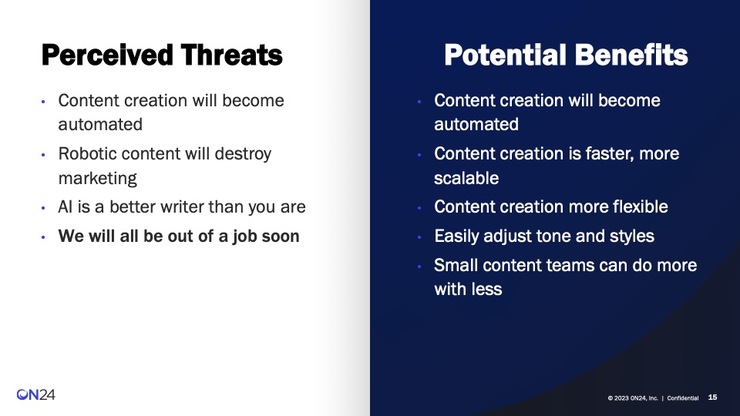 "The artificial intelligence-driven language model uses deep machine learning to generate human-like responses to text inputs in a conversational manner," Bornstein shared to begin. "Now, where did I learn that?
I sourced that from ChatGPT.
That's a phrase we're sure to see again and again in the coming months. But while marketers might be shaking in our boots, the reality is that the tech is here to stay and to revolutionize what we do — not replace it. In fact, 79% of the webinar's audience readily agreed from the outset that ChatGPT would help make them better at their jobs rather than put them out of one. 
🦾 Related Reading: Embracing AI — 5 Reasons Marketers Shouldn't Fear Artificial Intelligence
So let's turn trepidation into a positive outlook and embrace this huge advancement. To create this fascinating webinar and all of its supporting content, Bornstein relied on ChatGPT as much as his human writers and content marketers. Read on for a full recap and learn how your marketing team can best leverage this new and exciting tool.
The Right Prompts Are Everything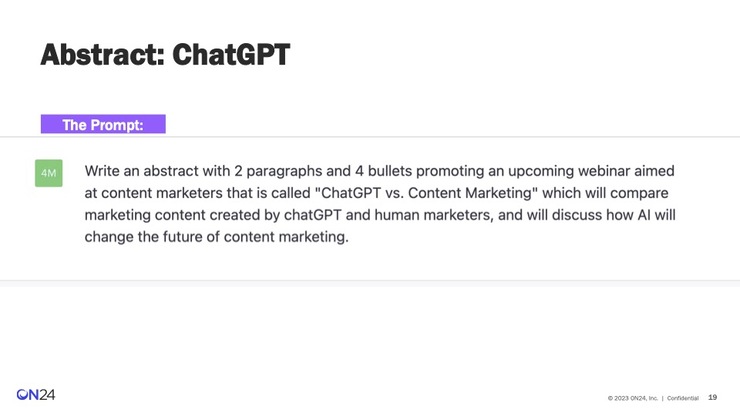 The biggest takeaway from Bornstein and Stahl's discussions is arguably the immense power of prompting. They demonstrate that with a simple brief, ChatGPT produces a pretty darn good imitation of human writing in seconds. The more specific you are, the more relevant the response. 
Small content marketing teams will be able to do a lot more with less than ever before.
Feeding a working title in with your request, whether it be the name of a webinar, blog post headline, or email subject line, adds additional direction for the tool as well. "It takes a while to learn how to prompt correctly to get something that's really good," Bornstein said, but with just the one-sentence prompt seen in the image above, Bornstein got the following scary-good result in just three seconds:
What's Next
It's not perfect yet, but with ChatGPT now available via API, "businesses can more easily layer the software into their own apps and websites and support native experiences on those channels, including chatbots," reports Marketing Dive. "The move primes ChatGPT for wider adoption among brands and platforms, capitalizing on the massive amount of hype that's surrounded the product since its November launch." 
ChatGPT Keeps Getting Smarter
As you interact with ChatGPT, it "remembers" the knowledge sourced and shared within the ongoing chat. So the more questions you ask, the more detailed and informed the answers may become. Bornstein discovered this when asking the AI to produce four promotional emails for the webinar at hand. To edit what it had generated, he then requested to see the information with bullet points, astounded at the resulting copy — which had largely different variations across all four emails.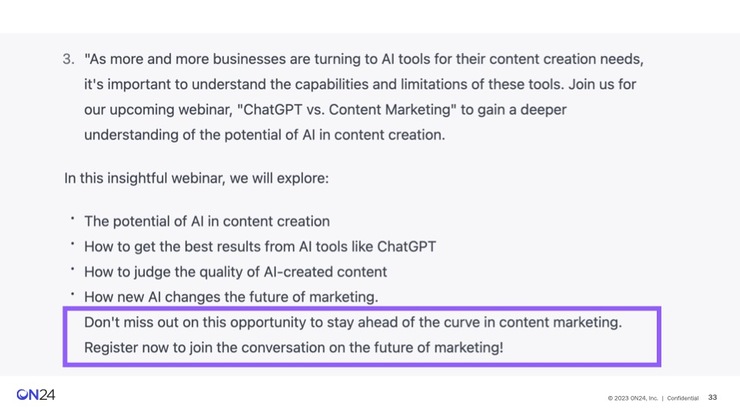 Sure, it still needs an editor to smooth out the language, but the results are pretty impressive. "They're good bullets," the hosts agreed in amazement. But it even went another step beyond that. When Bornstein requested a closing statement, the AI reformatted the email entirely, to the copy seen just above. 
It intuited that I wanted a more robust email!
What's Next
For now, there's no getting around the need for a human touch, but who knows how long before that changes? You can already assign a tone to your messaging, which wasn't available just a few weeks ago. And Bornstein even had the tool write an email as if it had been written by Stahl herself. The result?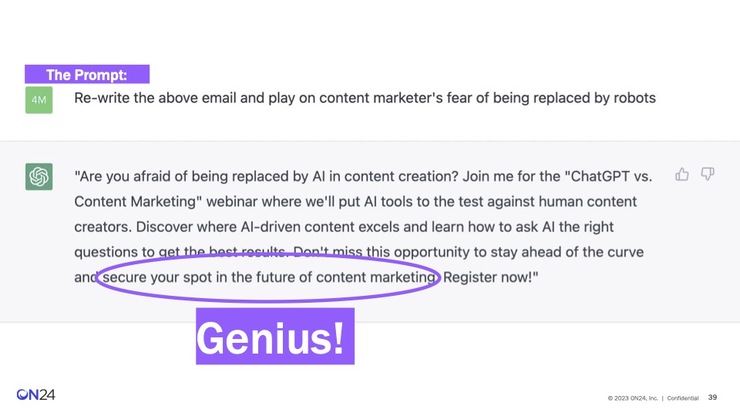 I'm not going to lie; it sounds like something I might write, 
Stahl admitted. "It's a little long, but the personalization is pretty darn good…It's very, very clever." And, perhaps even more impressively, it makes use of words like "I," "you," "we," and "our" to create a greater sense of personal, human connection — "the secret of content marketing," according to Bornstein. 
63% Preferred AI-Generated Social Copy
And a whopping 75% of the same webinar's audience preferred AI-generated email subject lines to ones written by humans. But all that means is that it's just sometimes hard to tell which is which — and that it's time to up your content game. Bornstein calls the ChatGPT suggestions "as good if not better than a lot of content coming in my inbox." For the social copy, he requested three posts for Twitter detailing the webinar and relevant info with the copied-in abstract from earlier.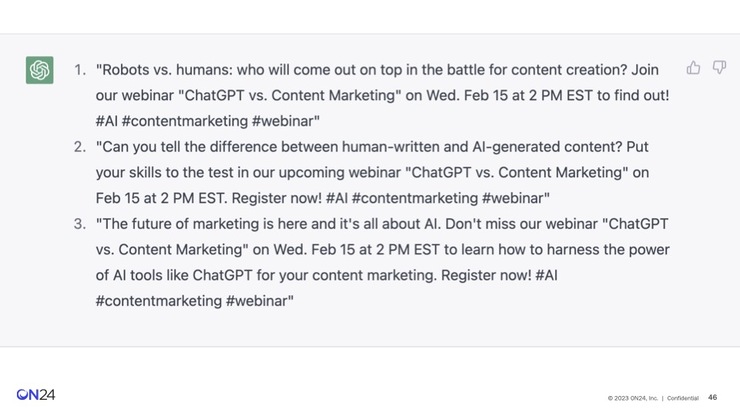 "Now, what I love about this," Bornstein continues, is that "it created its own hashtags. I didn't ask…It just knew that for Twitter, it better create some hashtags!" Missing CMI's branded #CMWorld hashtag, surely, as Stahl pointed out, but replete with hashtags nonetheless. Talk about attention to detail!
What's Next
While ChatGPT doesn't know your brand specifics yet, it's likely only a matter of time before it'll be able to apply a unique personality to its content generation. And as Bornstein counters, "If you're an experienced content marketer using artificial intelligence, that's one of the learnings." If your brand has its own hashtag, it's on you to make sure to include it in the prompt.
ChatGPT Can Help With Various Formats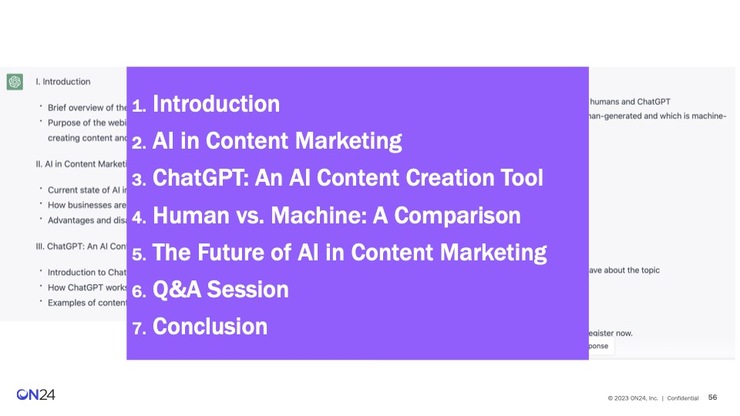 Besides emails, social media copy, and blog posts, the potential is seemingly endless for what ChatGPT can help create. A detailed outline for an upcoming webinar, for instance? No problem. Bornstein sourced the content seen above after creating his own outline for the talk and had no problem sharing that "it was basically the same thing." This makes ChatGPT not only a tool that's great for content but brainstorming and presentation prep as well.
This is nothing but an amazing opportunity for all of us to work faster, to work better, to work smarter, to create more content in more ways.
From product descriptions and specifications, landing pages and website copy, email marketing campaigns and newsletters, video and voiceover scripts to interactive content like quizzes and polls and so much more, the sky can really feel like the limit on this one.
But don't forget: the verdict is that "artificial intelligence requires human guidance." So you'll still have to get a human team member to remove robotic, overly formal language and add a personalized finishing touch — or a full-on edit when needs be. 
What's Next
In the AI's own words, it's "most effective when it comes to creating repetitive and straightforward content." Sounds like a would-be relief to us people, which it concedes "are more effective when it comes to creating high-quality and engaging content that resonates with the target audience… because it may not understand the nuances of human behavior and emotions." At least for now, that is.
>>> With the right plan of attack in place, an economic downturn doesn't have to spell disaster. Watch expert panelists in our on-demand webinar to quell economic uncertainty.