Table of Contents
Way back in 2004, Kevin Roberts, then CEO ad agency Saatchi & Saatchi, coined the term "Lovemark" to describe brands that inspire "Loyalty Beyond Reason."
The power of Lovemarks, according to Roberts, is that they treat customers as fully realized, emotional human beings rather than a statistic or target. 
He cites three factors that inspire love and respect between a brand and consumers: 
Mystery – Use stories, myths, and icons to tap into dreams and aspirations.

Sensuality – Appeal to the senses: sight, taste, touch, sound.

Intimacy – Show commitment, empathy, passion, and emotion.
Lovemarks use these elements to shape public opinion and inspire loyalty. The marketers behind these brands are tapping into basic principles of psychology to influence how consumers feel. 
"Applying the principles of behavioral psychology can improve the quality of customer interactions and build brand recognition as a customer-centric organization."
— McKinsey
Marketers can also influence consumer behavior with similar strategies. These five marketing psychology tactics are proven to increase conversions and inspire customers to stick around for the long haul.
Scarcity: FOMO Influences Customers to Act Immediately
FOMO is a relatively new term for an old concept. The "fear" we experience from missing out is due to our perception that something is scarce. Simply put, we want things we think we can't have. 
In marketing, we use scarcity (both real and suggested) to create urgency. Phrases such as, "available for a limited time," or, "only 3 left," add a sense of urgency that helps us rank our choices. 
If what you're offering has a limited quantity — whether it's webinar registrations or lip gloss — customers will want it more. Supply, meet demand. 
"Scarcity prioritizes our choices and it can make us more effective." 
— Shahram Heshmat Ph.D., Psychology Today
Scarcity in Action 
Research from the American Psychological Association shows that we find a product more valuable, better tasting, and more desirable if we think it's harder to come by. 
Starbucks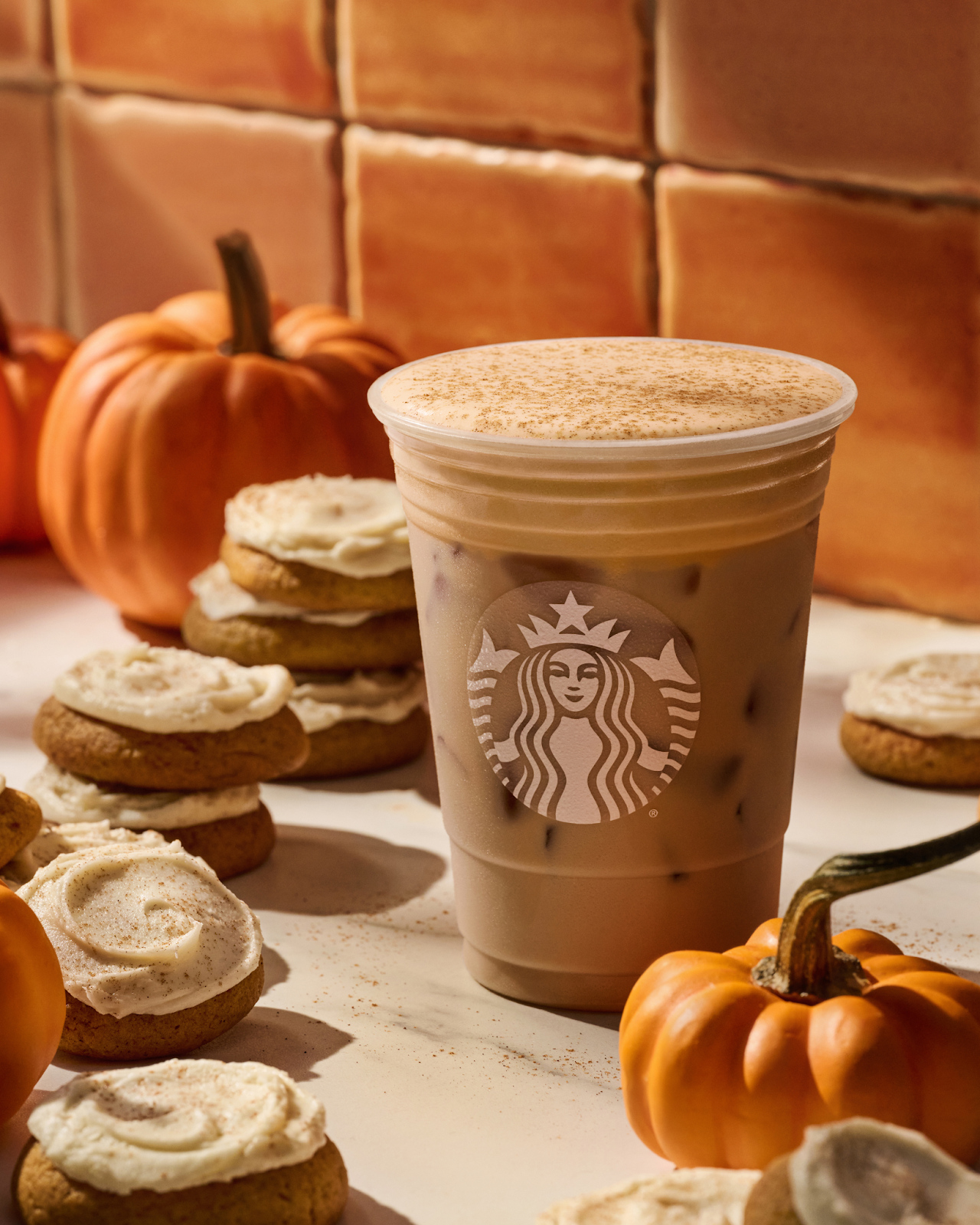 With the one-two punch of the PSL and the (usually) red holiday cup, Starbucks has been using scarcity to game the system for the last 20 years. The items are only available for a limited time and then they're gone until next year. 
Simple Modern
Simple Modern frequently sells out of its seasonal tumblr designs because true fans know there aren't enough to go around. In an Instagram post promoting their Harvest Collection, they used the phrase "LIMITED EDITION" and referenced the PSL. The collection sold out before some fans even heard about it.
View this post on Instagram
Want more proof that scarcity works? S|M's Trek Tumblr became popular because the TikTok-famous Stanley Quencher consistently sells out. 
studioID Tip
Create value with pricing benchmarks. 
Not only will scarcity drive a customer's desire, but an anchor can help them see the value in the item by providing a benchmark. 
Discounts can increase conversions by up to 2%.
You can create a sense of urgency by combining scarcity with anchoring tactics such as: 
Limited-time offer — original price vs. sale price, BOGO   

Exclusive gift — product sample, free download

Seasonal sale — Black Friday deal, extended free trial 
Belonging: Social Proof Drives Referrals
Perhaps the most widely referenced concept in the field of marketing psychology is Maslow's hierarchy of needs.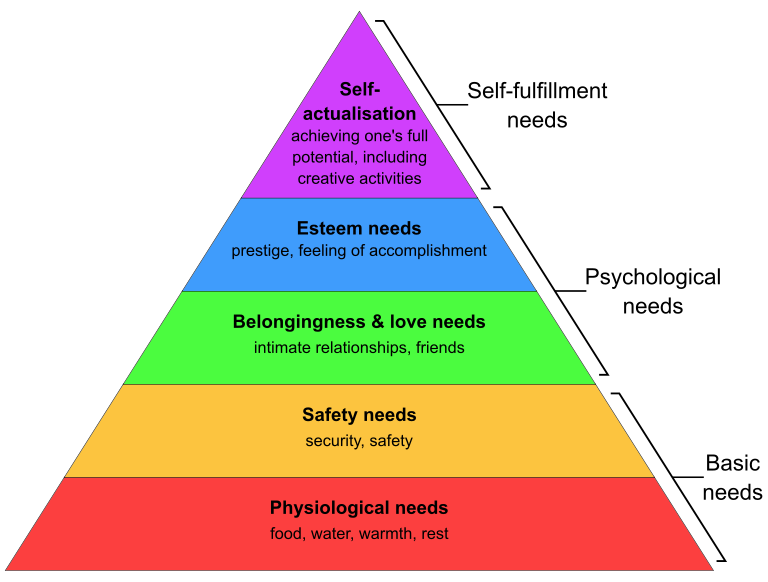 The third tier, "Belonging," says that once people have their basic needs met, they seek out the approval of their peers. We copy the actions of others to show we're part of the group, as evidenced by Candid Camera's 1962 elevator experiment where passengers on an elevator mimicked the actions of those around them. 
In marketing, we call it social proof. Testimonials are probably the most widely used form of social proof, but recommendations work best when they come from family and friends. According to Nielsen, consumers trust earned media more than any other advertising method.
Belonging in Action
Brands can generate powerful social proof through affiliate and ambassador programs. Referrals like the ones generated from these programs boast a conversion rate 4X the average of other channels.
Bumble

Bumble's Honey Ambassador program pays undergraduate students to further the company's mission and improve their campus communities. They also gain valuable marketing experience by planning events, creating content, distributing merch, and partnering with local businesses and student organizations.
Jdate

Jdate, a dating app for Jewish singles, says it has a higher-than-average conversion rate for its affiliate program, which pays $2 per paid sign-up. And Jdate's matches are at the heart of 52% of Jewish marriages.
Through their affiliate program, Jdate creates a community of brand loyalists who will endorse the brand because it worked for them.
studioid Tip
Build relationships with your best customers.  
Your most loyal customers will want to refer their friends and family to you if you make them feel like part of the in-crowd. 
Consider high-converting tactics like:  
Friends and family discounts that customers can easily share 

User-generated content (UGC) that reflects your brand voice and image

Affiliate programs for long-term customers and superfans

Referral programs for B2B customers 
Reciprocity: Added Value Builds Trust With Customers 
As one of the main principles of persuasion, reciprocity is how our brain convinces us to give as much as we get. Whether it's a product we paid for or a free gift, we want that effort rewarded. 
Content marketing, for example, offers customers useful information in return for a customer's website visit, backlink, purchase, etc. This, in turn, builds trust, increases brand recognition, and adds value to the customer relationship. 
To do that, you need to create a catalog of valuable content over time. The content itself rarely converts.
The average conversion rate for B2B is less than 1%.
What does convert, though, is a fully realized marketing funnel. And content can help flesh out every stage. 
Top of Funnel – SEO and educational content targeted at your prospects

Middle of Funnel – lead magnets, webinars, landing pages, podcasts

Bottom of Funnel – sales enablement, onboarding materials, pricing pages
Reciprocity in Action
Hubspot

Hubspot made a name for itself in the inbound marketing space, not just because of its products, but because of its ability to be everywhere all at once. 
From hundreds of downloadables (aka lead magnets) to its annual State of Marketing Report, HubSpot has cemented its reputation as a brand that cares about marketing and will tell you all its secrets. Its marketing strategy clearly works — with over 184,000 businesses in 120 countries. And to prove how great their product is, they publish an annual ROI report.
studioID Tip
Ask for a commitment to move prospects down the funnel.
Customers will find your brand more trustworthy and they'll be more likely to give you something in return, like an email address.
To make your brand more trustworthy, apply marketing psychology principles like:
Cognitive fluency — Keep content concise and clear. Use visual breaks like headers, bulleted lists, and images.

Perceptual set theory — Make your buyer's journey intuitive. Users expect your site to work a certain way, (e.g., entering payment information is the last step of a purchase). 

Authority — Offer your audience useful information. Use social proof, expert opinion, and hard facts whenever possible. 
📚 Related Reading: Why Your Business Can't Afford to Go Dark on Content in an Economic Downturn
Repetition: Mere Exposure Creates Preferences 
Thanks to a psychological concept called the "mere-exposure effect," brand awareness can drive conversions. Unfortunately, mere exposure doesn't go as far in 2023, as it did in 2022. 
Nearly all industries (91%) had lower conversion rates from Google Ads, an overall average CVR of 7.04%. The report attributes this trend to inflation, based on a normal increase in CTR — clicks are up by 3%.
"… today's digital landscape allows users to interact with your business across multiple channels before they convert. Meaning search advertising may be helping capture searchers at the top of the funnel before they're ready to purchase while other strategies move them closer to conversion." 
– LOCALiQ's 2023 Google Ads Industry Benchmarks Report
Mere exposure can convert, though, if you use retargeting data to create that repetition. According to the European Journal of Marketing and Economics, retargeting campaigns increase conversions by 10%. For cart abandonment campaigns, that number climbs to 26%.
Customer behaviors that can be used for retargeting include:
Purchase history – drive repeat purchases, cross-sell, and upsell 

Page views – target customers who have visited a landing page

Cart abandonment  – recapture customers based on incomplete transactions

Buyer persona – leverage customer preferences, demographics, hobbies, etc.
Repetition in Action
If you want your customers to convert, don't give up after the first touch point. Repeat, repeat, repeat — and offer them something for their efforts. 
Petco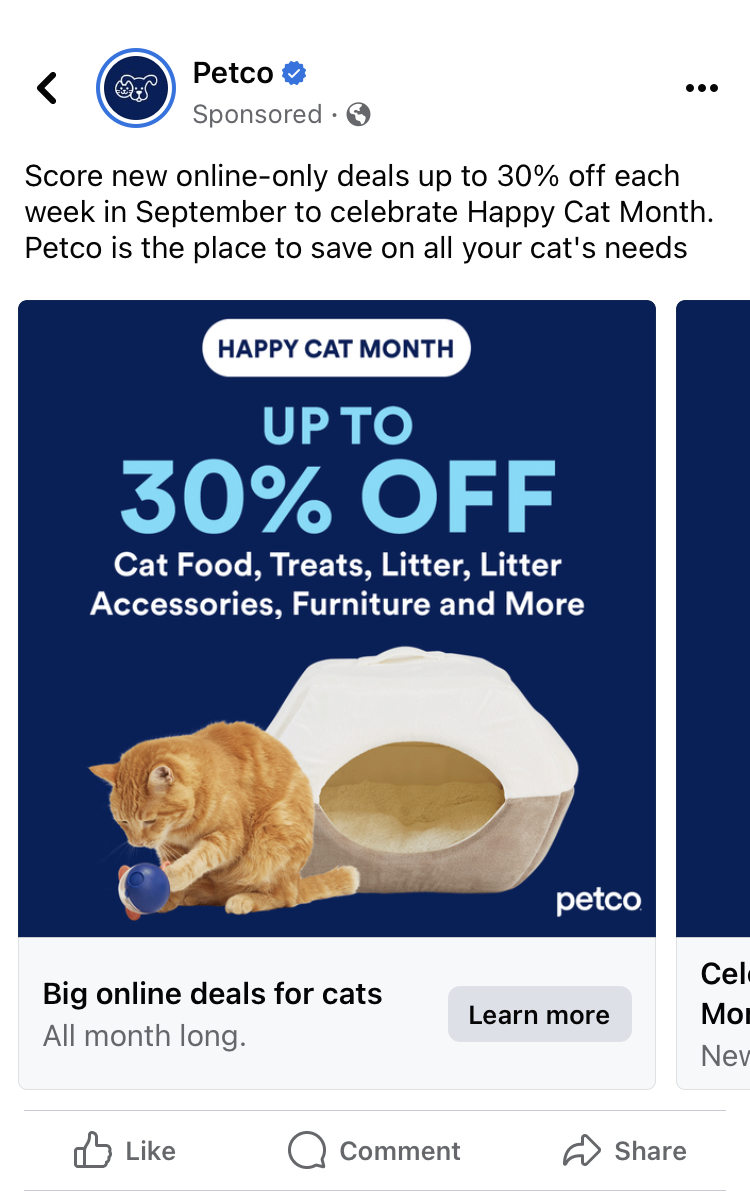 Petco runs retargeting ads based on past purchases and other customer behaviors. If your Facebook is full of cat photos and shares from a local cat rescue, Petco will target you with ads about cat toys, food, and litter.
Notice that Petco also utilizes the scarcity technique. The combination of "limited time" language and repetitive targeting are both used to encourage the user to click.
studioID Tip
Use emotion to drive loyalty and retention.
Tap into what you know about your customers' personalities, preferences, and hobbies to create emotional messages for your retargeting ads. Emotional responses trigger powerful feelings with:
Nostalgia – Tap into each generation's cultural touchstones. Coca-Cola created the most pervasive version of Santa Claus. Now they use that image to invoke childhood memories.

Affinity – Show customers what you stand for. In 2011, Patagonia encouraged customers to lighten their economic footprint with some simple reverse psychology: "Don't buy this jacket."

Joy – Use gamification to create moments of happiness. A little-known Trello feature throws virtual confetti when you complete a task. 
Usability: Customer Experience Matters 
Multiple factors influence customer experience, including in-person interactions and product features. McKinsey cites three main factors that influence customer experience:
Sequence – The order of steps in your customer journey. Amazon's one-click ordering eliminates the need to enter payment information and capitalizes on the dopamine hit from anticipating a purchase. 

Segments – The distribution of enjoyable vs. tedious steps. Elaborate queue designs for rides at theme parks aim to make waiting more enjoyable. 

Control — The customer's role in their journey. Self-service options increase customer satisfaction scores because it gives them more control over their shopping experience.
"Products alone no longer guarantee consumer loyalty. Consumers often consider the experience a brand offers to be its main differentiator." 
— Deloitte
Areas where a marketing team can influence customer experience include:
Visual Hierarchy — Direct the user's attention where you want it, like a call-to-action. Indicate the importance of elements by their size, color, or spacing. 
SEO — Let Google know which aspects of your site are most important. Header tags (h1, h2, etc.) aren't just visual hierarchy; they're also markers for crawlers that check your site's content.

Page Layout — In Western cultures, people read in Z or F patterns. Format your landing pages, one-sheets, and other marketing materials to reflect this habit.

Accessibility — Not everyone reads with their eyes. Make your content available to more people by implementing accessibility measures (e.g., alt-text, contextual links, contrast, etc.)

User Experience (UX) — Your website or app's performance influences customer experience as well. With just a .01-second improvement in load time, retail conversions increased by 8.4%, according to Deloitte. What's more, order value goes up by 9.2%.
Usability in Action
Siena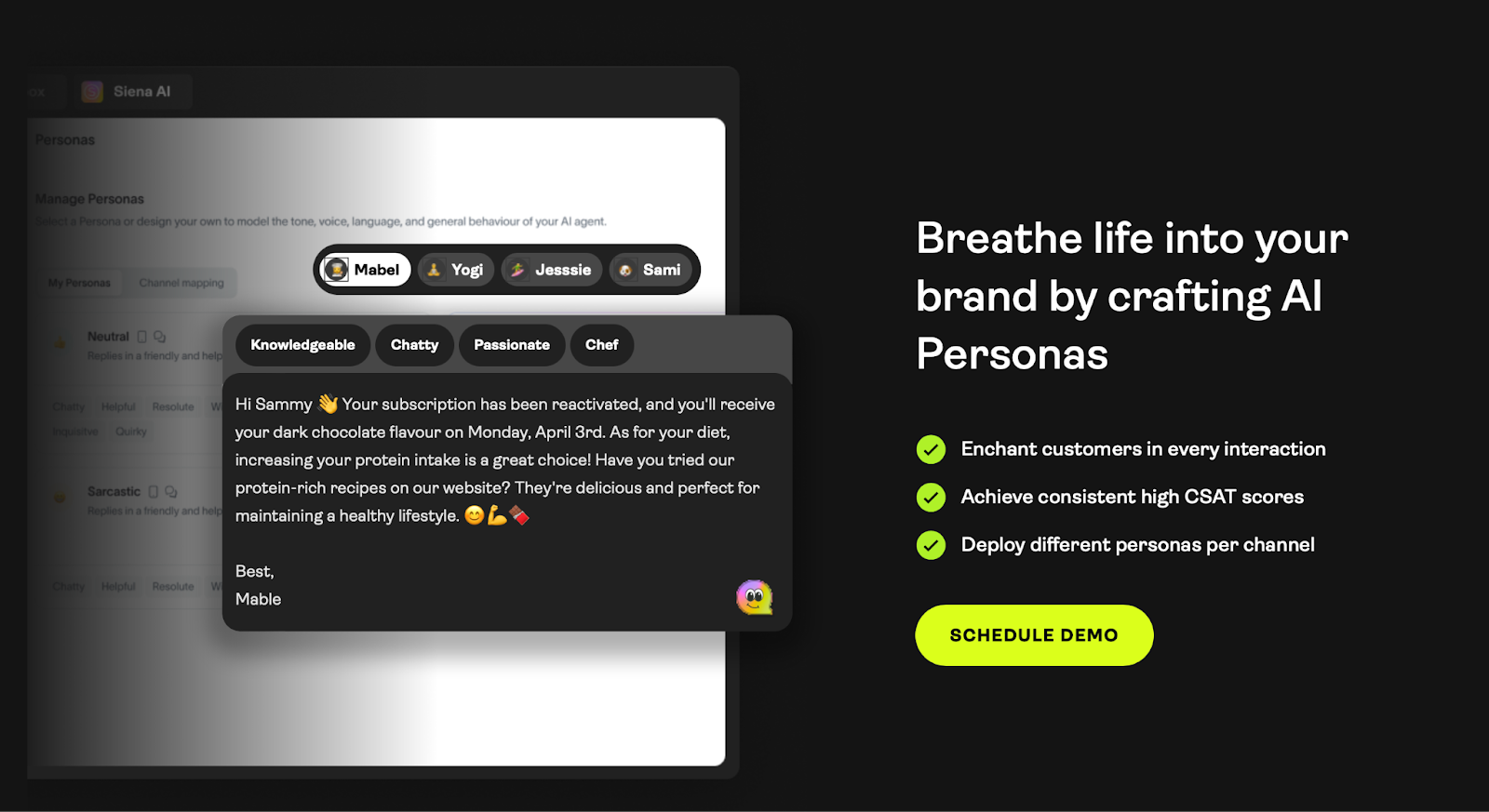 Siena's chat platform uses AI to create empathetic, human-like interactions for customer service teams. The platform understands context and emotion while increasing response time by 98% — but customers don't notice a difference in customer service.
With Siena, marketing teams create personas based on brand voice, channel, and customer base. In other words, their AI chatbot sounds like a real person who speaks with the brand voice and uses branded terminology. Brands like Japan Crate, Kit*ch, and Simple Modern report increased customer satisfaction ratings with Siena's responses and a faster time to resolution. 
studioID Tip
Use familiar design patterns to give users what they expect.
Work with your graphic designers, developers, and website managers to conduct a site audit. Assess whether your site or app follows standard conventions for the placement of navigation elements such as: 
menus 

search bar

contact information

shopping cart

customer support
📚 Related Reading: The Psychology of Colors in Content Marketing
Adjust Course Based on Data, Not Psychology
We can learn a lot about consumer behavior from marketing psychology, but if you really want to know how well your marketing messages are converting, you need to look at the data. 
By tracking what consumers do when they're on your website, you can adjust course to better meet their needs. Consider tactics such as:
A/B Testing – make changes to determine what content converts best

Heatmapping – track which parts of your site users click on most

Session recording – monitor the actions customers take while on your site

Surveys – ask your users for feedback 
📚 Related Reading: "What I Wish I Knew Sooner:" Marketing Strategy Tips from Brand to Demand