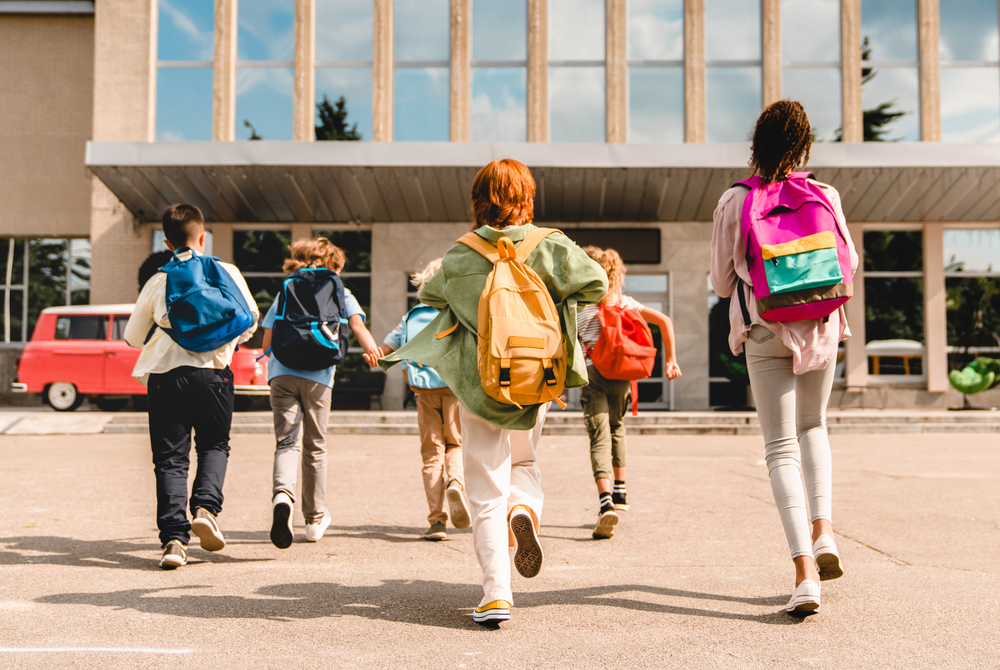 Back-to-school marketing will be different this year as retailers test out new strategies amid economic anxiety.
In Amazon's back-to-school campaign this year, there are two stars—actress Kathryn Hahn, and low prices. The latter is a key part of the retailer's marketing strategy as Amazon seeks to entice budget-watching shoppers who are more price-conscious than ever.
"This year, knowing the financial pressure parents are feeling, we focused on how we can help parents get the things kids need and want at a low price," said Jo Shoesmith, global executive creative director at Amazon, noting that the retailer's 2021 strategy, in contrast, focused on reassuring pandemic-weary kids with nerve-calming messaging.
Tracking layoffs and budget cuts
How brands and agencies are bracing for a recession Click here
Amazon is not the only retailer making adjustments to its back-to-school marketing. Economic pressures are forcing American Eagle, Gap and others to adopt new communication and media strategies for the season, a crucial time for revenue second only to the winter holiday shopping period.
Last month, inflation hit a 41-year high of 9.1%. At the same time, recent stock market plunges have invited fears of a recession, and though gas prices have had a recent reprieve, they are still at or near record highs. The financial turmoil is causing consumers to rethink their purchases, including for the upcoming school season. Essentials such as gas and food are crowding out discretionary purchases like apparel and accessories.
"We are now at the point where consumers are starting to take more evasive action to reduce their expenses," wrote Neil Saunders, managing director of GlobalData Retail, in a recent research report. GlobalData found that 45.7% of consumers were hunting more for bargains in July, up from 39.2% in May. And a recent survey from MorningConsult found that only 36% of parents can afford back-to-school shopping this year without any issues—down from 52% in 2021. Saunders wrote that "should inflation remain protracted for much longer, the impact on the retail sector and wider economy could become more serious."
Back-to-school as holiday testing strategy
Marketers aren't waiting around for that to happen. Instead, they're using back-to-school as a blueprint to hone targeted media and personalization strategies that can be replicated for the holiday season. American Eagle Outfitters is using a dual strategy designed to entice both Gen Z customers and their older price-watching parents. Gap is relying on positive messaging to urge spending. Experts expect brands will offer specific deals around bundles of products to highlight the idea of more value to customers. In addition, retailers are marketing around tax-free holidays, as states such as Illinois ramp up such relief days this summer to give consumers a break.
"Marketers need to think about all of these different things as they are putting together their plans and promotions—it's not one-size-fits-all in this economic environment," said Shirli Zelcer, head of data and analytics at Merkle, the data and performance marketing company owned by Dentsu.
Brands should not be pulling back on marketing or simply lowering prices at the expense of margins, marketing experts cautioned. In uncertain economic climates, companies have an opportunity to connect on an emotional level with customers, cement loyalty and ultimately gain more market share.
"The losers at the end of the day are going to be people that go in and wildly cut costs—if all you're going to do is compete on costs then there's always someone who can charge less," said Charles Byers, a marketing professor at Santa Clara University's Leavey School of Business, noting that brands need to communicate to customers that a product is worth it even if it is not the cheapest.
"What you want is a bigger slice of that smaller pie and you may actually be a better service to your investors by investing heavily in marketing to get a larger share of what is there," he added.
Targeting two groups of shoppers
At teen-centric American Eagle, the back-to-school season is the brand's Super Bowl, according to Chief Marketing Officer Craig Brommers, so it's critical the chain gets it right. The retailer's dual-shopper strategy involves communicating messaging of positivity and optimism to Gen Z shoppers through digital and social marketing channels. The back-to-school campaign coming out later this summer will focus on music, one of Gen Z's biggest passion points, Brommers said. To reach younger shoppers, the chain will do some "in-real-life" marketing activations and a lot of marketing on TikTok—including a new weekly live shopping show on the platform that debuted last week. The show will feature different products and highlight influencers and store associates from different U.S. locations.
American Eagle will be targeting parents by communicating value through performance marketing channels. The chain will advertise on Google and Facebook and through emails, using customer data gleaned from its 2-year-old loyalty program. More than 70% of American Eagle's purchases are made by loyalty members, the company has said.
"It's a bit of a tale of two worlds," Brommers said.
"Gen Z is trying to march ahead—they've been through so much so we're trying to be positive and optimistic, whereas the parents are definitely feeling the [inflation] effects and are concerned about where this might head."
Gap's back-to-school push, out later this month, will also pursue an emotional connection with customers, according to Mary Alderete, global head of marketing at the San Francisco-based chain. The brand is boosting its style offerings and celebrating a message of authenticity with on-trend items like rugby polo shirts and loose jeans. It will also run marketing on both linear and connected TV, along with product marketing on Facebook. Alderete also pointed to Gap's recent Roblox shop as a key driver in cementing stronger relationships with younger customers.
The Roblox strategy, aimed at tweens and other kids, "was to create relevance and buzz and have kids asking for Gap while we are targeting mom at this point in social with the literal product," Alderete said.
When determining Gap's media budget for the season, Alderete said TV is still a must.
"We protected it," she said. "We really want to win with moms and kids and a big part of our business so we are moving forward with that broadcast." Amid slowing sales, parent company Gap Inc. recently ousted CEO Sonia Syngal.
Dick's Sporting Goods is also focusing on youth-centric digital marketing channels. While the retailer's back-to-school media strategy this year is on par with other years—a mix of TV, digital video, social and influencers—the company is also investing in Snapchat. Dick's recently added the platform's "click to shop" call to action to its live shopping Lens, according to Ed Plummer, CMO at Dick's.
Tax-free shopping holidays grow in importance
Many retailers are also paying closer attention to the growing number of tax-free shopping holidays this summer. Merkle's Zelcer expects marketers to make sure any back-to-school sales or discounts are timed according to the events.
"Some of our clients are optimizing their promotions to align with the relief periods so they can maximize conversions," she said.
Indeed, American Eagle's Brommers said the chain is always watching such dates closely so it can run "hyper-targeted digital marketing" to shoppers in specific regions affected by the events. This year, however, tax-free holidays are one of the brand's top five priorities as it kicks off back-to-school.
"Even at the CMO level—I'm going into multiple meetings to talk about what we're doing," Brommers said.
"People will be even more attuned to anything that will provide them with a bit of relief and a bit of saving."
Several states are offering sales tax holidays during the back-to-school season, but terms vary by state. Illinois, for instance, will offer a 10-day period next month when consumers can buy goods such as apparel, footwear and school supplies with a reduced sales tax. The state is also suspending its 1% sales tax on groceries through June 30, 2023.
Experts also expect retailers will be able to entice shoppers by pairing different products together as a cost-saving "bundle." Such deals will appeal to budget consumers, but also serve as a way to unload excess or dated inventory, according to Katie Thomas, who leads the Kearney Consumer Institute, an internal think tank at global strategy and management consulting firm Kearney. Shoppers may be turning more to coupon apps like Rakuten, Honey or Ibotta to compare prices across brands and retailers and help with research, she added.
Clever marketing does come into play. "The messaging will be deal-oriented but still positive because that's what people want to hear," Thomas said, adding that "sometimes when it comes to deals, it's just that perception is reality—people like to feel like they're getting a good deal and the best bang for their buck."
Ad Age Marketer's Brief podcast
Listen on Ad Age's site or subscribe via Apple, Spotify or Stitcher Click here
This article was written by Adrianne Pasquarelli from Ad Age and was legally licensed through the Industry Dive Content Marketplace. Please direct all licensing questions to [email protected].