Table of Contents
If a group of your ideal leads walked into a bar, there's one thing most (if not all) would have in common. They frequently check their email. According to HubSpot, there are 4 billion daily email users, which means that jazzing up your email marketing could very well be what you need to ensure your big lead goals succeed. 
But let's be real: email is tricky. Think of your own inbox. How many emails do you delete before reading? Skip because you're not into the subject line? Ditch because it doesn't load, or you got bored? There are plenty of ways to be unimpressed in an inbox.
Data shows that people, on average, spend ten seconds reading a brand email. 
(It takes longer to fold a shirt)
But before you start looking for a new career, think of the emails you do engage with. The ones that make you click. The ones you read all the way through. The ones you forward to a colleague and say, "We should do something like this." You can mirror that feeling and grow more leads. How? Pick your favorites from this collection of 2023 best practices for email marketing campaigns.
Build a Strong Foundation
There is no growth without a strong foundation. First, decide if you're happy with your email marketing platform. Next, focus on your audience. 
Research indicates today's leading subscription acquisition sources are: 
Sign-up form on the homepage (37%)

Online registration for webinars or events (33%)

Sign-up form on other customer-facing pages on a website (33%)
As you grow your audience, segment your audience. 
Businesses that use email segmentation experience 24% higher sales.
Use this best practice to send targeted emails to groups based on interests, engagement, etc. 
Of course, preferences change, so check in with your audience. The email below is a solid example of a brand touching base with subscribers to tailor communication, including frequency. (Speaking of which, Hubspot's research shows that 33% of marketers send weekly emails, and 26% send emails multiple times monthly.)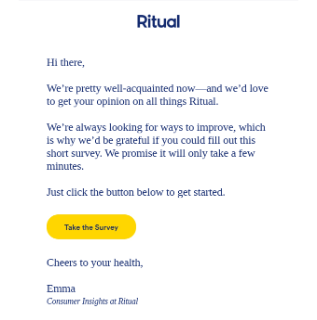 studioID tip: Consider making your "from" email address more human to capture attention (i.e., "[email protected]" vs. "[email protected]")
Create Engaging Content
Make your content less about the brand and more about your (segmented) audience. 
"I like to say that email is a relationship delivered," Matthew Smith, the founder of Really Good Emails. His advice? "Get to know your audience with real clarity, and then specifically deliver content, products, or services that show them you understand them and thereby soothe their nervous system, which creates loyalty and connection."
"When you meet their needs by speaking to their unique position in life — and doing so with empathy and compassion — you'll find it goes a long way in creating fantastic business value."
Check out the email below as examples. The first provides tangible ways for recipients to nail an upcoming pitch. 

studioID tip: don't skimp on your subject line; that's content, too. Check out some catchy examples to inspire you. 
Nail Your Visual Experience
The best way to nail your visual experience isn't to have the most beautiful, art-directed email. It's to meet your audience where they are — and make it obvious what you want them to do. 
Where are they? Increasingly on mobile. Data indicates that 41% of email views come from mobile. Other data shows that, generationally, 59% of Millennials primarily use their smartphone to check email, while 67% of Gen Z scan their inbox on mobile. In short, ensure your emails are responsive and optimized for mobile. 
63% of email marketing teams use a responsive, adaptive, or hybrid design approach for email design. 
And if you want leads to respond to your responsive email, you need a clear CTA. We love this interactive example from Penguin Random House. It's engaging and tempts your ego to click and check if you're right.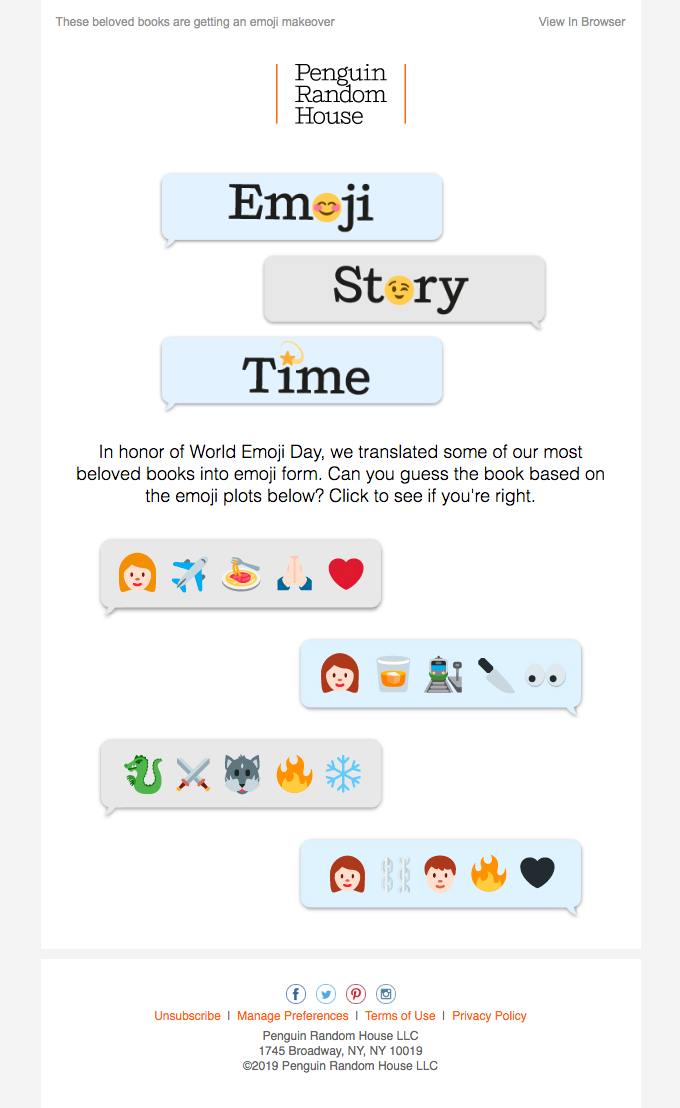 studioID tip: consider your dark mode strategy. A 2023 study showed that 33% of email marketing teams don't design for dark mode, BUT 40% of subscribers do view emails in Dark Mode. 
Personalize & Automate Your Sends
The most effective strategies for email marketing campaigns are message personalization (72%) and email automation campaigns (71%) according to 2023 findings. 
Let's talk personalization first. We love this quote from Dan Jak: 
"Personalization—it is not about first/last name. It's about relevant content." 
And guess what? It pays off to be personal. Over 45% of personalization users saw improvement with interactive email, and 80% of customers are likely to purchase from brands that provide personalized experiences.
What does personalization look like in practice? Check out this example from DAVIDsTEA.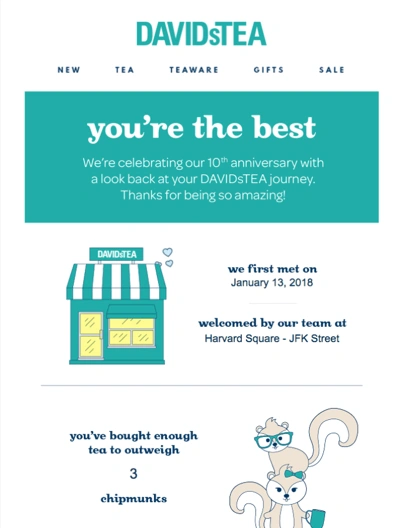 Now, for automation —  aka your way to save yourself time while making email more effective. From determining when to send to sprucing up your copy to personalizing content, there are tons of ways to automate your campaign. Besides 95% of marketers using generative AI for email creation rate it "effective" according to Hubspot.
Track Your Performance
Are the demand generation marketers still following? Last bit, and then you can hit send on your most successful campaign yet. 
When tracking your demand generation performance in 2023, the key is to test, test, test, and adjust as needed. 
"Every email is a customer survey of your target market, by testing they vote on what resonates best with them." 
— Kath Pay, CEO & Founder, Holistic Email Marketing
What's being tested? Well, a 2023 report revealed that personalization was the most-tested email element, with emojis and animated GIFs coming in second and third. The same report even showed that testing could lead to a 28% higher return.
From content to cadence, make changes based on what the data tells you, and use your tracking to clarify what your leads want, when, and how they want to engage with it. 
In practice, check out this MailerLite campaign comparing two sends. One email (without an image) saw a .61% higher click-through rate, which could help determine visuals (if any) for the next send. 

>>> Looking for more ways to engage your audience? Check out 7 Proven Content Engagement Strategies for 2023.