Table of Contents
Want to know what an engaged audience of brand-loyal fans looks like? Go to a Taylor Swift concert. 
That is if you can get tickets.
In November 2022, pre-sales for Taylor Swift's Eras tour crashed Ticketmaster's platform, leading to a Swiftie-fronted lawsuit and a high-profile congressional hearing. The tour also ranks as the highest-grossing of all time, with sales in North America alone estimated at $2.2 billion. 
Content marketers can only hope for that kind of engagement, right? While Taylor Swift's career is a masterclass in personal branding, there's no denying that the core of her success is her ability to engage fans.
You may not be a multi-platinum singer-songwriter, but you can get customers talking with engagement-inducing techniques. 
4 Must-Have Elements for Engaging Content
Engaged customers are more likely to buy from you in the first place, and stay loyal in the long run. They're the ones recommending you to their friends and family. Plus, they're making a lot of purchases online.
Online shopping is an estimated 20% of all retail transactions.
— Forbes
And for B2B sales, Gartner says 83% of buyers prefer self-serve transactions. You need engaging online content to drive those online sales toward your brand.  
Sadly, there's no definitive guide to engaging content, but there are some proven ways to increase the odds someone will engage with what you've created. 
Add Killer Visuals
What's more fun to look at: a wall of text or a graffiti-covered wall? Graffiti is not only more fun, it's also easier to understand. 
Our brains process images nearly 10,000 times faster (13 milliseconds, according to MIT) than the 10 seconds we need to communicate a value proposition. 
Images increase engagement with social media content by anywhere from 30% to 150%.
— The American Marketing Association
Make your long-form content more digestible by transforming it into something visual. More than 60% of marketers get the highest engagement from original graphics and/or data visualizations like infographics, according to research from Venngage. 
Infographics increase engagement through:
Subscriptions/sign-ups

Website traffic

Social media shares

Increased CTR in emails 
Elements in Action
Consider the content NeoMam Studios created about the effectiveness of infographics. 
The graphics (in both video and image form) are so easy to digest I've decided to share it with you, a marketer who might be considering using more infographics.
Tell a Compelling Story
Whether we're sitting around a campfire or wallowing in a breakup song, humans love a good story. 
Marketing messages with strong stories behind them have an astronomically better ROI. Case studies have repeatedly shown story-based messaging to increase conversions (up to 400%), elevate stock value (750%), boost website traffic, and drive customer engagement. 
The best stories are:
Relatable – Your customers will listen if you can show you know what's important to them. For instance, Gen Z values experiences more than the physical product. 

Simple – Clear, short stories are easier to remember. I bet you know the plot of The Three Little Pigs by heart. Can you say the same for War and Peace? 

Emotional – Tales that resonate will have a greater impact. 

Visual – See Add Some Killer Visuals on this list ⬆️ 
Elements in Action
With more than 21 million views, Dove's viral "Evolution" video launched a 16-year-long conversation around the effect media has on body image, and it solidified Dove's branding as a champion for "real beauty." 
Dove's current focus is the effects of social media on girls and young women. Since 2021, "Reverse Selfie" has been viewed more than 2 million times on YouTube. 
Make it Easy to Engage
You're not going to engage your audience if you don't give them the option. On social media it's easy — like, share, comment, or tag and you're done. But what about owned channels, like your website?
Some ways you can encourage interaction on your owned channels include:
Lead Magnets – Think downloadables like ebooks, whitepapers, checklists, and templates.

Exclusive Communities – Build a community around what your customers value and speak to their pain points.

Referral Programs – Customers get discounts or incentives. You get sales, warm leads and data for your sales pipeline. 

Social Feeds – Publish your feed on your site. Customers will see that you're interested in what they have to say and share their own content.
Elements in Action
Square's Seller Community connects users of their popular payment platform and gives them the power to find solutions to their problems, grab feature suggestions for their product, and creates a communication channel between the brand and its power users.
Their sub-category Seller Groups further connect like-minded customers in smaller affinity and business categories, like Pride in Business for LGBTQ+ business owners and Beauty and Wellness for sellers in that space. 
Challenge The Status Quo
Done right, a contrarian opinion can get people talking, especially if you've got a trusted voice behind the message. 
You can counter popular opinion in nearly every type of content:
Thought Leadership – What does your C-Suite think about trends in your industry?

Product Pages – What is revolutionary or innovative about your product?

Marketing Emails – What unexpected value can you offer your customers?

Short-Form Video – What don't your customers know about your brand?
📱 Related Reading: 5 Short-Form Video Trends for Share-Worthy Content in 2023
B2B executives are especially plugged into opinion leaders. 
About half say they spend at least an hour per week reading content from thought leaders. 
Find a thought leader in your organization and get them writing (or talking).
Elements in Action
Whitney Wolfe Herd, founder and CEO of Bumble not only revolutionized dating apps, but boasts a strong social media following as well. She's countering social norms in both ways.  
Bumble's UVP? Unlike other dating apps — including Herd's previous company, Tinder — women make the first move. By flipping the script, Whitney Wolfe Herd became a billionaire in mere hours of the IPO. 
Meanwhile on Instagram, she posts about bringing her son to work to 230,000 followers. Henry had his first earnings call before his first birthday.
View this post on Instagram
3 Ways to Create Engagement on Multiple Channels
Engagement is what makes social media social. It's also what makes content marketing work. If your audience isn't inspired by your content, it doesn't matter what platform you're on, they're not engaging. 
Likewise, if you know how to connect with your customers, you can get them to engage on any channel. These five ideas will have people talking about your brand right away. 
Collab With Your Customers on Social Media 
Micro- and macro-influencers are to mega-influencers what Cady Heron was to Regina George. Meanwhile, user-generated content (UGC) might just be the bus that knocked them both off their pedestals.
UGC proves to be one of the most effective marketing techniques because it's coming from real people, like our family and friends. 
Almost two-thirds of Gen Z adults said those are the folks they trust most when it comes to product recs.
For that reason, influencers with fewer than 100,000 followers have the most influence. Micro-influencers on Instagram — the most popular platform for influencer marketing — have about a 6% engagement rate, while their mega-influencer counterparts get less than 2%. 
The bottom line: customers want to hear about your brand from real people who believe what they're saying.
📷 Related Reading:  10 Ideas for Getting More User-Generated Content
Take target for example. The branded hashtag #TargetStyle has over 3 million posts on Instagram alone. Customers share on Instagram and other social platforms so they can be featured on Target's site — either on a page dedicated to user-generated content or in reviews on product pages.
View this post on Instagram
Ask Questions in Your Emails
Your inbox is probably flooded with marketing messages and subscription emails right now. You might read a few, but how many do you reply to? 
Subscribers to Android Intelligence, a tip-focused tech blog and newsletter, frequently reply to founder and editorial director JR Raphael's emails. 
Why? 
Well, he asks them to. And each time one of The Intelligence's 65,000 subscribers replies to an email, they get a personal response. 
It all starts with a simple question: "What specific phone are you using right now?" In return, JR promises to send three tips subscribers can use on their Android device right away.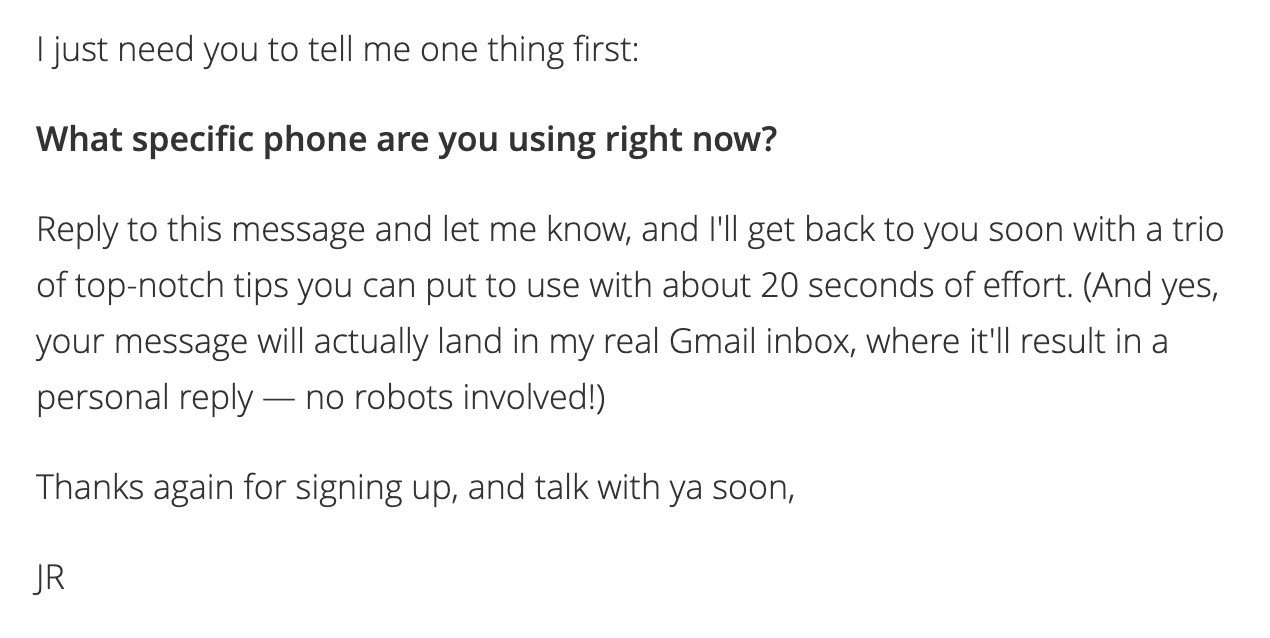 JR's philosophy is simple: 
"Email is already inherently such a personal medium. People are inviting us into their inboxes. And so treating that like the two-way relationship it is and encouraging interaction — then actually taking the time to reply in a non-automated manner — makes an awful lot of sense."
Personalize your messages. And not just with the <<first name>> tag in your email platform. Add a little humor or some human interaction.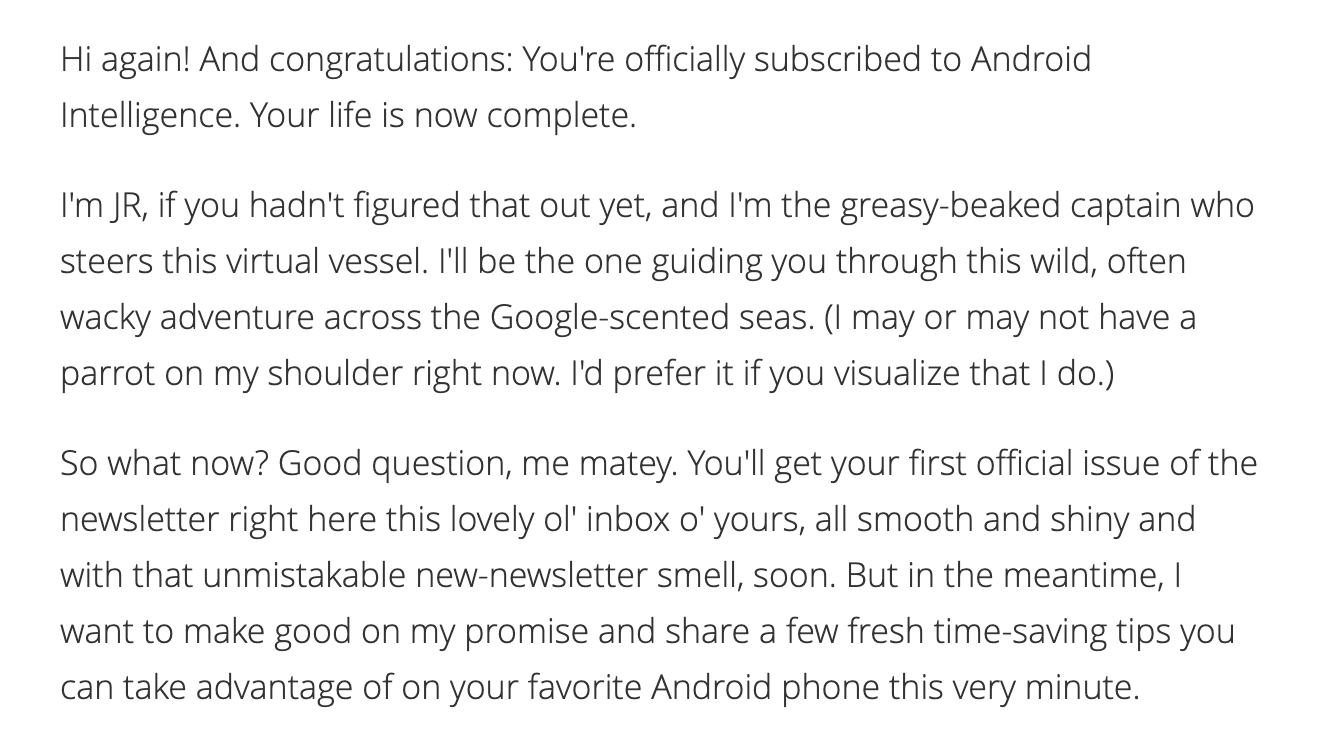 The more of a two-way relationship we develop, the more engaged readers become and the more our newsletters start to feel like actual conversations — which is exactly what we strive for. 
📧 Related Reading: Best Practices for Email Marketing Campaigns: A Guide for Demand Generation Marketers
Add Interactive Elements to Your Videos
Video is by far the most popular content type on the internet. It accounts for more than 80% of all content consumption — up to 17 hours of video per person every week. 
But to supercharge your engagement, add interactive elements in post-production. 
Vancouver-based ChopValue used to rely pretty heavily on trade shows to engage with customers. But when events shifted online in 2020, they needed a way to promote their products without that personal connection.  
Their interactive videos offer similar interactions — everything from employee bios to product info — with a few well-placed hotspots.
ChopValue Interactive Sales from Rich Sireno on Vimeo.
How to Measure Content Engagement
Measuring content engagement is both an art and a puzzle. You have to find ways to quantify data that you can't always plot on a chart. But there are some key metrics that can help you measure engagement, such as:
Likes, shares, or mentions on social media

Comments on your blog, videos, or social posts

Replies to your emails or texts

Downloads of an ebook or other lead magnet

Conversions from a CTA or online ad
The good news is you get to define what engagement means for your brand and your campaign. 
If your goal is to convert site visitors to paying customers, measuring likes on a Facebook post probably won't tell you much. On the other hand, measuring the CTR for a Facebook ad might unlock an insight or two. Add in a side dish of conversion tracking, and you'll uncover the gap between interest and purchase. 
📚 Related reading: Content Marketing Measurement, Demystified