Table of Contents
In an era where digital noise is louder than ever, standing out during the holiday season has become a serious challenge for marketers. But as we wrap up 2023, certain brands are managing to capture audience attention and win hearts — as well as customers.
From heartwarming narratives that tug at our emotions to groundbreaking digital experiences that redefine engagement, this year's holiday marketing campaigns are setting new benchmarks in creativity, innovation, and effectiveness. Let's dive into the most outstanding examples so far, with a look at what's made them successful and how they're leading the landscape of festive advertising. 
Walmart's Bringing Back Black Friday Deals  
Campaign Overview: 
For Americans, the Thanksgiving holiday is synonymous with Black Friday, and Black Friday signals serious deals. For this year's push, Walmart has teamed up with many familiar faces from the 2004 smash hit teen comedy, "Mean Girls," banking on the idea that 20 years later those girls are now moms who love a good sale. 
Narrated by none other than Lindsay Lohan (who's now her high school's guidance counselor), the spot also features original cast members Amanda Seyfried, Lacey Chabert, Daniel Franzese, and Rajiv Surendra recreating key scenes from the killer comedy that include iconic moments, music, and memorable dialogue.
Why Walmart's Black Friday Campaign Stands Out: 
With the help of this star-studded crew, "Walmart is riding advertising's current wave of nostalgia as it looks to make 'fetch' happen with its expanded slate of Black Friday deal events," says Marketing Dive. That's why they're not stopping at just one video ad. With the goal of encouraging more users to sign up for Walmart+ membership (which gets folks early access to deals), the brand plans to drop new creative that dives deeper into the beloved and easily recognizable 'Mean Girls' storylines on every Wednesday in November as well as Cyber Monday. 
"When paired with contemporary content strategies, nostalgia can be a powerful marketing tool that strikes a chord with both older and younger demographics."
The full results of the campaign have yet to be seen, but the approach seems to have worked last year, when Walmart reported a 6% year-over-year Black Friday sales increase thanks to a similar campaign concept that used the cast from 1999's cult comedy favorite "Office Space." 
Bottom Line: 
It pays to tap into what you know about your customers' personalities, preferences, and hobbies to create emotional messages, and leveraging nostalgia is a perfect tactic that echoes back to generational cultural touchstones. 
💗 Related Reading: Nostalgia Marketing is Hot—How Brands Can Use it Effectively
DashMart's Spreading Some Holiday Cheer 
Campaign Overview: 
In collaboration with New York City's iconic Magnolia Bakery, DashMart — DoorDash's grocery delivery service that launched during the pandemic — has come up with a genius way to engage a broader audience with a festive and friendly UGC-driven design competition. 
The premise? An illustration to adorn the brand's shopping bags during holiday season. And the promise? "In addition to having your artwork delivered to thousands of people's doors throughout the city, [the] First Place winner will receive a $600 cash prize and promotion on Magnolia Bakery's Instagram."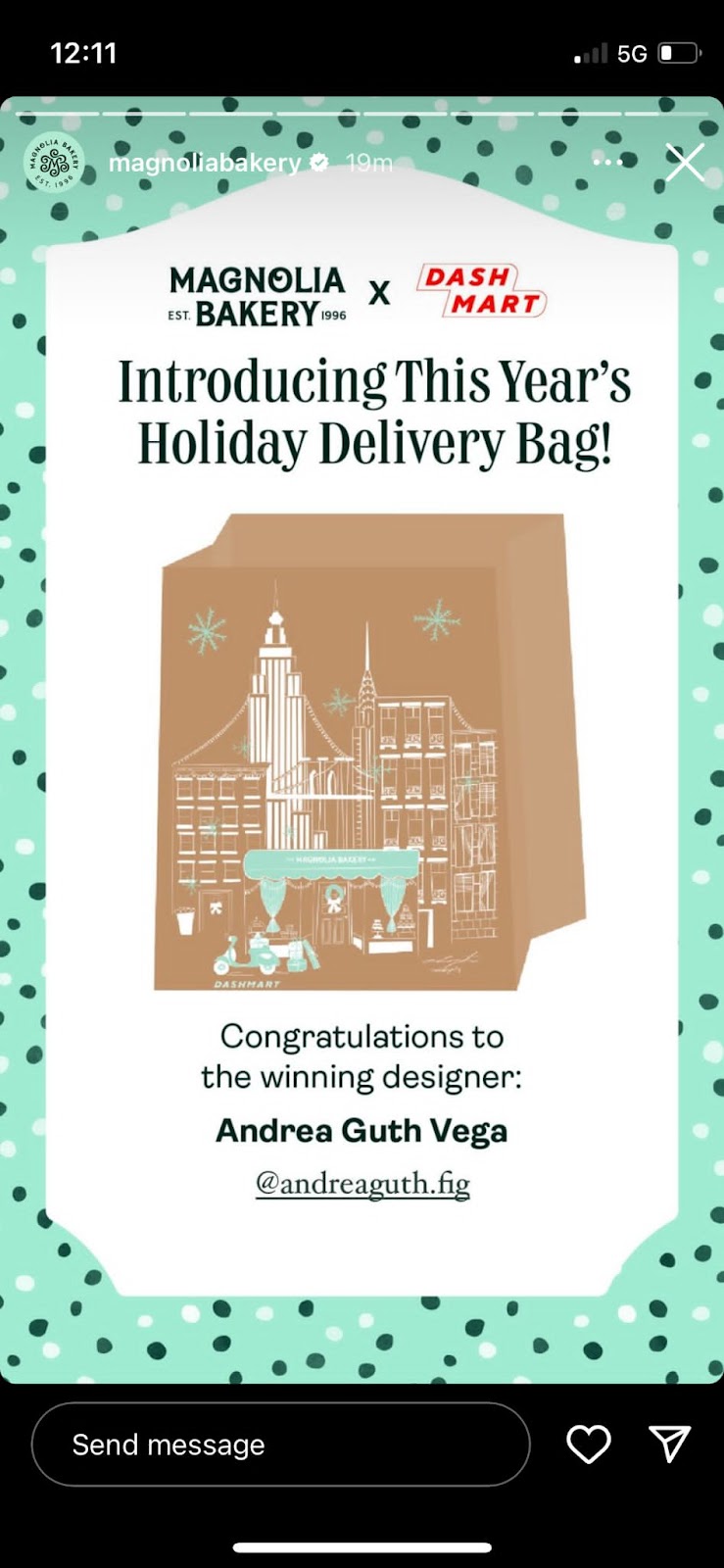 Why DashMart's Holiday Campaign Stands Out:
User-generated content is an incredibly effective and low-cost way to get people excited about your brand. And by providing everything they need — like an easy-to-use template and super-clear rules and instructions, including color palette and themes for inspiration — DashMart did their part to set folks up for success. 
Judging the winner based on creativity and originality, artistic skill, and adherence to the stated themes (NYC Winter, Magnolia Bakery, and DashMart), the prize was awarded to one lucky artist: Andrea Guth Vega, a recent graduate of the Savannah College of Art Design and current User-Experience Designer at Microsoft. 
Bottom Line: 
When a user cares enough about your brand or product to create a piece of content on its behalf, that's the ultimate engagement metric. And leveraging user-generated content (UGC) can also significantly increase the authenticity and shareability of your content overall.
Beyond this campaign being exemplary in its use of UGC, it's also a prime example of an 'all-inclusive' holiday campaign. Rather than narrowing their audience by aligning with a specific holiday, the campaign smartly plays on generalized holiday themes that allow everyone to get in on the spirit. 
🤳Related Reading: 10 Ideas for Getting More User-Generated Content
Sugarfina's Wishing You a Happy Hanukkah  
Campaign Overview: 
To celebrate Hanukkah, confectionary brand Sugarfina is sending out targeted email marketing, the design of which is pure eye candy — but that doesn't mean it's superficial. "Sometimes people think throwing in a menorah or a Star of David makes their ad Jewish," says Elie Rosenfeld, CEO of Joseph Jacobs Advertising, which focuses on the Jewish market. "But all that shows is that you really don't know the market, because it's more about the cultural references." 
Why Sugarfina's Hanukkah Campaign Stands Out: 
According to Business Insider, "The path to multi-million dollar success in the crowded confectionery industry involves an obsession with quality, creative flavor ideas, an understanding of attitudes toward sweet treats, and a shopping experience that's as enjoyable online as it is in-person." But when it comes to this campaign, it's the spirit of inclusivity that really matters and makes people feel seen, respected, and considered — which goes a very long way in building brand affinity for years to come.
Coupled with seamless on-site content that matches the email visually and in tone, Sugarfina makes their Hanukkah offering look natural and fun — which is exactly what Rosenfeld recommends. Instead of trying too hard with overwrought tips and tricks, the brand creates a tasteful experience that highlights the things that makes Hanukkah truly special, with thoughtful mention of kosher-friendly treats. 
"A celebration of candles burning bright, each lit on eight very special nights. Filled with 8 Kosher candies, this Hanukkah candy collection was made for creating memories and sweet new traditions. With each passing night, a new candy is revealed and a candle gets its light. Wishing you joy, love, peace…and all the sweets. Celebrate Hanukkah with a sweet new tradition."
Bottom Line: 
"Think about the one house on the block with a menorah in the window when everyone else has Christmas trees," Rosenfeld says. "When that family sees a brand talk to them in their language, about their culture — it's something they don't forget."
Coca Cola's Making For a Very Merry Christmas
Campaign Overview:
In a new spot that's a bit reminiscent of the dream sequence in "Being John Malkovich," Coca Cola imagines a world that needs more Santas. Set to a festive rendition of "I Could Be Santa Claus" (originally sung by Mrs. Claus in 1974's Rankin/Bass Christmas Special), the ad highlights the power of kindness and generosity during the holiday season and beyond, as the brand's values and Christmas messaging have done for many years.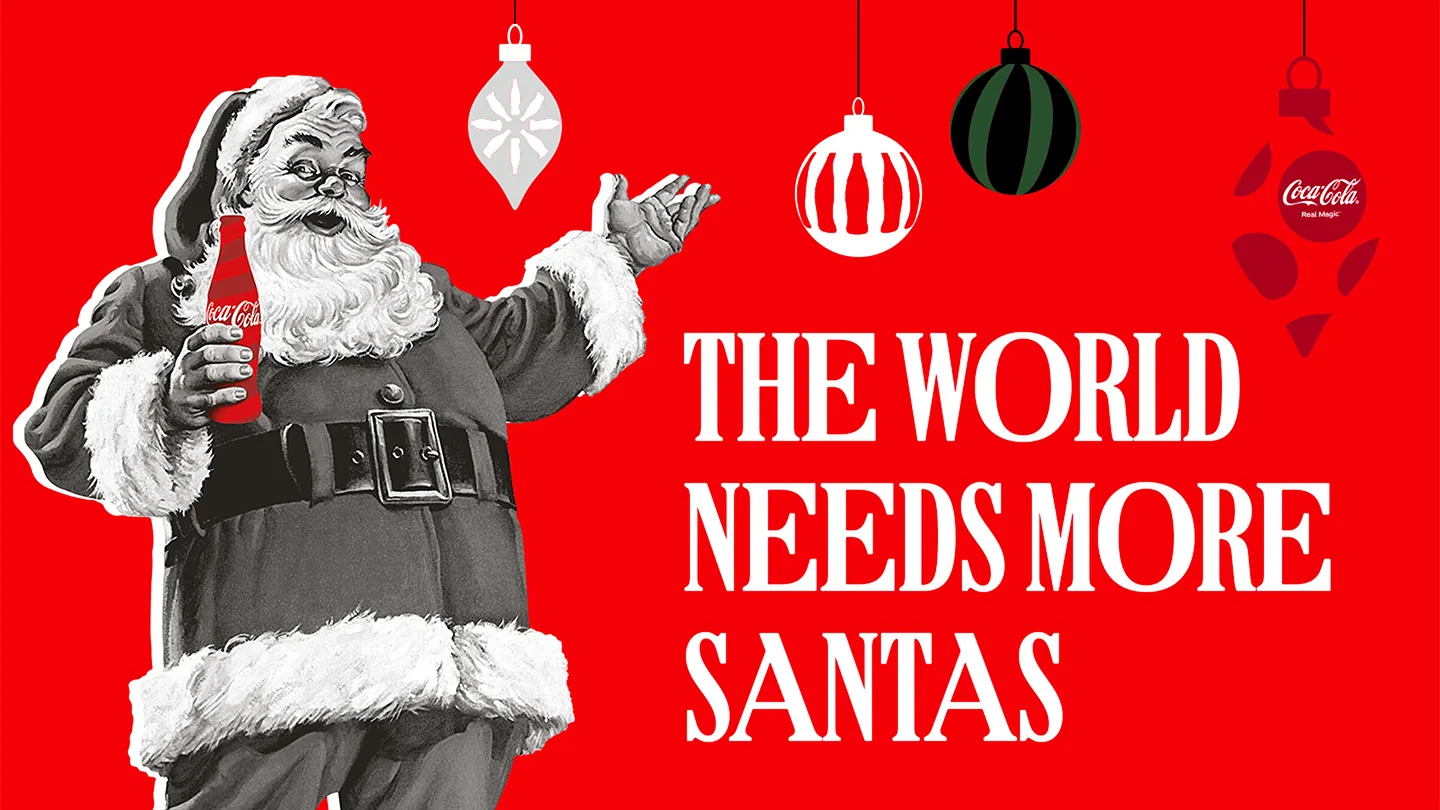 Why Coca-Cola's Christmas Campaign Stands Out: 
The global effort, which will be adapted for more than 80 markets worldwide, isn't just a sparkly new video, according to Marketing Dive. The larger marketing push includes a digital quiz called Find Your Inner Santa, Christmas truck tours, on-pack competitions (with prizes like a trip to Santa's "official" hometown in Finland) and an extension of the brand's "Create Real Magic" AI platform that will focus on holiday postcards and be revealed later in the season. And keep an eye out for follow-up films, two Christmas shorts — one of which features Hollywood A-lister Octavia Spencer, according to Complex UK. 
Bottom Line:
The most powerful marketing campaigns have many elements and touchpoints that carry over across various digital channels and real-life experiences. That's why Coca Cola's "The World Needs More Santas" has already earned an "exceptional" effectiveness ranking from System1, based on people's emotional responses — which only continue to build with every new and special brand moment. 
✨ Related Reading: The Key to Content Planning for More Efficient Distribution