Table of Contents
With marketing budgets tight, many organizations are refining their B2B content distribution strategy to get the most bang for their buck. By advertising in print and digital media, marketers see the value in an airtight paid media strategy — one that includes advertising in publications.
Read on to see why incorporating digital publications into your B2B content distribution strategy is driving demand and generating ROI for countless brands.
Digital Publications Rise to Prominence
Digital publications are on the rise, with key decision-makers turning to these channels for industry news and insights.
An average of 32.1 million visitors viewed news media publications over a three month period, which with an average time of 1.95 minutes per visit.
Instead of using programmatic advertising networks, like Google, more brands are working directly with publishers to reach a more specific audience — decision-makers and those with purchasing power across a range of publications.
📚 Related Reading: How to Build a Perfect Content Distribution Strategy
How Does it Work?
The brand works with the publisher to create a campaign specifically targeted to that publication's readers. Often, the advertisement is informative in nature and demonstrates the brand's expertise to the readers, building trust over time.
Let's use a B2B cybersecurity company as an example. The brand may promote a piece of sponsored content in Cybersecurity Dive, a publication providing news on the latest breaches, vulnerabilities, and threats in the industry. Within the article, the brand directly reaches decision-makers concerned with protecting their data and infrastructure. 
When brands advertise in print and digital media, specifically publications, they get the benefits of paid channel advertising while providing the same informative nature of organic content marketing. This strategy simultaneously provides demand generation of new leads and builds brand recognition and reputation. 
Benefits of Advertising in Digital Publications 
In Content Marketing Institute's webinar 'Demand Gen in a Downturn: Top 3 Channels and Associated Tactics to Invest In,' industry experts discussed how organizations can utilize digital publications to build their brand and generate high-quality leaders. Advertising in digital publications is quickly becoming an essential element of a modern B2B content distribution strategy.
📅 Related Reading: The Key to Content Planning for More Efficient Distribution
Let's take a look at a few benefits of advertising in digital publications as part of a paid media strategy.
Exposure to a Highly Targeted Audience
When you advertise in a publication, your brand is exposed to potential customers that you may not have access to through organic or traditional advertising networks. Selecting a publication that is closely aligned with your target audience places your message in front of the decision-makers who are likely to purchase your product. 
Some brands find that advertising with very niche publications is most effective, while others find the highest success from a broader approach. The right selection depends on your needs and audience. 
Unlock your target market's most popular keywords, top articles, industry themes, and practical strategy tips. Download your industry's snapshot now.

Reaching Readers in the Right Mindset 
While on a publication's website, the readers consuming your content are already in the stage of their knowledge journey where they are actively seeking information. With this channel, you're providing information when the potential customer is looking to make an investment — significantly increasing the quality of leads as well as the conversion rate. 
Brand Alignment with Respected Sources 
Readers of a publication consume its content because they trust that it provides accurate and relevant information. When you align your brand with respected entities, your brand immediately starts the relationship with the reader with a higher level of trust. Brands that work with the publisher on collaboration opportunities, such as co-creating a webinar, see even greater benefits. 
🤝 Related Reading: 6 Ways to Build Trust With Your B2B Audience
Multi-Threading and Multi-Channel Opportunities
By advertising in digital media publications, you can extend the life of your campaign across stakeholders. This channel makes it possible to easily connect with multiple decision-makers on the same account through multi-threading opportunities.
Some decision-makers prefer social media, while others prefer to read blogs. Creating a multichannel campaign lets you reach people where they learn and absorb new information best. Decision-makers who follow multiple channels of a publication also benefit from repeat exposure across the channels, building even more rapport. 
When brands advertise with digital publishers, they can take advantage of a wide range of opportunities. By working with a publisher with access to multiple channels and audiences, brands have more ways to reach their target audience and increase conversions. Let's take a look at the methods brands can use to advertise in digital publications.
Ways Brands Partner With Digital Publications
Content Amplification 
Promote your content, like events, activations, and campaigns, to increase exposure. Content amplification usually involves using pay-per-click ads directly in the publication, which is more effective than advertising on a broader network like Google due to the targeted audience. Whether you'd like to advertise your evergreen content hub or a webinar on a pointed topic, amplifying it in publications can increase brand awareness and align your brand with trusted sources.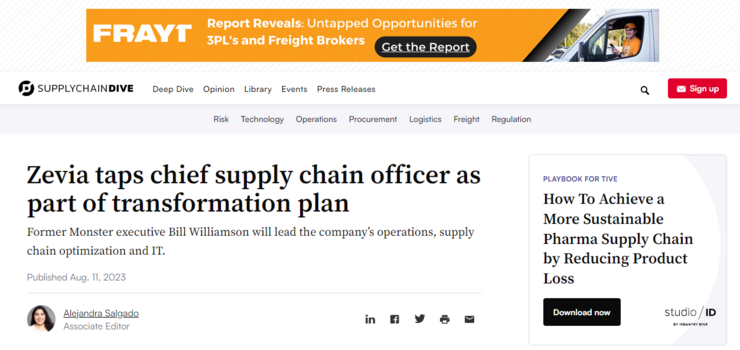 Source: Zevia taps chief supply chain officer as part of transformation plan by Supply Chain Dive
Supply Chain Dive, a news publication designed specifically for supply chain leaders overseeing supply chain functions at large, global companies, features multiple opportunities for content promotion. FRAYT takes advantage of the pointed readership with their display ad promoting their latest report for supply chain stakeholders.
Newsletter Placement
Publications regularly communicate with their readers through newsletters, which often have high open and click rates. Oftentimes, readers don't differentiate sponsored and non-sponsored content when the subject matter matches that of the newsletter, which increases the informative value and trust. Most effective newsletter placements balance informative content with brand awareness.

Source: Marketing Dive Newsletter
Take Industry Dive's promotion of Audience Snapshots 2023 in Marketing Dive's newsletter. Readers of Marketing Dive click on the newsletter ready to learn the latest marketing news, tip, and tricks. This sponsored promotion directly scratches that itch of addressing a marketer's pain point by dangling insights from their target audience.
Sponsored Article
A sponsored article is a partnership with the publication, creating an informative article to be published alongside their regular content. Sponsored articles use paid content distribution to help build brand awareness as well as trust with potential customers, which drives both engagement and revenue. Because creating an effective targeted article takes expertise and resources, many brands partner with the publication to create the content using their deep knowledge of the publication's reader base.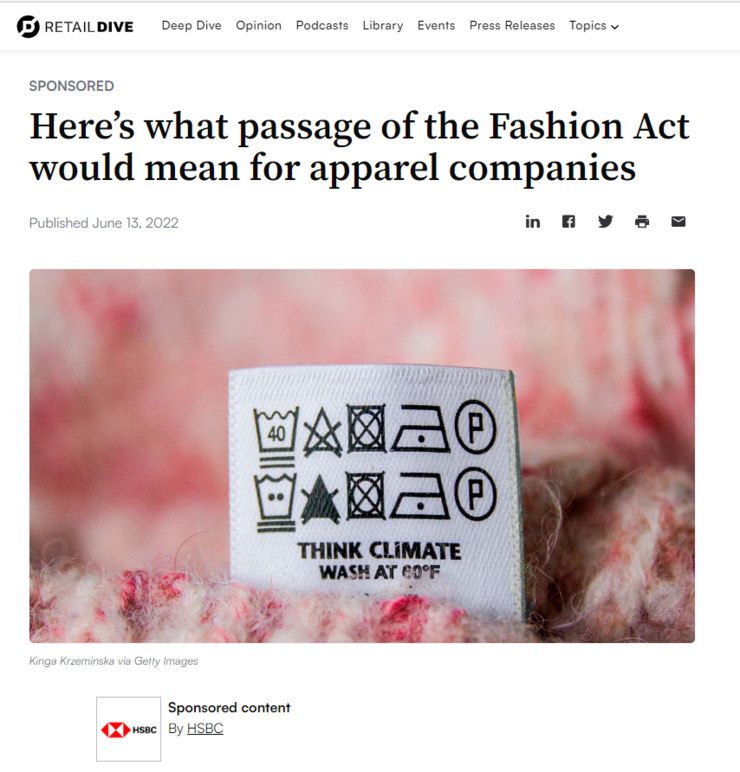 Source: Here's what passage of the Fashion Act would mean for apparel companies by Retail Dive
This article above, sponsored by HSBC, is featured on Retail Dive, a news publication
designed specifically for retail leaders. The sponsored article highlights the brand's expertise in the retail space while sharing valuable information on a trending topic. HSBC ingeniously uses newsjacking to relate garner its target market's attention and create a positive association with its brand as a trusted source of information.
Co-branded Content 
With the increase in digital channels, many brands are finding co-branded content to be an effective demand-generation tool. Using the example of a sponsored webinar, the publication creates and promotes the webinar, while the sponsor provides industry expertise.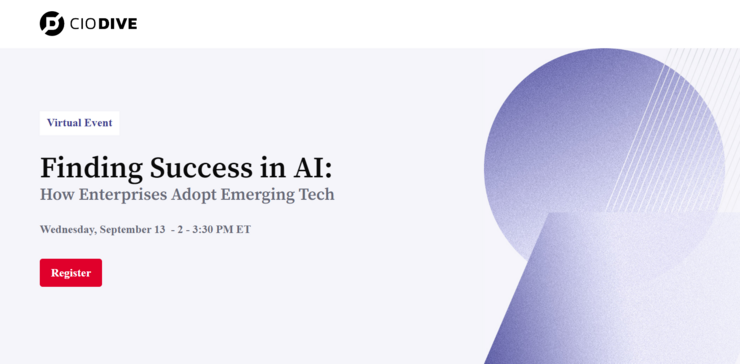 Source: Finding Success in AI: How Enterprises Adopt Emerging Tech by CIO Dive
CIO Dive's upcoming webinar, powered by nexthink, is targeted toward industry executives and will tackle AI topics that are top of mind for that audience. Because the publication brings new and highly targeted readers based on the topic leads, brands often find cobranded content shows a high conversion rate.  
In-Article Callout
With this type of advertising, the brand places an advertisement for a specific piece of content that appears mid-way through regular articles on the publication. Because these placements take on the branding of the publication — not the sponsoring brand —  they blend in natively with the environment and leverage the authority of the publication to drive clicks. These are often ads for co-sponsored content and can be placed in a publication's most popular articles to amplify reach.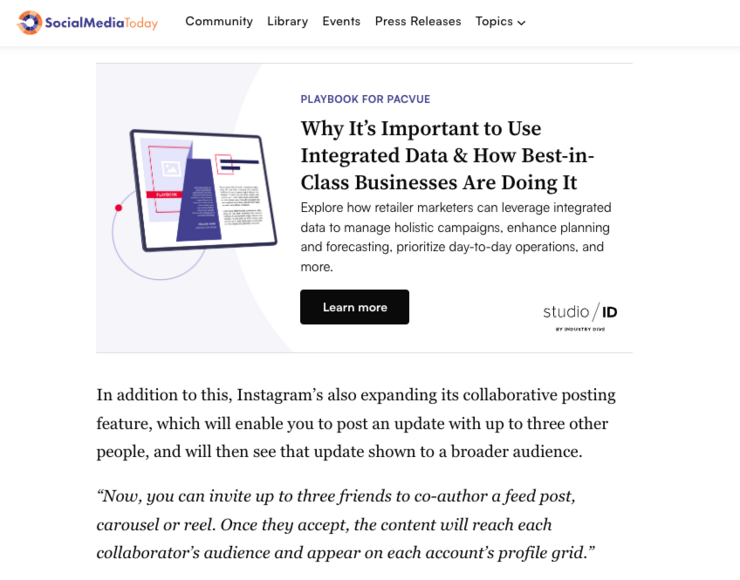 Source: Instagram Adds New Music Options, Including Soundtracks for Collaborative Posts by Social Media Today
Because the brand can pick a topic that closely ties to its messaging, in-article callouts provide micro-segmentation. This targeting setup offers a level of granularity that allows for the quality of the associated leads to typically be very high. 
Getting Started With Advertising in Digital Publications 
Finding high-quality leads is a constant challenge for demand-generation marketers, and digital marketers often struggle to find the right audience. By adjusting your B2B content distribution strategy advertising to include digital publications, you solve both problems with an established target audience for your brand. By looking for digital publishers with a wide network of publications, brands can test multiple target audiences to determine what strategy is most effective. 
Interested in learning more about advertising in digital publications? Reach out to studioID, Industry Dive's award-winning content studio, with access to over 14 million readers in 32 industries.